Honor 8X and Honor 8X Max are the company's latest mid-range smartphones announced in China last week starting from US$ 204. These devices are already up for grab in China through popular Chinese e-commerce websites. Like other Huawei devices, the Honor 8X and Honor 8X Max comes with a popular feature called Screen Mirroring. Most of the users who have already grab this device might not be aware of this feature. For all those, here we've shared simple steps to Activate Screen Mirroring on Honor 8X and 8X Max to TV Wirelessly.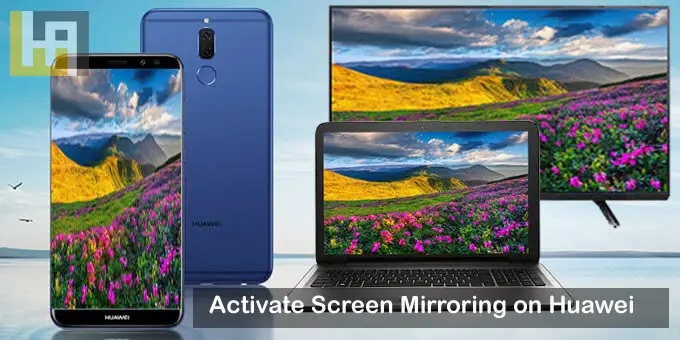 What is Screen Mirroring to TV?
Screen Mirroring is a special feature which comes built-in on most of the Android smartphones these days. With this feature, one can mirror their Android phone screen on a bigger screen say TV. In short, smartphone users can enjoy any media, apps, etc. on a bigger screen like Smart TV's.
Screen Mirroring is one of the most liked feature among the smartphone users. If you wanted to know how the mirroring of Huawei Honor 8X or 8X Max screen could be done, then this post provides the complete information regarding the same.
Note: The following Screen Mirroring works with each and every Huawei / Honor phone running on EMUI 8.0 or above.
How to Screen Mirroring on Honor 8X or 8X Max to TV Wirelessly
There are two methods through which you can mirror you Huawei smartphone screen to Smart TV. Choose the one which is more convenient to you.
Mirroring through a hard-wired connection
In this method, you need to have a MHL adapter which can be easily found over the internet. Also, make sure that the MHL adapter is compatible with Huawei Honor 8X or 8X Max. Now, follow the below steps one after another to mirror your device screen to any TV.
Firstly, you need to connect your Honor device to the MHL adapter and ensure that the connection has been successfully established.
Next you need to connect the output of MHL adapter from the Honor 8X/Max as input to the HDMI port on your TV.
Finally, you need to choose HDMI port on your TV and set it to receive the video from the device. Once done, you can mirror your Honor phone screen onto the TV.
Mirroring Wirelessly from Honor 8X or 8X Max
Apart from the above MHL adapter method, users can also cast their mobile screen to any smart TV via Miracast function.
To enable Miracast feature, swipe the top of the screen of the Honor 8X / 8X Max > Swipe left to go to Shortcuts and tap on Multi-screen. Here you will see the name of your Smart TV. Tap on it! That's it! The Honor 8X screen will automatically appears on your TV.
Note: Make sure you've enabled Screen Share on your Smart TV's Input menu.
That's the simple guide to activate Screen Mirroring on Honor 8X or 8X Max to TV Wirelessly. For any kind of queries or issues, feel free to comment below!