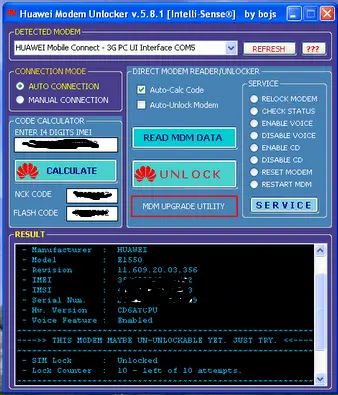 Have a Huawei Modem with locked to a primitive network? Then need not to worry as here we have a special Huawei Modem unlocker tool that will unlock your modem for all network operators.
Developed by BOJS team, the Huawei Modem Unlocker is a free tool which can be downloaded and installed on any Windows OS. It is also user-friendly make it easy to use for everyone. This tool from BOJS unlock any modem easily. For example, if you are using a Huawei modem optimized to be used for Verizon networks, you cannot use this modem with AT&T SIM cards or any other SIM card from another network service provider apart from Verizon, unless it's unlocked.
Without much ado, check out the complete features of Huawei Modem Unlocker and then we'll directly take you to a step-by-step procedure on how to unlock any Huawei Modem.
Top features of Huawei Modem Unlocker Tool:
Unlock range of Huawei models easily.
Temporary/permanent unlock any Huawei modem.
Reset Modem
Reboot Huawei Modem
Modify Download/Upload speed in some Huawei Modems
Download Huawei Modem Unlocker
How to Unlock Huawei Modems using Huawei Unlocker tool
The following are the simple steps to unlock any Huawei Modem using Huawei Unlocker tool:
1. Firstly, download and install proper Huawei USB Drivers (Universal drivers) on your PC.
2. Take a standard USB cable and connect the device with PC.
3. Now you need to download Huawei Modem Unlocker tool from above links to your PC.
4. Unzip the tool package and install it on your PC by following the on-screen instructions.
5. Launch the tool and tap on 'Refresh'.
6. Now you need to select the option "Auto-Unlock Modem" inside the tool.
7. Finally, click on the "Unlock" button to unlock your modem.
8. Enjoy!
I hope the above tutorial was helpful in unlocking Huawei Modem via Huawei Unlocker tool. For any queries, do connect with us via below comments.