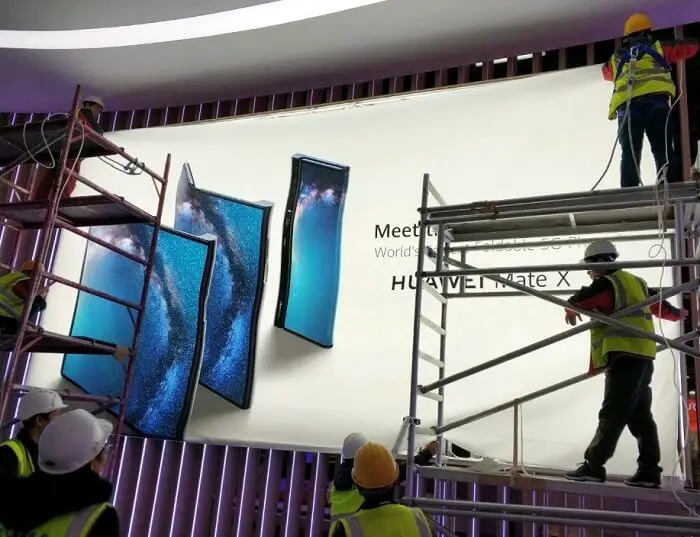 After Samsung unveiled its first ever foldable smartphone earlier this week, it's now time for other mobile manufacturers to bring their respective foldable devices in the market. It seems that the Chinese smartphone giant, Huawei doesn't want to waste any time and schedules a special event on Sunday, 2 pm CET (6.30pm IST) in Barcelona to introduce its first-ever foldable device. The latest leaks claim that the device will be called Huawei Mate X 5G and will directly compete with Samsung's Galaxy Fold.
Huawei's upcoming Mate X foldable phone has been spotted in an early banner by Twitter user @gimme2pm. The leaked poster clearly displays the name and design concept of Huawei's upcoming foldable smartphone.
The banner shows a foldable phone opened and then halfway closed showing it totally folded. There is also a tagline on the poster reads 'world's fastest foldable 5G phone'. Just below that, there is a device name in bold letters which reads 'Huawei Mate X'.
Opposed to Samsung's version of it, this will be fold-out design. As the poster suggests, the phone will be featuring a single display, and not two like in the case of Samsung, which will fold out. The display will wrap around the fold and will probably be usable on both the front and back.
Huawei Mate X features a thicker portion on one side which most probably includes cameras, Huawei branding, and other hardware. There is also a probability of having the fingerprint scanner, Volume rockers, or power button on that part.
As per leaks, the Huawei Mate X will reportedly feature a 7.2-inch display. Huawei will reportedly manufacture between 24,000 and 30,000 units of the upcoming smartphone in the initial phase, however, it is not known in what markets it will eventually arrive.
Stay tuned as we'll be updating once the Huawei Mate X goes official tomorrow at the MWC 2019 Barcelona event.