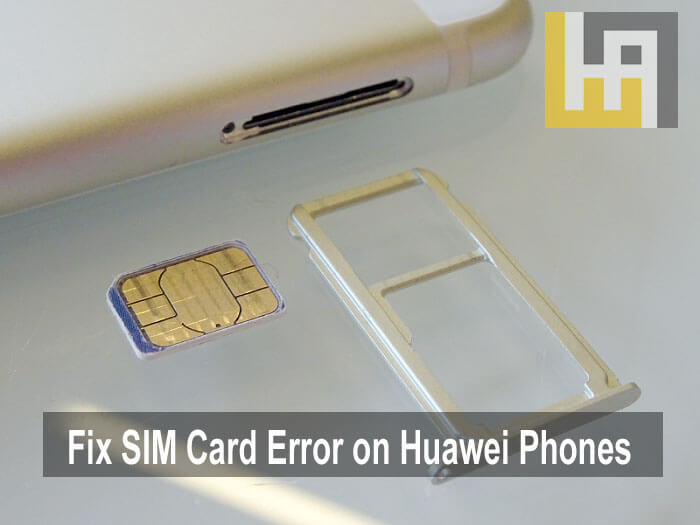 Facing the SIM Card not inserted error on your Huawei smartphone? Then, need not worry! Here we have some potential solutions to fix SIM Card doesn't recognize issue on your Huawei and Honor phones.
SIM Card errors are one of the most common issues faced by any smartphone user. This issue many arises due to any software glitches or damage in the hardware component. Sometimes, system cache files are also responsible for creating errors on your device. Keeping all these circumstances in mind, we have shared some useful solutions to fix the SIM card doesn't recognize error on your Huawei smartphones.
Compatible: The following solutions works with most of the EMUI devices including Huawei P20, Huawei Nova 3, Honor 10, Honor 9N, Honor Note 10, Huawei Mate 10, Honor 7X, and more.
How to troubleshooting Huawei / Honor phones with SIM Card issue
Before you start the troubleshooting process, make sure the Huawei devices software is updated. You can manually check for software updates from Settings > About phone > System Updates > Check for updates. If the latest software update is available, then download and install on your device. If the SIM Card issue still persists, follow the below troubleshooting guide –
Solution 1: Restart or soft reset
Sometimes, a simple restart may fix several bugs and issues created to your smartphone. It's likely triggered by minor software glitches afflicting the phone's network system. So, it is advisable to restart now. You can also follow the below steps for the same:
1. Locate the Power button on your device.
2. Now you need to press and hold the Power button for a few seconds or until you see any menu on your device screen.
3. Tap on Power off option and then tap OK. Now, the device will automatically power off.
4. Restart the device again after 30 seconds by long pressing the Power button.
Most probably, the SIM card not inserted error will be fixed on your Huawei / Honor phone. If the issue has not been resolved yet, you need to perform Soft Reset. This reset is free from data loss as it does not affect any saved data and personal information. Doing this, it will delete the cache files and fixes minor software errors.
Also Read: How to Install EMUI 8.0 Android 8.0 Oreo on Huawei Phones
Solution 2: Remove and reinstall SIM card
Huawei SIM card error is also seen when the device is unable to detect the SIM card as it may be dislodged from the tray. Users may also face the issue if the SIM Card is damaged. So, follow the below steps to ensure the SIM card is secured in placed and not damaged.
1. Firstly, turn off your mobile.
2. Remove the SIM card tray with the help of the SIM ejection tool.
3. Take a close examination on SIM card for any signs of damage like scratches. If you feel that the SIM card is damaged, visit the nearest service center and get a new SIM card of the same number. Otherwise, take a cloth and clean the SIM card carefully.
4. Put the SIM on the tray and re-insert on your device.
5. Turn on your device by long pressing the Power button.
Now, check whether the issue has been fixed or not. If you still see the error, do check out the next solution.
Solution 3: Boot in Safe Mode
Sometimes, the SIM card not inserted error is also seen due to any third party apps which are installed on your device. Boot your device into Safe mode and check whether the issue still persists or not. In Safe mode, all the third-party apps are temporarily disabled. Follow the below steps to boot your Huawei phone into Safe mode –
Turn off your device.
Then press the power button again to turn it back on.
Once you see Huawei animation screen, immediately press and hold the volume button to boot into safe mode.
If you see the mobile network on your device, then the issue is mainly caused due to the installation of third-party Android apps. Find the app which causes this issue and uninstall it from your device. If you still see the error in safe mode, then it is a serious system issue or might be some hardware damage. We advise you to go with the next solution.
Solution 4: Wipe cache partition
Like apps cache, there is also system cache on your device which might create errors if not deleted in time. Here's how to wipe cache partition on your Huawei phone –
1. Boot your device into Recovery mode. To do so, turn off your device and then power it on by pressing and holding the Power + Volume Up button. Release both the button when you see Huawei logo on the screen.
2. Here you will see a list of options to choose from. Navigate to wipe cache partition using volume down button and then confirm the selection using the Power button.
3. Wait till the cache partition is cleared.
4. Tap Reboot System to boot your device into normal mode.
On a successful reboot, check whether the SIM card issue has been resolved or not. If not, you need to perform the final solution i.e. hard reset or factory data reset.
Solution 5: Factory Data Reset
Factory reset is the final option let to you if any of the above solutions doesn't work to fix SIM card error on your device. As this completely deletes all your data from your phone, we advise you to perform a full backup. You can follow our guide on how to backup Huawei phones.
To perform reset, go to Settings > Advanced Settings > Backup & Reset > Factory data reset and finally tap on Reset phone.
If none of the above steps worked to fix Huawei SIM card not inserted error, then you need to visit the nearest Huawei service center and get your problem fixed there.
Do let us know, how well the above guide works for you to fix the SIM card issue on your EMUI smartphone in the below comments.