Install EMUI 8.0 on Huawei Phones: Like Xiaomi phones, Huawei & Honor phones also runs on its own custom skin based on Android called the EMUI. The EMUI 8.0 is the latest version and most of the Huawei phones have already started receiving this major update via OTA (Over-the-air). In case, if your Huawei device (List of devices to get EMUI 8.0 update) still doesn't received the EMUI 8.0 update or if you're facing issue to update the device via OTA, then here we have simple guide to manually download and install the EMUI 8.0 firmware on your Huawei / Honor phone.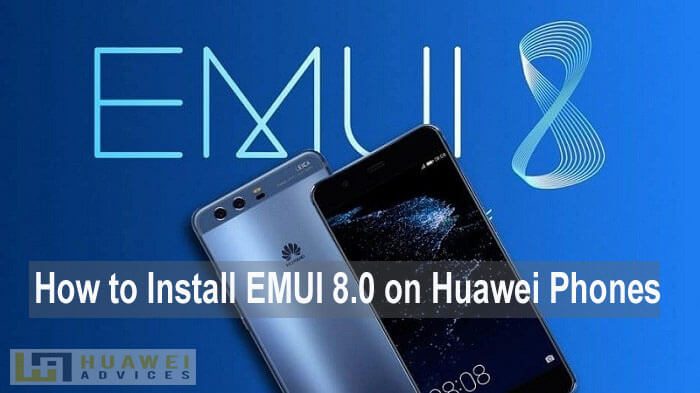 The latest EMUI 8.0 is based on Google's Android 8.0 Oreo OS. Huawei highlights artificial intelligence (AI) as EMUI 8.0's the biggest highlight. The company claims the AI on EMUI 8.0 can identify different objects such as flower, plant, food, performance, text, among others. Apart from this, the EMUI 8.0 update also brings several new features Gesture controls, Floating Navigation Dock, Battery saver, Dynamic wallpaper and more.
Early-preparations:
The following guide is compatible with each and every Huawei/Honor smartphone including the Honor 10, Huawei P20, Nova 3, Honor 9 Lite, Honor 7X, Huawei P9, Honor 8 Pro, Huawei Mate 8, Honor Note 8, and more.
Upgrade operations may erase all your user data. So if there is some important information, you should backup them before the upgrade.
There should be at least 75% battery on your device to execute the following flashing process.
Download and install the Huawei USB Drivers on your PC / laptop.
Take a standard USB cable to establish a connection between your device and computer.
Disclaimer: HuaweiAdvices is not responsible for damage or brick of your Huawei smartphone which is very uncertain if you follow the steps accordingly. Always, proceed at your own interest.
Download EMUI 8.0 Update for Huawei / Honor devices
Download Official ROM for Huawei
How to Install EMUI 8.0 Firmware on Huawei and Honor Phones
There are two methods through which you can install EMUI 8.0 firmware on your Huawei phones. One is Normal Upgrade and Force Upgrade. Normal Upgrade needs to start the handset and enter the System Update module while Force Upgrade is useful when your device doesn't boots-up. Let's discuss both the flashing methods one after another.
Normal Upgrade
1. Download Update Package and Unzip it.
2. Copy the entire dload folder (with UPDATE.APP in it) to the root directory of the microSD card.
3. Launch Phone Dialer app and dial *#*#2846579#*#* > ProjectMenu > Software Upgrade > SDCard Upgrade > OK.
4. Here you need to choose Update.app file which you have saved to device storage.
5. Now the installation process starts on your device.
6. Once done, the phone automatically restarts into latest/stock firmware.
Note: In case if you have the Data File and you want to flash it, then first of all delete the earlier moved update.app from the dload folder and then you can extract the second file (udate_data_Xxxxx) from above and move the new update.app to the dload folder. Repeat the same dial process from here.
Force Upgrade
1. Firstly, download the Update Package to your computer.
2. Now you need to unzip the Update.zip package.
3. Copy the entire dload folder (with UPDATE.APP in it) to the root directory of the Micro SD card.
4. Turn off your device
5. Now Press the VOLUME UP and VOLUME DOWN key, and then press the POWER key to power on the phone and enter the Software Upgrade Mode.
6. The update process starts and takes a few minutes to complete. So, keep patience and wait.
7. Once done, the phone will automatically reboots to latest EMUI firmware.
8. To update the Data file, you need to follow the Normal Upgrade.
That's the simple guide on how to flash EMUI 8.0 firmware on Huawei phones. If you encounter any issues during or after the flashing process, let us know in the below comments as we're always there to help you out. Also, do share the post with your friends and let them help upgrading their smartphone to latest EMUI software.