Huawei today announced EMUI 11, the new custom Android 11-based EMUI skin for Huawei and Magic UI 4.0 for the Honor devices. As scheduled, the announcement happened at the Annual Developer Conference (HDC) 2020 alongside other products and services including the Huawei Watch GT 2 Pro, Huawei FreeBuds Pro, HarmonyOS 2.0, and more. EMUI version 11 brings with it improvements to Huawei's Always on Display feature, new animations, improved multitasking capabilities, and new multi-screen collaboration integrations. Read-on for Huawei EMUI 11 (Android 11) Release Date, Supported Devices, and New Features.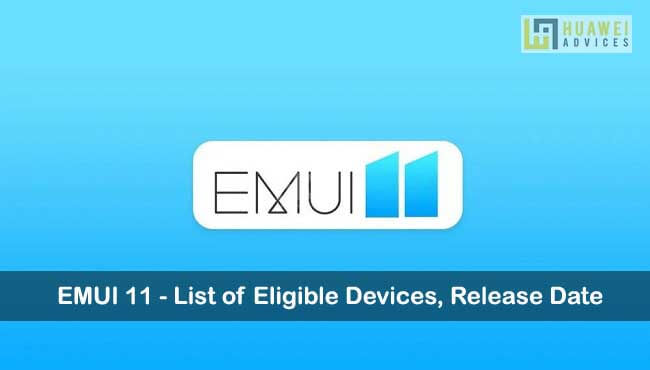 The first thing the users will like about EMUI 11 is the multi-window and split-screen functionalities. These functions have been placed at the center so that the user can get more familiar with the features instead of tucking them somewhere in the menus.
Moreover, the users will also appreciate the customizable AOD (Always-on displays). New styles and animated AOD have been added. One can also choose an image from the gallery and the system will convert it into an appropriate color palette. EMUI's various system applications, most notably the Gallery and Notepad apps, have received some upgraded functionality. Apart from this, there are several other new features which we have mentioned below.
EMUI 11 Release Date:
There is no exact date for the stable rollout of EMUI 11 for its supported devices. However, the company has already started recruiting EMUI 11 beta testers for at least 10 devices. This is a closed beta update which will be followed by public beta and finally the stable one. Currently, the Huawei P40, Mate 30 series and MatePad Pro (5G) are eligible for the EMUI 11 beta update.
Huawei will later add more EMUI 11 Beta devices in the coming weeks. Considering the Honor brand, Honor 30 and Honor View 30 series were made eligible for the Magic UI 4.0 update.
However, the stable EMUI 11 update is not happening anything before November 2020 as this is the same time Huawei released a stable EMUI 10 update for its devices.
List of Huawei and Honor phones eligible to get the EMUI 11 update
The following list is based on considering the hardware of the device and their update cycle which is most probably set to two years.
EMUI 11 for Huawei Mate Series
Huawei Mate 30 Pro
Huawei Mate 30
Huawei Mate 30 RS Porsche design
Huawei Mate 20
Huawei Mate 20 Pro
Huawei Mate 20 X
Huawei Mate 20 X (5G)
Huawei Mate 20 X (4G)
Huawei Mate 20 Porsche RS
Huawei Mate Xs
Huawei Mate X
Huawei Nova Series
Huawei Nova 7
Huawei Nova 7 Pro
Huawei Nova 7 SE
Huawei Nova 6
Huawei Nova 6 5G
Huawei Nova 5T
Huawei Nova 5
Huawei Nova 5 Pro
Huawei Nova 5Z
Huawei Nova 5i
Huawei Nova 5i Pro
Huawei P Series
Huawei P40
Huawei P40 Pro / P40+
Huawei P30
Huawei P30 Pro
Other Models
Huawei Enjoy 20
Huawei Enjoy 20 Plus
EMUI 11/Magic UI 4.0 for Honor devices
Honor 30
Honor 30 Pro
Honor 30 Pro+
Honor V30
Honor V30 Pro
Honor 30S
Honor V20
Honor 20
Honor 20 Pro
Honor 20S
Honor 20 Youth Edition
Honor X10
Honor 9X
Honor 9X Pro
Honor Play 4T /4T Pro
Honor 9A
Honor 9S
Note that this is an unofficial list that is currently prepared on the basis of Huawei update policy of previous years. If any confirmation comes officially from Huawei, we'll update the same to this post.
Also Read: How to Download and Install the EMUI 10 Update
EMUI 11 Features:
EMUI 10 bought several new features and performance improvements to the device. Magazine Style UI layout, Morandi Colors system, Dark Mode, Improve security, New Animations, and more are the highlights of EMUI 10. Considering the EMUI 11, this will be the most advanced update for the EMUI skin. Huawei will be boosting its App ecosystem to take on the Google Play Store and the veto imposed by the United States government. The following is the changelog of EMUI 11 beta that was pushed to the Huawei P40 Pro:
Technology for people
EMUI 11 refines the user experience and brings vivid, dynamic visual elements for the Always On Display (AOD). AOD now allows you to customize your screen and showcase your personal style with text and images even when the screen is off.
Multi-Window allows you to open apps in a floating window for multitasking. You can relocate the floating window to the desired location or minimize it to a floating bubble for easier access later.
The brand new, intuitive animations throughout EMUI 11 create a smoother, more unified, and visually pleasing user experience when touching items or sliding on the screen.
Whether you're toggling switches on or off, subtle effects have been enhanced throughout the OS for greater visual satisfaction.
Seamless connections
Multi-screen Collaboration
This is a special feature that enables your devices to work together to achieve their full potential. You can mirror your phone to your laptop's screen to improve your productivity with multiple app windows readily available. (This feature requires a Huawei laptop with PC Manager of version 11.0 or later.)
Privacy-based screen projection
When you project your phone onto an external display, messages and incoming calls are displayed only on your phone screen, both protecting your privacy and ensuring the continuity of screen projection.
Notepad now supports editing notes simultaneously from multiple Huawei devices. For example, you can insert a photo from your phone to the note being edited on your tablet.
You can now quickly identify and extract text from images or documents, edit the text, and then export and share it. Creating a digital version of a paper document has never been easier.
Excited about the EMUI 11 (Android 11) update? Do let us know in the below comments.