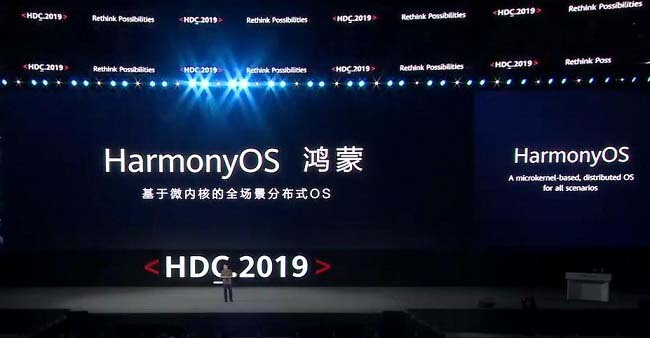 Huawei at its 2019 Developer Conference event launches its home-made operating system called the Harmony OS. The new operating system is called HongMeng OS in China. Although the OS was in development for several years, the plan to make it official happened just a few months back when the US imposed a trade-ban on Huawei. With this Harmony OS announcement, the current users of Huawei and Honor users will be in great relief as the Google revoked the Android license.
The new Harmony OS is meant not only for smartphones and tablets, but also supports a range of other tech gadgets including computers, smartwatches, smart TVs, smart speakers, in-vehicle systems, and virtual reality gadgets. Moreover, the Harmony OS will be open-source, with developers allowed to create apps for it using the ARK Compiler.
"Harmony OS is completely different from Android and iOS operating system" and will be "more smooth and secure," says Richard Yu, the CEO of Huawei's consumer business group. When asked when the OS will be applied to the smartphones? Yu replied that we can do it any time, but first priority will be using Google's Android operating system.
"However, if we cannot use it (Android) in the future, we can immediately switch to the Harmony OS," he said.
Although the company made its first in-house operating system official yesterday, it hasn't yet shown it off on smartphones. The Harmony OS will make its first official appearance on the Honor Vision TV which is set to debut today at the second-day of Huawei's Developer Conference. The wearables and laptops with Harmony OS are said to go official by 2020.
HarmonyOS Roadmap
HarmonyOS 1.0 in 2019 — In-house development for key modules based on the open-source framework will debut with HONOR Vision Smart TV, which will be launched in China tomorrow, August 10th.
HarmonyOS 2.0 in 2020 — In-house development for kernel and app framework will support PCs, smartwatches, smart bands, and head units.
HarmonyOS 3.0 in 2021 — Optimization in software-hardware synergy and support speakers and headsets
HarmonyOS in 2022 — Support VR glasses and other products.
At the event, Huawei also announced its tenth-iteration of EMUI version which will be based on Android 10/Q. EMUI 10 is a big improvement over its predecessor version bringing several new features including the Dark Mode, Multi-Screen support, and more.
Moreover, the company also made official the list of Huawei and Honor phones confirmed for the EMUI 10 update.