Honor FlyPods Lite, FlyPods Pro, FlyPods 2 are the latest headset offering from the Huawei's sub-brand Honor. In this guide, we have a detailed tutorial on how to firmware update on any Honor FlyPods.
To provide better user experience, Honor releases software updates for Honor FlyPods from time to time. This update makes sure to fix bugs if any and also improves the performance of the headsets. Those who're new to Honor FlyPods Lite/ FlyPods Pro/ FlyPods 2 may find it difficult to upgrade their device. To make things simple for them, here we have a step-by-step guide to software update on Honor FlyPods (All models).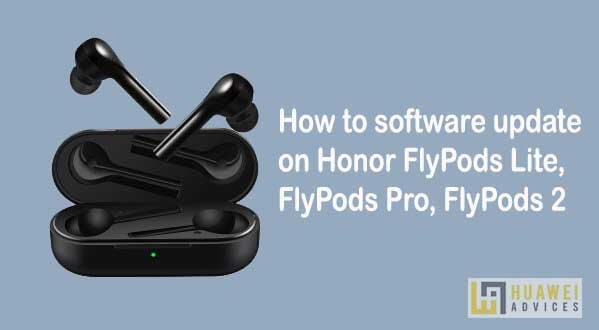 The Honor FlyPods Lite comes with dual-mics on each side for better environmental noise cancellation. One can control music volume, answer calls, and activate voice assistant by tapping on the buds. The FlyPods Lite offers up to 12 hours of music playback and connects to any Android/iOS smartphone via Bluetooth 4.2 connectivity. It is also IP54-rated water and sweat resistance.
Also Read: How to Reset Huawei FreeBuds 3 TWS Earbuds to Factory Settings
Early preparations:
Your Android smartphone should be running on Android 4.4 or above.
Download and install the "FlyPods Lite" app on your Android mobile.
There should be enough battery level on your Honor FlyPods headset.
Ensure the FlyPods charge box battery is more than 40%.
The phone should have internet connectivity to download the firmware package.
How to firmware update on Honor FlyPods Lite, Honor FlyPods Pro, Honor FlyPods 2
1. Launch the FlyPods Lite app on your Android smartphone.
2. Pair the Honor FlyPods Lite/ FlyPods Pro/ FlyPods 2 with your mobile. To do so, you need to place the FlyPods inside the charging case and hold the function button for a couple of seconds until you see the blue light.
3. Select "Start Pairing" on the phone app.
4. Once the FlyPods are successfully connected with your mobile, you need to head back to the app's main screen and tap on "Upgrade".
5. If any new firmware version is released for your FlyPod, it will be shown here. Simply, select "Download Version".
6. Once the software package is successfully downloaded, you need to close the lid of the charging box and press the "Upgrade" icon.
7. Wait till the progress bar reaches 100% indicating that the firmware has been successfully installed.
8. Enjoy!
I hope the above guide was useful in software upgrade the Honor FlyPods Lite, Honor FlyPods Pro, Honor FlyPods 2. For any queries or issues, feel free to comment below. Also, do check our EARPHONES section for more such useful tips and tutorials.