Are you looking to change Fonts and Emoji on your Huawei smartphone? Then you're at the right place. Here, we'll teach you how to download and install 50+ Fonts / Emoji on Huawei/Honor EMUI devices.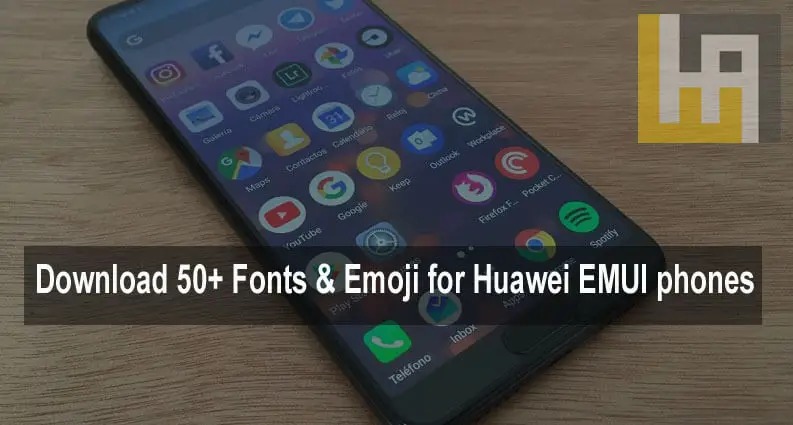 As we all know, Huawei and Honor phones runs on its own custom skin called EMUI on top of Android. Just like Xiaomi's MIUI, the Huawei EMUI also comes with lot of customization options. Users can easily change theme, icons, lock screen, but unfortunately there is no settings to change font style. So, here we have decided to share quick steps to change font style on any Huawei phone. The following guide is compatible with each and every Huawei phone running on Android Oreo / Nougat / Pie based EMUI 8.0 / EMUI 5.x ROM.
Apart from fonts, here we have also shared new Emoji for Huawei EMUI devices. Users need to download the emoji and then follow the same below steps to install the emoji on their devices. To change font style and install new emoji, there is no need to have root access.
Also Read: How to Take Long Screenshots on Huawei Phones
Download Fonts for Huawei EMUI phones
The following are the list of font names and their download links are provided below:
BETHANY
CHOCOCOOKY
IPHONELIGHT
PRODUCT_SANS
COMIC_SANS
MARSHMALLOW
ROSEMARY
BLACK JACK
CAVAIR DREAMS
DANCING SCRIPT
GRAND HOTEL
HELEVETICANEUELIGHT
HUSSER
RABIO HEAD
SAN FRANCISCO(SF FONT IOS9)
SF CARTOONISTDOWNLOAD
LATO
UBUNTU REGULAR
UBUNTU LIGHT
ROBOTO REGULAR
ROBOTO CONDENSED
ABEL
COOL JAZZ
JOSEFIN SANS
MONTSERRAT
OPEN SANS CONDENSED BOLD
OPEN SANS CONDENSED LIGHT
RALEWAY
ANTONIO
ANGRY BIRDS
31-MIUI8
SONY SKETCH
STONAGE
COCON
KLAVIKA
RATTLESCRIPT BOLDCAPS
SLATE PRO(BLACKBERRY)
SULUS
BOWHOUSE
CALIBRI
COMFORTAA
RIX SQUIRREL
FASHION FETISH
HELLO PIPI
HELLO POOL NEEDLE
NATO(GOOGLE PIXEL)
COCON LIGHT
DUDU CALLIGHRAPHY
EMUI5
HACEN LINER XL
HYTRAVEL
CORPORATE ROUNDED
INSOMIA
SAMSUNG SANS
WALTOGRAPHY
ANGELINE
GLEGOO
LIFE SAVER
KALAM
How to install a new Font on Huawei/Honor devices
1. Firstly, you need have an app called "Tweaker for Huawei" on your device. Users can download and install the app directly from Google Play Store.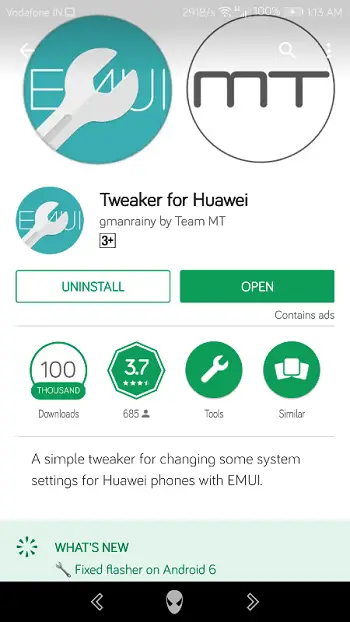 2. Launch the Tweaker for Huawei app from app drawer and tap on 'Enable Font Change'. Now you need to toggle 'OFF' and press 'Apply'.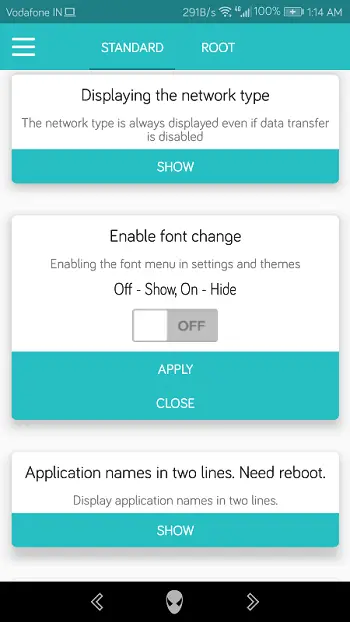 3. Once done, you need to download your favorite font from the above list and change the extension '.zip' to '.hwt'. Do remember that you need to rename the extension without extracting the zip file.
4. Then transfer the font file to Internal storage > Huawei Themes folder if your phone is running on EMUI 5.1 or below. For Huawei phones running on EMUI 8.0 or above need to move the file to Internal storage > HWtheme folder.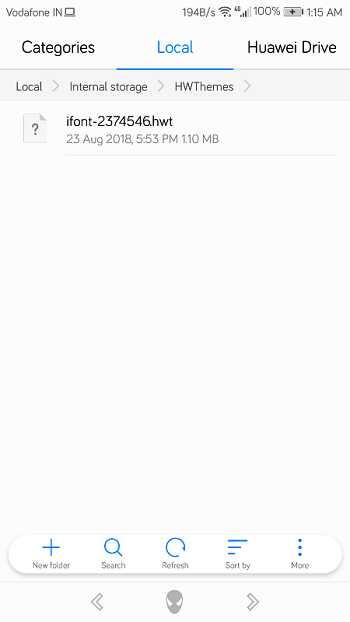 5. Next go to Theme App and tap on Offline (Me) option located at the top right corner.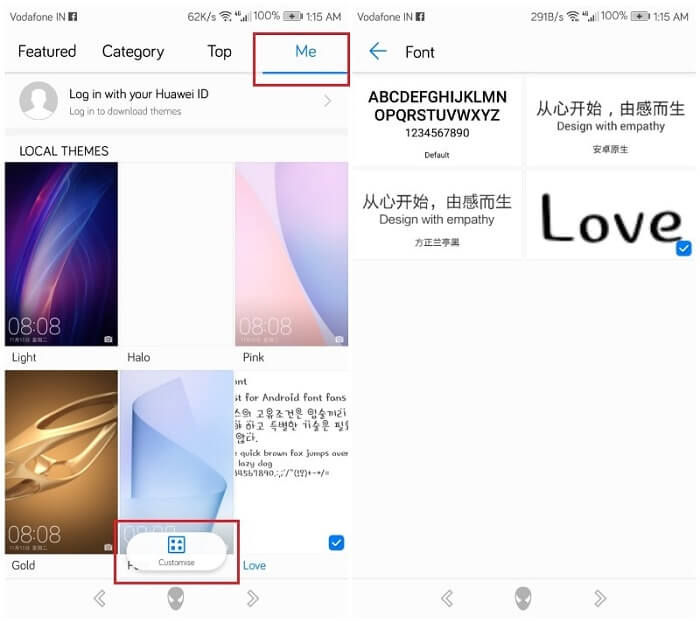 6. Now you need to tap on Customize option and then select the font option. Refer the above screenshot for easy references purposes.
7. That's it! Here you'll find the latest font which you've installed on your device. Select the font and tap on Apply.
In this way, you can download any of the above listed fonts and apply on your Huawei EMUI smartphone.
Download Emoji for Huawei/Honor phones
   Download Emoji for EMUI phones
How to Change Emoji on Huawei/Honor EMUI devices
The steps to install new Emoji on any Huawei phone is same as the above steps. Simply download the Emoji from above links and then follow the above steps to apply on your EMUI phone.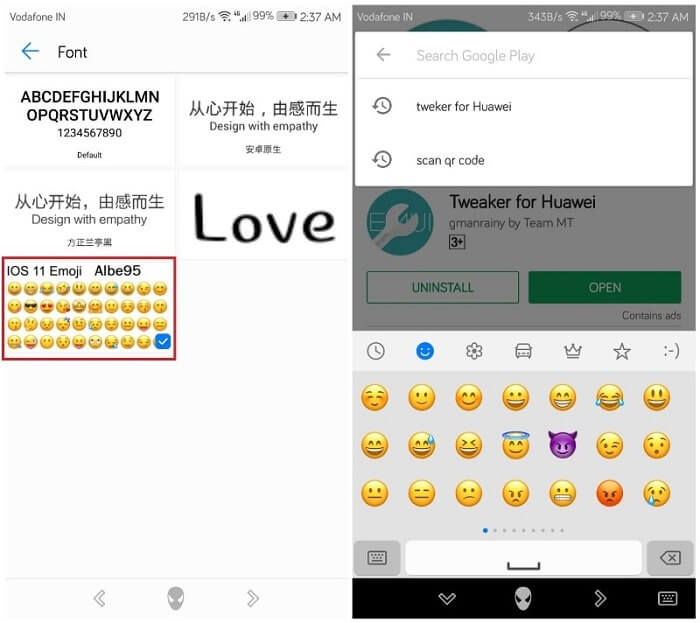 That's it! Now you can regularly change fonts and install new emoji on your Huawei/Honor phones. Don't forget to share which font you like the most from the above list by leaving a comment below.