WhatsApp Messenger is one of the popular social networking apps in the world. This Facebook-owned messenger services are not only limited to text and voice messages but also lets you make voice and video calls, share images, documents, user locations, and more. Here we have shared a tutorial to solve WhatsApp Notifications not working problem on Huawei and Honor smartphones.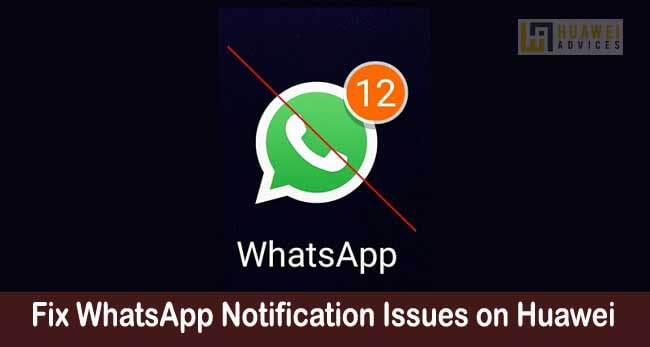 Generally, when a new message is received on WhatsApp, you'll see the notification on your lock screen/status bar. But, there are scenarios users don't get any notification alerts from WhatsApp. Users can only able to view the notifications upon opening the app. This may be due to notification settings on your Huawei device or WhatsApp application. To help you out, we have a simple guide to fix WhatsApp Notification issues on Huawei.
How to Solve WhatsApp Notification Issues on any Huawei / Honor device
Here we have shared solutions for both no notification on the lock screen and no alert tone when receiving a new message. Follow the steps according to it.
Scenario 1: No Notification on the lock screen when receiving a message
1. Firstly enable lock screen notifications on your Huawei device. To do so, go to Settings > Notifications > Lock Screen Notifications > Show.
2. Ensure the WhatsApp notifications are enabled on your device. Also, the chat notifications for individual/group is not muted.
Open WhatsApp > Settings > Notifications and make sure that message and group notifications are not silent.
Open a Chat/group > Tap on three dots and make sure the notifications are not muted.
3. Make sure there is a strong network in your area. If there is poor internet connectivity, then it might take time to reconnect the WhatsApp to the internet connectivity and send you notifications.
4. Ensure Battery Saver mode is disabled on your device. In order to save battery, the device may stop sending the WhatsApp or any other app notifications.
5. Pin the WhatsApp shortcut icon to the home screen. This way, if you miss a notification, the unread message count over the WhatsApp icon shows there is a new message.
You may also like:
Scenario 2: No Alert tone when receiving a message
If you're not hearing WhatsApp alert tone when receiving a message, you need to follow these steps:
1. Go to Settings > Apps > WhatsApp > Notifications > toggle on Allow Notifications. Also, go to Critical app alerts and set a sound for your notification.
2. Ensure Conversation tones are enabled on your WhatsApp. To do so, go to Settings > Notifications > toggle Conversations tones green.
3. Sign out and in WhatsApp Account.
4. Make sure the WhatsApp has the latest version.
5. Reboot your device.
6. Uninstall and reinstall WhatsApp.
In case, if you still don't receive WhatsApp notification on your Huawei mobile, then the issue is caused by the internal logic of WhatsApp. One can report the issue to the WhatsApp developer team via Settings > Help > Contact Us.