Facing unstable phone signals or showing "x" on top of the signal bar icon on your Huawei smartphone? Hereafter, there is no need to worry! Here we have a simple tutorial that helps to fix unstable phone signals issue on any Huawei and Honor device running on EMUI OS.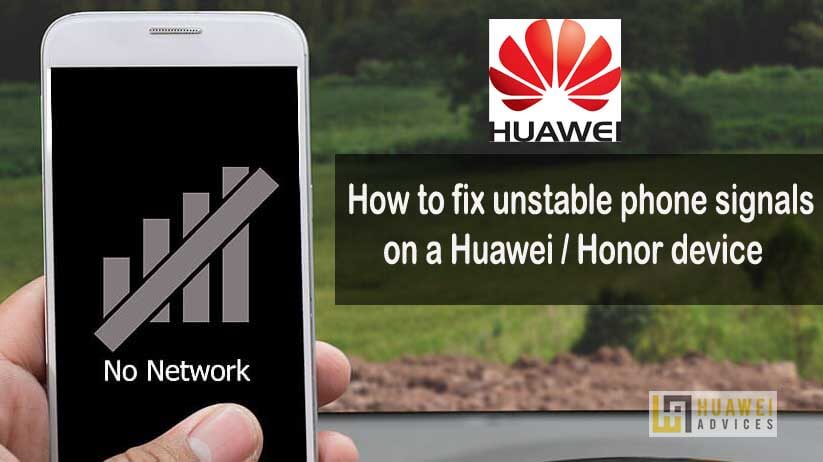 There could be several reasons for the instability of a mobile network. This could be firmware errors, faulty SIM card, invalid settings, malware apps, network outreach, and more. Sometimes, these signal errors are minor ones and can be fixed by a simple troubleshoot. Here we shared a list of methods to troubleshoot unstable phone signals on a Huawei/Honor device. However, these are general solutions and most of the users have found it useful.
How to fix unstable phone signals problem on any Huawei / Honor device
The following are the useful methods you need to follow to fix unstable phone signals issue on any Huawei device:
1. Reset Network Settings:
Sometimes, installing invalid network configurations may create network errors on your device. This mainly happens when you have downloaded a faulty software or application. This software overrides the current network settings, thereby creating network errors and conflicts. To fix this, one needs to restore the network settings to factory settings. Here are the steps for the same –
1. Open the Settings app.
2. Scroll to and tap System.
3. Select Reset.
4. Tap on Reset network settings.
5. Tap Reset network settings again to confirm.
Note: All records of WiFi and Bluetooth connectivity will be deleted after the network reset. We advise you to backup the data which you would like to retain.
2. Avoid using metal protective covers:
Using of metal protective covers is hugely responsive to drop-in mobile networks. These metal cases impair signal reception. If you use these metal protective covers on your Huawei/Honor phone, we suggest you remove it and check the signal strength. If still it's unstable, jump to the below method.
You may also like:
3. Use the phone from another location:
Sometimes, your area might be responsible for unstable network signals. Go to a spacious place and check whether the signals are still unstable.
4. Use another SIM Card:
Use another SIM card from Telecom provider or try the same SIM card to another smartphone. If the result is a faulty current SIM card, then visit your network service provider for diagnosis and ask for a new SIM card.
5. Update the device:
Keep your phone updated with the latest firmware to keep it away from bugs and viruses that can play foul with your phone. To check if there is an update available or not, go to 'Settings >> System >> Software update >> Check for Updates'.
6. Reset your Huawei device:
If none of the above methods worked to solve the network issue, then the final option left with you is the hard reset. However, hard reset erases all your device data and restores to factory settings. Thus, all the complex glitches, bugs, and malware causing network problems will be removed after a master reset. Looking forward to resetting, be sure to backup your important information saved to internal storage as the process deletes it.
   Guide to Reset any Huawei/Honor phone
If the unstable network issue still persists on your Huawei/Honor device, we recommend you to visit the nearest Huawei service center for diagnosis. Before the visit, make sure you've backup everything as the service center may undergo a factory reset.