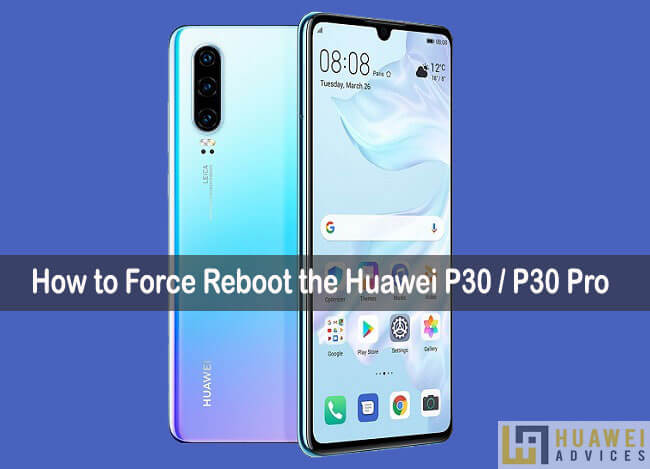 Huawei P30 and P30 Pro are powered by the company's powerful Kirin 980 chipset which is all set to take on any load thrown at them. Both the devices have up to 8GB of RAM which promises a better flawless experience.
But, sometimes the things don't go well and you might face issues where the device becomes totally unresponsive. In this scenario, the force reboot of Huawei P30 and P30 Pro is the best solution to get everything back to normal.
Regarding the same, here we have explained in detail on how to perform force reboot on Huawei P30 and P30 Pro. There is no need to worry about data loss as the process doesn't perform a factory reset. It only simulates a battery removal.
To remind you, the Huawei P30 and P30 Pro run on Android 9.0 Pie-based EMUI 9.1 OS, features an in-display fingerprint sensor, and a 32MP front camera with f/2.0 aperture. The Huawei P30 comes with a 6.1-inch FHD+ OLED display, up to 8GB of RAM, 128GB internal storage, and sports triple rear camera setup. On the other hand, the P30 Pro features a slighter bigger 6.47-inch FHD+ OLED display, 8GB of RAM, 128GB/256GB/512GB internal storage, and a Quad read camera setup. Both the devices are already up for pre-orders globally.
Guide to force reboot the Huawei P30 and P30 Pro
The following are the simple steps you need to follow in order to force reboot the Huawei P30 and P30 Pro devices.
Locate the Power button. It will be located on the right side just below the volume button on both P30 and P30 Pro.
Press and hold the Power button for 10 to 15 seconds (or until the screen turns off).
Now, the device will start rebooting. Slight vibration and a Huawei logo on the screen confirms the reboot.
In case, the device doesn't restart, you need to hold the Power key for more time until the device restarts itself.
Done!
Related Content:
I hope the above tutorial was helpful in performing force reboot on your Huawei P30 / P30 Pro smartphone. For any queries or issues, feel free to comment below. You can also check our EMUI section for all EMUI tips, tricks, and tutorials.