HiSuite is an Android smart device manager for Huawei and Honor smartphones. This official tool lets you control your smartphone from your computer. HiSuite helps to manage images, videos, applications, SMS, etc. on your device directly through the PC. Moreover, the app also provides phone backup and it protects the data using a password. Here we will guide you on how to Backup Huawei phone using the HiSuite.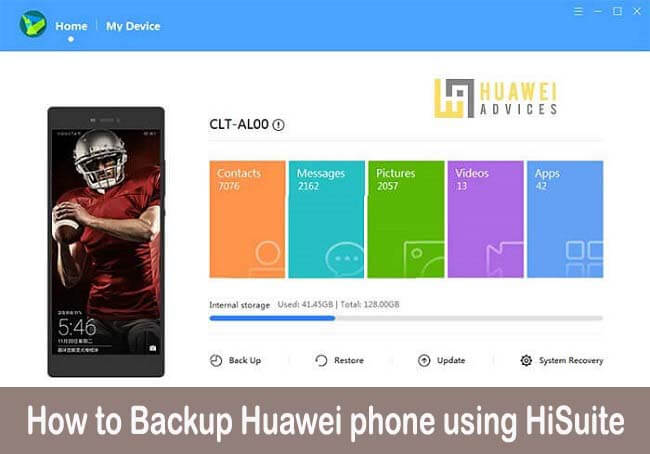 HiSuite Backup feature will be very useful whenever you upgrade phone system software, factory reset it or install a new ROM. Under this process, there is a high risk of data loss. In this case, HiSuite will be very useful to perform a secure backup of all your data which can be restored easily. Additionally, if you're too cautious about your phone data then we advise you to perform backup regularly so that if any data is deleted accidentally then you have the backup to restore it back.
So, if you don't want to lose data ever then follow our below steps to backup data on your Huawei EMUI smartphone.
Compatible Devices: The following HiSuite Backup tutorial is compatible with each and every Huawei smartphone including the Huawei P30 Pro, P20 Lite, Huawei Y9 Prime 2019, Nova 5 Pro, Mate 20 Lite, Nova 4, Mate 10 Pro, and more.
Related: How to Solve Huawei HiSuite not detecting phone | HiSuite Issues
How to Backup Huawei phone data to PC using the HiSuite
1. Download and install the HiSuite application on your computer.
   Download HiSuite for PC – Latest Version
2. Enable HDB on your phone.
To do so, go to Settings > Advanced settings > Security > and toggle on "Allow HiSuite to use HDB" feature.
Give necessary permissions to HiSuite from Settings > Apps > HiSuite > Permissions and select the required app permissions.
3. In case, if there are no HDB settings in your device then manually enable USB Debugging. You can follow our guide on how to enable USB Debugging on any Huawei smartphone.
4. Once done with the above steps, open the HiSuite app and connect your Huawei device to PC using a standard USB cable.
5. After a connection is set up successfully, you will see the following screen on your HiSuite.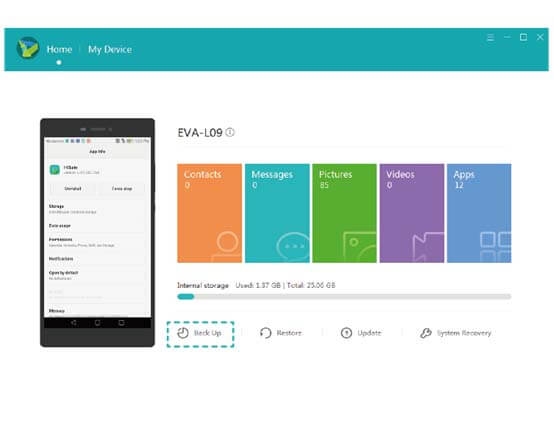 6. Select the Home tab and click on Back Up.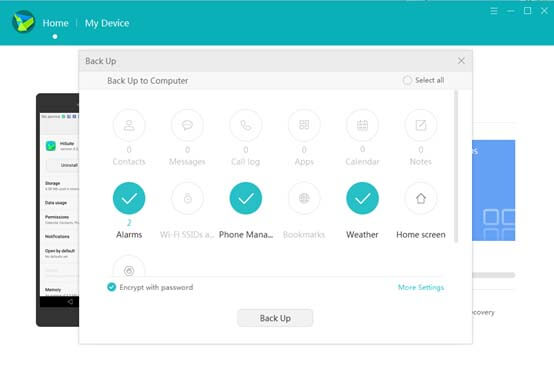 7. Now you need to select all the data which you want to take a backup. Next, select a backup path and then touch the 'Back Up' button to begin.
8. In the next screen, HiSuite will ask you to set up a password for your backup. If you have set up a password, then it becomes mandatory to remember and enter the same when restoring the data.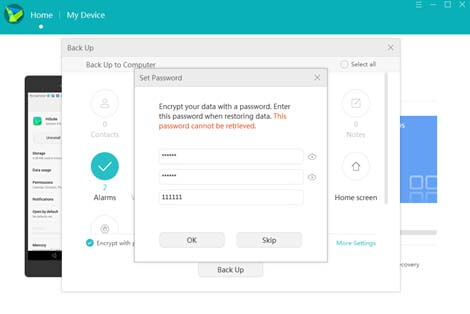 9. On a successful backup, you will be notified with a message: Complete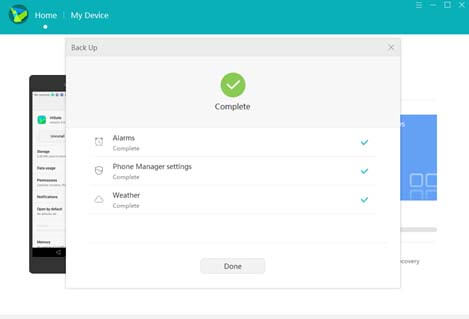 Also Read: How to update my Huawei phone via HiSuite [Latest Firmware]
How to Restore Data on Huawei using the HiSuite
1. On the homepage of HiSuite, select the Restore option.
2. You will be directed to a screen where you will all your previous data backups.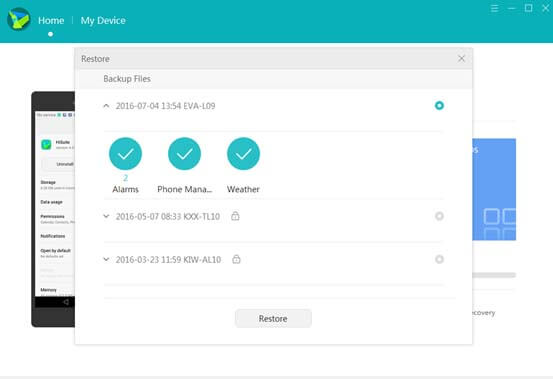 3. Select the latest data and hit the Restore button.
4. That's it! HiSuite will automatically restore all your backup data to your Huawei smartphone.
I hope the above tutorial was useful to perform backup/restore data on your Huawei smartphone using the HiSuite. If you face any kind of issues or have any queries related to the above procedure, feel free to comment below. Also, don't forget to check our EMUI section for Huawei tips and tutorials.