Are you one among the Huawei users facing the "HiSuite not detecting phone" issue? Then there is no need to worry? Here we have shared all the possible solutions for Huawei HiSuite errors and issues.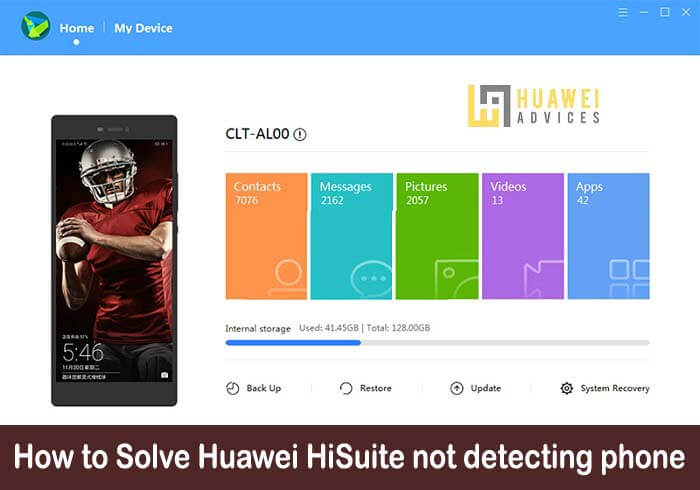 HiSuite is the official phone manager tool for Huawei and Honor devices. This Windows/Mac-based application allows you to easily manage images, videos, applications, etc. on your device from your computer. To enjoy these features, all you have to do is download HiSuite and connect the device with PC using a standard USB cable.
The HiSuite is compatible with all Huawei and Honor devices including the Honor 10, Honor 9 Lite, Honor 20 Pro, Huawei P30 Pro, Mate 20, Y9 2019, P20, Nova 4, and more.
Huawei HiSuite – Top Features
Fast Backup and secure Restore
File Explorer
Find & update latest EMUI software
System Recovery
Manage and send quick SMS
Manage Apps
Huawei HiSuite common errors and solutions
The following are the common errors and solutions for the Huawei HiSuite software:
Error 1: Huawei phone is not detected by the PC
1. Make sure the latest version of HiSuite is installed on your PC. If not, try installing the latest version using the previous version of HiSuite.
2. Also, make sure to enable USB Debugging mode. To do so, you need to go to Settings > About. Tap the Build number seven times to make Settings > Developer options available. Then enable the USB Debugging option.
3. Disconnecting and reconnecting the Huawei/Honor may also solve the "Phone not detected issue".
4. Rebooting your phone solves most of the HiSuite errors and issues.
5. Restart the HiSuite. If this doesn't fix, try to uninstall it and reinstall a fresh version from HERE.
6. Changing USB ports: This may seem unimportant, but it is very important since a USB driver update can affect the performance of a device that was plugged in at the moment of update.
7. Check that HDB (allow HiSuite to connect using HDB) is enabled. Try to revoke HDB permission from your PC, enable and try to connect again.
If the issues still persist, backup the device via other means such as sd card or cloud; perform a factory reset and attempt connecting the device afterward to the PC/laptop. You can also follow how to factory reset Huawei phones.
Also Read: How to update my Huawei/Honor phone via HiSuite
Error 2: Update your device before connecting
This error will pop-up when the Huawei device is connected to PC. It asks to update the device to latest EMUI software although there are no new updates. There is no need to worry about this error as it will be fixed in the next HiSuite updates.
Error 3: "The version of EMUI you're using is too old"
This means the current version of your EMUI software is not compatible with the HiSuite software. Make sure to go to Settings > System updates and check for latest software updates.
I hope the above tutorial was helpful in solving "Huawei HiSuite not detecting phone" issue. For any other queries or issues, comment below!