All the Huawei and Honor phones run on its own custom ROM called EMUI based on Android. These devices get EMUI updates regularly for improved security, new features, and sometimes brings overhaul new UI experience when the EMUI update is based on the latest Android version. The software updates are pushed via OTA and users will get the notification instantly. However, there are users who are new to Android and finds difficulty in performing software updates. To make things simple for them, here we have a simple tutorial on how to Software update on your Huawei and Honor smartphones.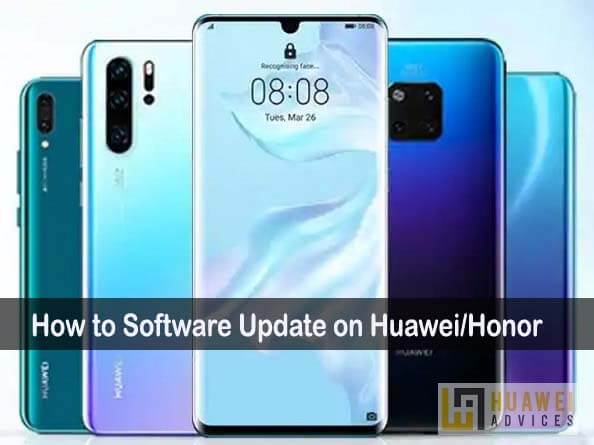 Currently, the EMUI 9.1 is the latest software available to download for a range of Huawei and Honor models. EMUI 9.1 update is based on Android Pie OS and brings features like GPU Turbo 3.0, EROFS File System, VLOG, Phone Clone, One Touch, and more. Moreover, Huawei also announced the list of eligible devices to get the Android Q-based EMUI 10 update.
Pre-requisites:
This procedure works only with Huawei and Honor devices running on EMUI OS.
Your phone is connected to the Internet before you start the update. Online updates consume a certain amount of data traffic, so it is recommended that you connect your phone to a Wi-Fi network.
Your phone has a remaining battery power of higher than 30% throughout the update.
The update will require some time. Please do not press the power button or perform any other operations during the update. When the update is complete, your phone will automatically restart.
Perform backup. This will help to restore data if any data loss occurs.
How to update the Software on Huawei / Honor devices
1. Open the Settings on your Huawei device. You can access the Settings either by dragging the notification tray > tap on the Setting gear icon or by directly launching the Settings app through App Drawer.
2. Go to System > Software update.
3. Tap on the "Check for Update" button. This will automatically search and download the latest software on your Huawei mobile.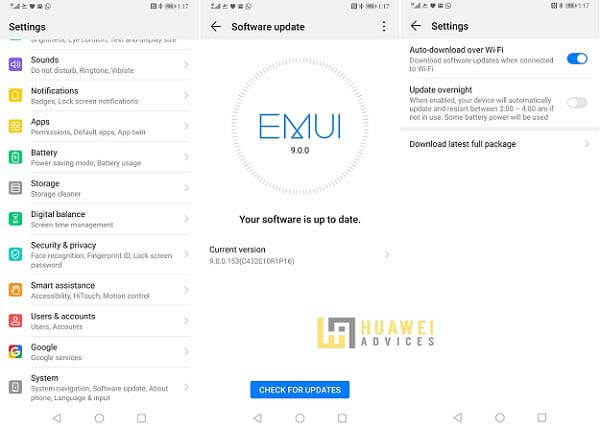 4. If no updates are shown here, tap the three dots at the top right corner and select Download latest full package. This will download the latest firmware to your device.
5. Once done with the download, you need to tap on 'Install' to proceed with the installation process.
6. On successful installation, the phone reboots to the latest software version.
Note: Some updates will not be shown on your Huawei and Honor smartphones if there is no SIM card. Make sure to insert a SIM card based on your local region and try repeating the above steps for the latest software upgrade.
That's the simple tutorial to update any Huawei / Honor smartphone to the latest software. Here below are a few other useful tutorials which might be useful to you.