iOS 13 Theme is now available to download for Huawei and Honor devices running on Android-based EMUI OS. iOS 13 is the next version of the operating system for Apple devices. The ROM brings several new features and functionalists, the Dark Theme is one of the popular features. If you're one among those who like iOS 13 OS and wanted to experience it, then here we have an iOS 13 Theme which can be downloaded and installed on any Huawei / Honor smartphone.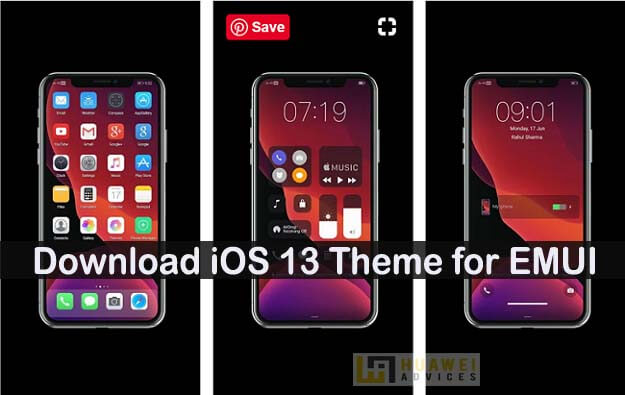 The Dark Mode, Sign in to Apple, and Advanced Photo and Camera features are the highlights of the iOS 13 OS. The Dark Mode introduces a dramatic new look for iPhone. It's thoughtfully designed to make every element on the screen easier on your eyes and is seamlessly integrated throughout the system. Also, it's simple to turn-on the mode and all iOS stock apps support it. You can also check here for complete details about the iOS 13 features.
Download iOS 13 Theme on Huawei EMUI devices
   Download iOS-13 EMUI 9.0 Theme
   EMUI Themes collection for Huawei / Honor
How to install iOS 13 Theme on any Huawei / Honor smartphone:
1. Download and install the iOS 13 theme from Google Play Store.
2. Open the app and grant all permissions.
3. Now you need to click on the "Install Theme" option.
4. Finally, apply the theme via theme app.
Install iOS 13 theme if downloaded as .hwt file:
1. Download the iOS 13 theme zip file and extract the same to your PC.
2. Find the .hwt file in the HWThemes folder and transfer the same to device internal storage under "THEMES" folder.
3. Next, come back to the app drawer and launch the Huawei Themes App.
4. Go to the "Me" section of the Theme app. Here you will find .hwt theme file which you have downloaded and saved it to internal storage.
5. Simply, select the theme and tap on 'Apply'. This will start applying the theme.
6. Once done, you need to restart your device for the theme to take full effects.
I hope the above guide was helpful in installing the iOS 13 Theme on your Huawei and Honor smartphone. Don't forget to check out the Android section for more such beautiful themes and wallpapers.
You may also like: