The latest EMUI 13.1 introduces exciting new features designed by Huawei to enhance the user experience. While it may not be a massive upgrade, these additions bring significant improvements compared to EMUI 12.
Let's explore the fantastic features of EMUI 13.1! We'll look into the customizable lock screen, fascinating new animations, the innovative 3D Always-On Display (AOD), and other exciting improvements.
EMUI 13.1 features:
Themes
3D Weather Always-On Display (AOD)
Custom Lock Screen
Better Icons
Seamless Animations
New Camera Zoom Ring and Quick Menu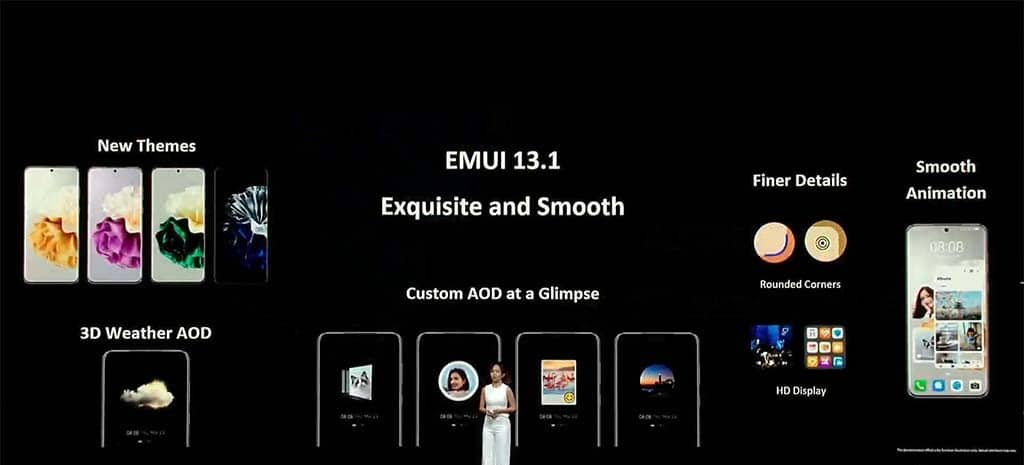 Themes
Huawei is promoting EMUI 13.1 with fresh themes for their smartphones. They have introduced various always-on-display themes that enhance the user experience. For example, the Huawei P60 Pro and Mate X3 now have their unique themes powered by this new version.
3D Weather Always-On Display (AOD)
Huawei's 3D Always-On Display (AOD) is a standout feature in EMUI 13.1, offering users a glimpse of the future. Unlike regular AODs, it goes beyond displaying basic information and provides dynamic views of calendar events, weather updates, and mesmerizing animations that respond to the device's movement. It transforms the idle screen into an interactive and informative experience.
Custom Lock Screen
EMUI 13.1 offers a custom lock screen feature, allowing users to personalize their smartphones like never before. With a variety of themes, wallpapers, and widgets to choose from, they can create a unique and expressive lock screen. It's all about showcasing individuality and creativity, from photo collages to weather forecasts.
Better Icons
Huawei has improved the app icons in EMUI 13.1. They are now smoother and better in shape compared to EMUI 12. The graphics have also been optimized, ensuring users a more enjoyable UI/UX experience.
Seamless Animations
EMUI 13.1 brings captivating new animations that breathe life into the user interface. From fluid app transitions to elegant effects while opening and closing apps, these animations add finesse to every interaction. The seamless and delightful user experience they provide sets EMUI 13.1 apart.
New Camera Zoom Ring and Quick Menu
EMUI 13.1 caters to photography enthusiasts with exciting camera enhancements. Better low-light performance and advanced AI scene recognition make capturing stunning photos effortless. Adding new filters and editing tools empowers users to unleash their creativity, producing professional-quality smartphone photos.
EMUI 13.1 features a new zoom ring, replacing the side slider in EMUI 12. Additionally, the dedicated camera menu is now conveniently positioned below the shutter button, easily accessible to your thumb.
Road Map:
These features are exciting, but Huawei has yet to announce whether EMUI 13.1 will be available for older devices. Nevertheless, we remain hopeful and eagerly await the release of EMUI 13.0 for users.