As we all know, Huawei and Honor devices run on their own custom skin called "Emotion UI" or "EMUI". This Android-based custom ROM offers tons of customization options. One such is the ability to display the battery life in percentage in the status bar. Here we have a simple guide to show battery percentage in the status bar on Huawei / Honor devices.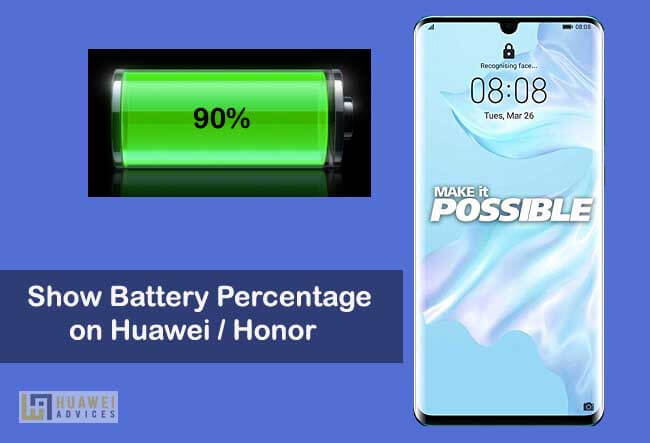 In this era of Humans depending more on a smartphone, it is really important to keep an eye on your battery usage. By default, Android phones don't show you the exact battery left, but there is just a vague graphic. One really finds difficult to guess the backup period from that graph. To make things simple for you, Huawei and Honor phones come with in-built settings to show battery percentage in the status bar.
By turning-on the battery percentage, one can always have a glance at the exact amount of battery left straight from your status bar. Users can optimize the phone depending on these battery percentage. To enable the battery percentage on Huawei and Honor devices, here's what you need to do.
You may also like:
How to Display Battery Life Percentage on a Huawei/Honor smartphone
1. Power-on your Huawei smartphone.
2. Go to the Main Settings app.
3. Navigate and tap on 'Battery'.
4. Next, you need to select "Battery Percentage".
5. By default, it is set to "Do not show". You can change to 'Next to battery icon' or 'Inside battery icon'.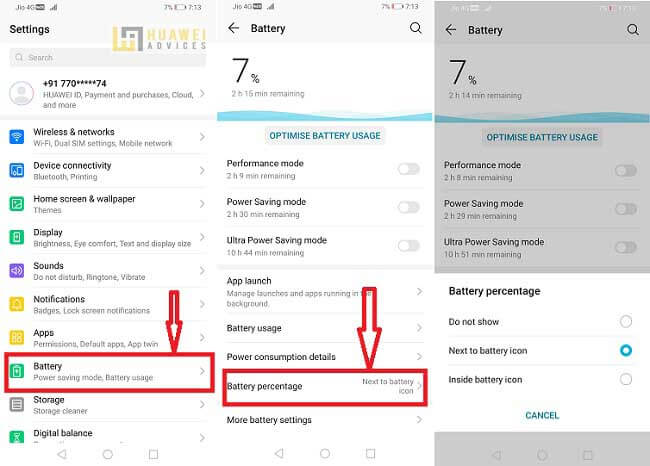 6. That's it! Now you'll see the battery life percentage on your Huawei status bar.
I hope the above tutorial was helpful in showing battery status in percentage on Huawei and Honor devices. For more such useful tips for your Huawei device, do check our EMUI section.