Google released its first Android 11 Developer Preview in the middle of February. This update was followed by three more developer previews, one each in the March, April, and May respectively. On successful completion of these developer previews, the Search Engine giant finally rolled out its first Android 11 Beta update on June 10 for a range of Pixel and other OEM devices. With the stable update release getting close, most of the Huawei and Honor devices might be wondering whether their device will be getting the Android 11 update or not? In this post, we will give all the details related to Huawei Android 11 update supported devices and release date.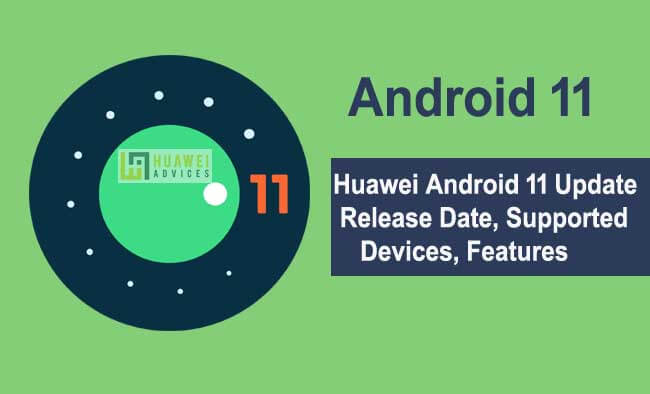 As we all know, Huawei and Honor devices run on its own custom skin based on Android i.e. the EMUI. Currently, Huawei is busy pushing the Android 10-based EMUI 10.1 update which could be the last major upgrade before rolling out the Android 11 update. Undoubtedly, the latest iteration of EMUI i.e. the EMUI 11 will be based on Android 11 and brings several new features and performance boosts. Here, first, we discuss the Android 11 Release Date and then directly take you to the list of eligible Huawei phones to get the Android 11 Update.
Huawei Android 11 Update – Release Date
Although Google might start rolling out the stable Android 11 update for its Pixel smartphones starting from next month, the Huawei devices will only get the update in November this year. Yes, you heard it right! Huawei is expected to announce the Android 11-based EMUI 11 OS in August as it did last year for EMUI 10. It could be Huawei's Annual Developer Conference where the company will announce the EMUI 11 OS.
Firstly, Huawei will release the Android 11 beta update in September/October followed by the stable release in November. This means we are just a few months away to get hands-on Android 11.
Huawei Android 11 Update – Supported Devices
Before taking to the list of Huawei phones eligible to get the Android 11 update, we want to make it clear that the following is the forecast-based list. This means few of the below-listed devices may or may not able to make it to the official list of supported devices to be upgraded to Android 11.
Android 11 for Huawei Mate Series
Huawei Mate 30 Pro
Huawei Mate 30
Huawei Mate 30 RS Porsche design
Huawei Mate 20
Huawei Mate 20 Pro
Huawei Mate 20 X
Huawei Mate 20 X (5G)
Huawei Mate 20 X (4G)
Huawei Mate 20 Porsche RS
Huawei Mate Xs
Huawei Mate X
Huawei Nova Series
Huawei Nova 7
Huawei Nova 7 Pro
Huawei Nova 7 SE
Huawei Nova 6
Huawei Nova 6 5G
Huawei Nova 5T
Huawei Nova 5
Huawei Nova 5 Pro
Huawei Nova 5Z
Huawei Nova 5i
Huawei Nova 5i Pro
Huawei P Series
Huawei P40
Huawei P40 Pro / P40+
Huawei P30
Huawei P30 Pro
Android 11 for Honor devices
Honor 30
Honor 30 Pro
Honor 30 Pro+
Honor V30
Honor V30 Pro
Honor 30S
Honor V20
Honor 20
Honor 20 Pro
Honor 20S
Honor 20 Youth Edition
Honor X10
Honor 9X
Honor 9X Pro
Honor Play 4T /4T Pro
Huawei Android 11 Update – Features
There is not much information about the EMUI 11 (Android 11) features and what all enhancements this new custom UI from Huawei will bring for its devices. However, thanks to leaks and rumors we were able to share a few of the expected features of Huawei Android 11 Update.
New App Icons
New Colors
Native Screen Recording
Muting notifications during video
Increase touch sensitivity
Notification History
Auto revoke app permissions
Security Improvement
Enhanced Dark Mode
Optimized GPU Turbo for Gaming
Improved Gestures
Performance Boost
Well, this is all about Huawei Android 11 Update. Stay tuned as we'll update the complete EMUI 11 changelog followed by the update roadmap once it is official.