Huawei Assistant is the Huawei's own AI-powered assistant debuted along with the Mate 30 series at an event in Munch in September this year. It provides a range of dynamic services like Search, Instant Access, SmartCare, and Newsfeed. Huawei Assistant will be competing directly with the Google Assistant and Alexa which are already big players in the digital assistants. Check here to download Huawei Assistant APK latest version on any Huawei and Honor smartphone.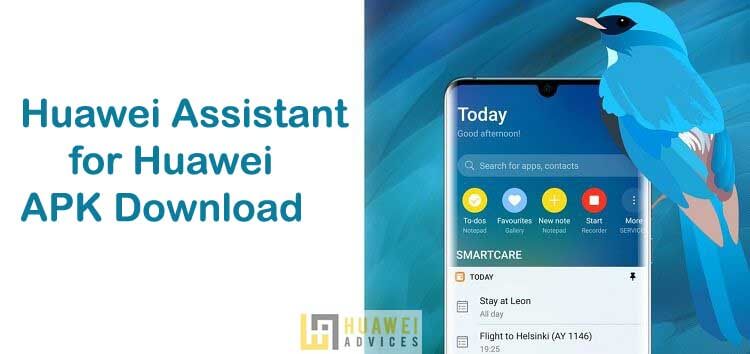 Due to US trade restrictions, the latest Huawei and Honor phones come without Google Mobile Services. This means there will be no Play Store, Gmail, YouTube, Google Pay, or even the Google Assistant. But thanks to the courage of Huawei for planning a life without Google's services. Under this scenario, Huawei announces the Huawei Assistant which is already pre-installed on the latest Huawei Mate 30/Mate 30 Pro flagships.
Walter Ji, Director of Business, HUAWEI Consumer Business Group Western Europe, said:
"With our focus on user experience, we bring AI into mobile services so we can proactively identify user needs and thus improve their smartphone experience. Huawei Assistant is a product that intelligently fulfills user needs at the same time as offering partners an opportunity to provide their services to users through a globally-available distribution platform."
Huawei Assistant Features:
According to the company, below is what you get with the new Huawei Assistant:
Global Search
Global Search is an all-in-one search bar that allows the user to search for information on your phone such as locally installed apps, memos, emails, calendar entries, etc. as well as online.
Instant Access
This feature is a shortcut tool that allows us, for example, to access our favorite photos or playlists on the device. Huawei promises that the user experience will improve in the future, giving access to a wider range of features.
SmartCare
SmartCare displays contextual cards provided by Huawei.
In the beginning, the internal functions Calendar, Weather, Missed Calls, Phone Usage, and Data Consumption are enabled. More cards will be delivered from Huawei and partners in the future.
Newsfeed
The newsfeed feature is Huawei Assistant's alternative but users can decide whether to receive custom recommendations or to select from news agencies to fill their feed with "up-to-the-minute" articles.
With future updates, the Huawei Assistant will also help to book trips, restaurants, flights, taxis or hotels. Also, it can set up a reminder.
Download Huawei Assistant APK
How to Use the Huawei Assistant on Huawei/Honor devices
Download & install the Huawei Assistant APK from the above links to your EMUI smartphone. Now swipe the home screen left or right to use the Google Assistant. This is totally different from that of Google Assistant or Siri, which can be activated by voice commands.