Bored with your current watch face on your Huawei Watch GT smartwatch? Don't worry! Here we have a quick guide to download and install new watch faces on Huawei Watch GT. There is a Huawei watch face exclusive store where one can download more exquisite watch faces.
As the store is a new one, there are only a few watch faces available to install. But, as time passes, we can see more and more watch faces being added to this store. Unfortunately, due to some regulations and policies, this feature has been rolled out to limited countries only.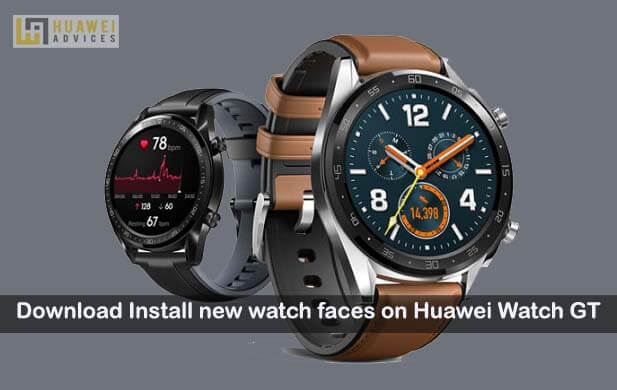 Without much ado, check out the below pre-requisites and then we'll directly take you to the steps on how to install new watch faces on Huawei watch GT.
Early preparations:
Watch Face Store is currently available only for the Android system. To use new watch faces on your iPhone, pair and connect your watch to a phone running Android system. Download and install your desired watch face, and re-connect your watch to your iPhone to use it.
Make sure your watch firmware version is 1.0.7.36, and your Huawei Health app version is 9.0.4.387 or above. If not, upgrade now!
Make sure to log in to Health app with your Huawei ID. You can check how to Create Huawei ID here.
Since the limitation of relevant laws, regulations, and policies in different countries, this feature is available only in certain countries and regions. For further information, contact the local Huawei official hotline.
Huawei Watch GT should be connected to your smartphone. Check How to Pair Huawei Watch GT with an Android phone.
Related Content: How to Reset Huawei Watch GT to factory settings
Download and install new watch faces on Huawei Watch GT
1. Launch the Health app on your device. Here you need to select your Huawei Watch GT.
2. In the Watch Faces section, tap on More.
3. You will be presented with numerous watch faces.
4. Scroll down the watch faces and select the one which you like the most by tapping on "Install" button.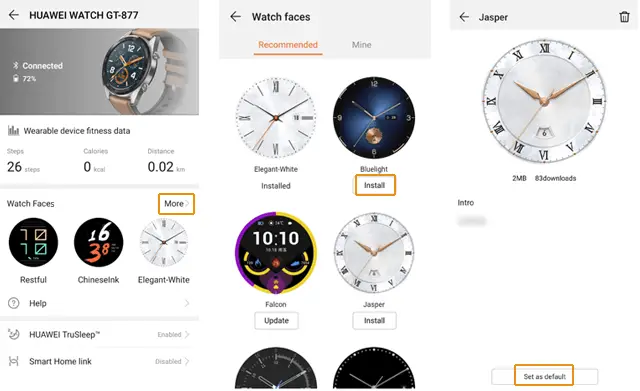 5. Once the installation is successful, the new watch face will be displayed on your watch automatically.
6. To use this watch face as a default one, choose the option 'Set as default'.
7. Enjoy!
Note: With limited storage, only 4-6 watch faces can be installed on your Huawei Watch GT. To add a new watch face, you need to delete an old one and replace it with the new one. You can delete the installed watch faces from Mine section.
That's the simple guide to download and install new watch faces on Huawei Watch GT. For any other guidance or help, do feel free to comment below.