MTK Droid Tool is a powerful software which allows you to perform several tasks on your MediaTek powered Android smartphones. Something similar to ODIN for Samsung phones, the MTK Droid Tool lets you perform tasks like rooting your device, create scatter file, taking backups of Stock Recovery as well as firmware, Write IMEI and much more. If you're one among those who wanted to experience the MTK Droid Root tool, then refer the below link and download the latest version.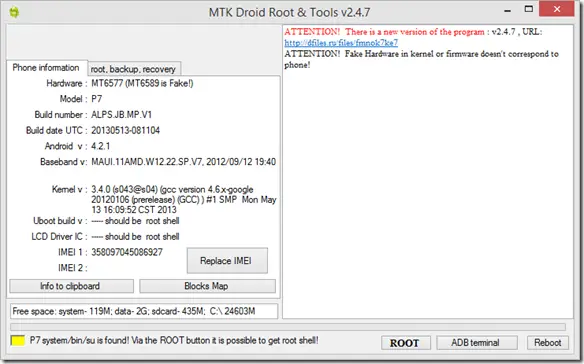 MTK Droid Tool is compatible only with Android smartphones (Android 6.0 Marshmallow, Android 7.0 Nougat) powered by MediaTek chipset. So, it may not work properly for other chipset devices. It works with almost each & every company's smartphone including to that of Samsung, Huawei, Xiaomi, Alcatel, Motorola, Lenovo, Sony, ZTE, and more.
Related: How to Root Android Phone with Ease.
Before heading to the download links, do have a look over the features of the tool.
MTK Droid Tool – Features
The following are some of the most useful features of the MTK Droid Root Tool –
Flash Firmware:
With MTK Droid Tool, one can install stock firmware on any MediaTek powered smartphone. It will be really useful when you can't find the latest update via OTA (over-the-air).
Root Android phone:
Like Kingroot and iRoot, the MTK Droid tool also lets you gain root access on your Android mobile in just a click. Simply, enable USB debugging on your device > connect your device > click on the root in MTK droid tool.
Backup Recovery:
The tool lets you create a backup of stock recovery as well as restoring the recovery on your device.
Scatter file creation:
You can create a scatter file for your MediaTek device and then use it to flash the firmware. This also requires Android debugging enabled on your device.
Write IMEI:
It allows you to backup and restores imei on any MediaTek device. Apart from MediaTek, users can also write IMEI of other chipsets powered smartphones.
Note: Rooting, flashing IMEI may void your company warranty. Understand the risk & proceed at your own interest. We, Huawei Advices should not be held responsible for any damage occurs to your handset.
Download MTK Droid Tool
Password to Extract: MTK
Credits – MediaTek