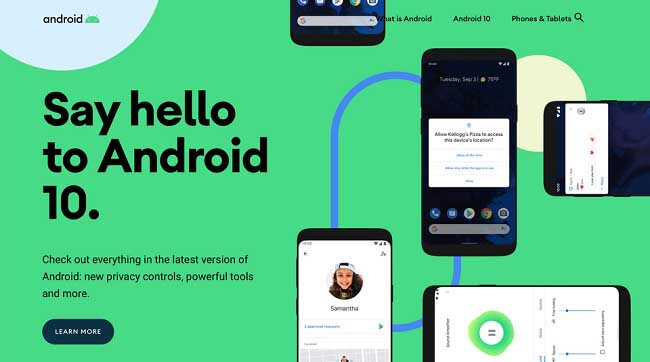 Android 10 is one of the most search keyword on the internet today. And why not? Google has finally released the stable version of Android 10 OS to its Pixel devices. Apart from Pixel devices, the Essential Phone and Redmi K20 Pro are the other non-Google devices receiving the taste of Android 10 update.
It's surprising to see the Redmi K20 Pro getting this major upgrade too early as the smartphone was not under Google's Android Q beta program. However, this surprise will be loved by all. Smartphones of other OEMs will get the Android Q update later this year, says the search engine giant.
Being a major Android upgrade, the stable Android 10 comes loaded with several new features. Some of which have been available in the developer preview, while there are few available with the stable release. If you're an Android smartphone user and wanted to know what the Android 10 is bringing, then check out the following list of Android 10 features.
1. Dark Theme: Google finally brings the Dark Theme feature to its Android ecosystem. The interesting fact about the Dark Theme is that the users can apply the theme to both the system UI and specific apps. The previous version i.e. the Android Pie also offered Dark Mode but was limited to certain UI elements like the settings panel and some menus. The new dark theme interface also reduces eye strain and increases battery performance.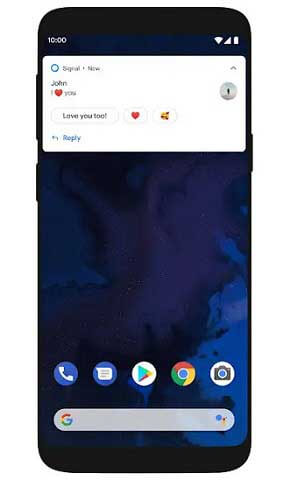 2. Smart Reply: Android 10 offers not only suggested responses to your messages but also recommended actions as well. For example, if a friend asks you out to dinner, your phone will suggest a reply text, and it'll also pull up directions right in Google Maps. It even works in messaging apps like Signal.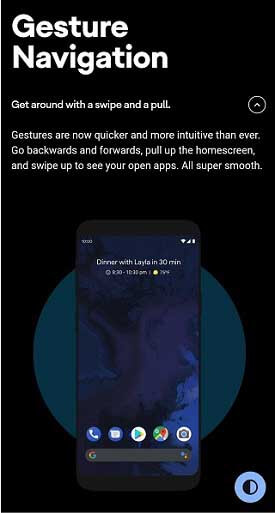 3. Gesture Navigation: Get around with a swipe and a pull. Gestures are now quicker and more intuitive than ever. Go backward and forwards, pull up the home screen, and swipe up to see your open apps. All super smooth.
4. Live Caption: It automatically captions videos, audio messages, and podcasts across apps. It also captions media files that users record. This feature will be available on Pixel smartphones this fall.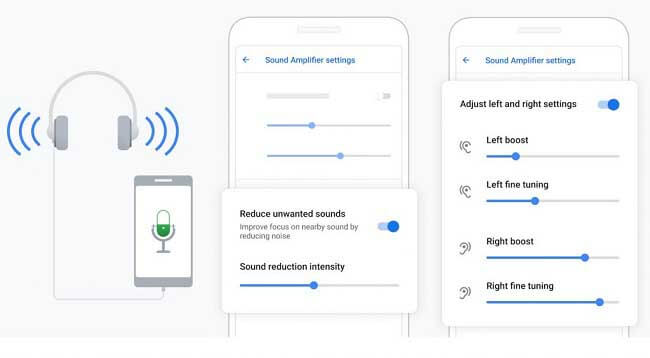 5. Sound Amplifier: It provides the best audio experience even in noisy places. With Sound Amplifier, your phone can boost sound, filter background noise, and fine-tune to how you hear best. Listening to podcasts, watching videos, or talking in a busy room — just plug in your headphones and hear everything more clearly.
6. Privacy Control: With each Android updates, Google improves the privacy and security of your device to protect your data. In a new Privacy section under Settings, you'll find important controls like Web & App Activity and Ad Settings in one place.
7. Security Updates: With Google Play system updates, important security and privacy fixes can now be sent to your phone from Google Play, in the same way, your apps update. So you get these fixes as soon as they're available, without having to wait for a full OS update.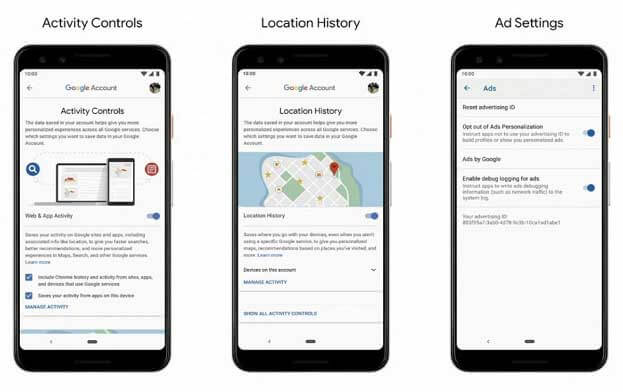 8. Location Controls: You can choose to only share location data with apps while you're using them. You'll also receive reminders when an app that you are not actively using is accessing your location, so you can decide whether or not to continue sharing.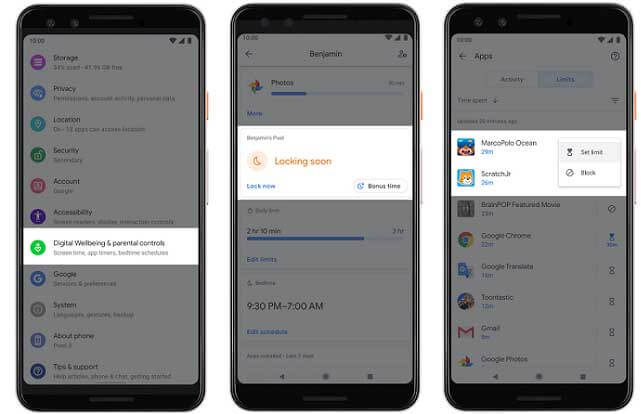 9. Focus Mode: Digital Wellbeing debuted with Android Pie, arriving as a feature meant to watch over your digital lifestyle. The most useful addition for Digital Wellbeing in Android 10 is Focus Mode, which allows you to select apps on your phone that you consider being distracting. Then, anytime you need to actually to get work done, you can quickly toggle your phone over into Focus Mode to temporarily shut those apps off.
10. Family Link: This feature is all about setting digital ground rules and help kids form new and healthy habits. You can set screen time limits, view app activity, manage apps and content restrictions, and see where they are.
There lots more in Android 10 apart from the above-listed feature. You can refer Android blog for a detailed Android 10 features overview. Moreover, some of these features could be limited to Pixel devices while others will reach to other OEM devices in the coming months.