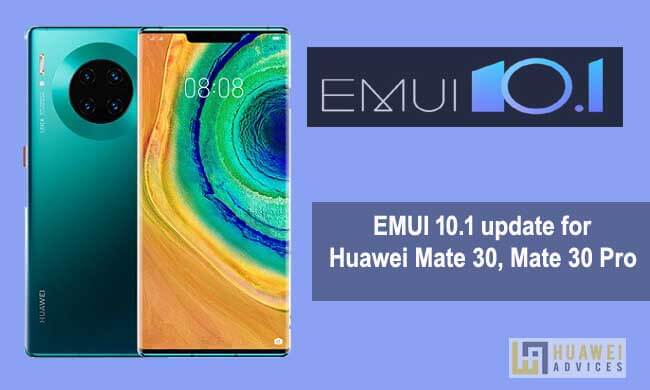 Last week, Huawei announced the EMUI 10.1 internal beta plan for a range of Huawei and Honor devices. According to the roadmap, Huawei Mate 30 series starts receiving the EMUI 10.1 update. That means the devices namely the Mate 30, Mate 30 Pro, Mate 30 RS Porsche Design are grabbing the latest EMUI update.
As it is a closed beta update, the EMUI 10.1 update will be pushed to only 150 devices. According to the source, the Huawei Mate 30 users who have shown interest as EMUI 10.1 beta testers are seeing a new update with version number 10.1.0.119. The size of the update is about 442MB and is released via OTA.
Currently, the EMUI 10.1 update for Huawei Mate 30 series is limited to the China region. This doesn't mean that global users have to wait long. Huawei may soon bring its plans for expanding the EMUI 10.1 skin to global countries including to that of European and Asian markets.
The following are the Huawei Mate 30 series models currently receiving the EMUI 10.1 update –
Huawei Mate 30 (4G) – TAS-AL00
Huawei Mate 30 (4G) – TAS-TL00
Huawei Mate 30 (5G) – TAS-AN00
Huawei Mate 30 Pro (4G) – LIO-AL00
Huawei Mate 30 Pro (4G) – LIO-TL00
Huawei Mate 30 Pro (5G)  – LIO-AN00
Huawei Mate 30 RS Porsche – LIO-AN00P
EMUI 10.1 Features
The latest update comes with fingerprint animation under the water ripple. Users can activate this feature from the path Settings > Biometrics and Password > Fingerprint > Fingerprint Animation. Moreover, EMUI 10.1 also lets users answer the calls directly from their Huawei computers. There is no need to pick up the phone which makes calls easier for those that are always on their PC.
Apart from this, the EMUI 10.1 also brings multi-window, multi-device control panel, multi-screen collaboration, Huawei MeeTime (video conferencing app), and Celia. Celia is Huawei's own Voice Assistant replacing the Google Assistant. One can start using this voice assistant by using the hotword "Hey Celia" or by holding the power button for a second.
You can also check the list of EMUI 10.1 Features here.