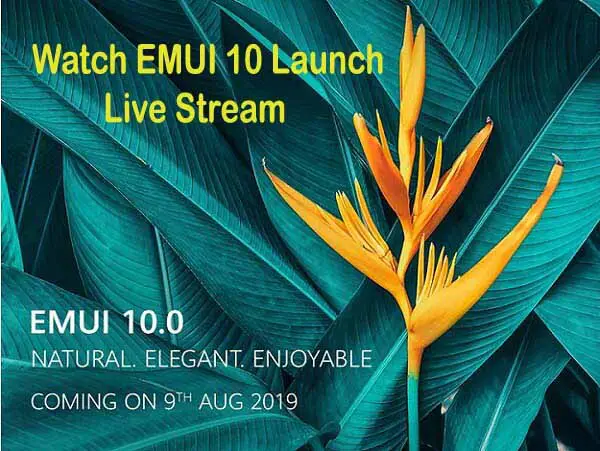 As we all know, Huawei has scheduled a three-day annual developer conference from August 9 – 11 where the company will introduce its latest technology products. One of such announcements at the event is its latest version of EMUI version i.e. the EMUI 10. Interestingly, Huawei will live stream the entire Huawei Developer Conference 2019 event on its official YouTube channel. Here we'll help you to watch the EMUI 10 launch live on your smartphones and laptops.
How to Watch EMUI 10 Launch Live Stream:
The EMUI 10 / Huawei Developer Conference 2019 will kick start at 14:30 (GMT+8), Aug 9th in Songshan Lake, China. It is said to be one of the most immersive Huawei developer conferences to date and most of you don't want to miss it. So, if you're a Huawei fan and wanted to catch all of the announcements of the event from Home, refer the YouTube link here or else watch the live stream directly from the below-embedded video.
It still unclear what are the new features coming up with the EMUI 10 OS. But, thanks to the recently leaked EMUI 10 promo images we came to know the major visual and performance-related changes in the upcoming OS. You can refer below for the same:
Classification of UI elements' design and effects.
Gallery content management and sorting.
Video Ringtones.
New personalization options for Theme, Wallpaper, and Fonts.
Improvements to the features related to system animations, games, and video.
For those unaware, Huawei's EMUI software is based on Android Q. Huawei releases its own OS version based on Google's latest Android version every year. EMUI shares most of the features of the latest Android version, but with a few additions.
Huawei and Honor users will be happy to hear that the company already confirmed the EMUI 10 update for its smartphones. There are currently 17 Huawei and 9 Honor phones going to get the update.
You can also check – List of Huawei & Honor phones eligible to get the EMUI 10 Update
Stay tuned as we'll update each and every feature of the EMUI 10 once the launch event kick starts from tomorrow. Also, share the post with your friends and let them experience the launch of Huawei's latest Android Q-based EMUI 10 skin.