After releasing the two Android Q beta updates for its Pixels smartphones, Google today announced the third beta version of Android 10 at the Google I/O 2019 event. Unlike the first two beta updates which were limited to only Pixels smartphones, the latest Android 10 Q beta 3 comes support for at least 16 smartphones from 12 different smartphones OEMs (without including Pixel brand). Of all smartphones, the Huawei Mate 20 Pro is one of the lucky devices to get the taste of Google's latest mobile operating system.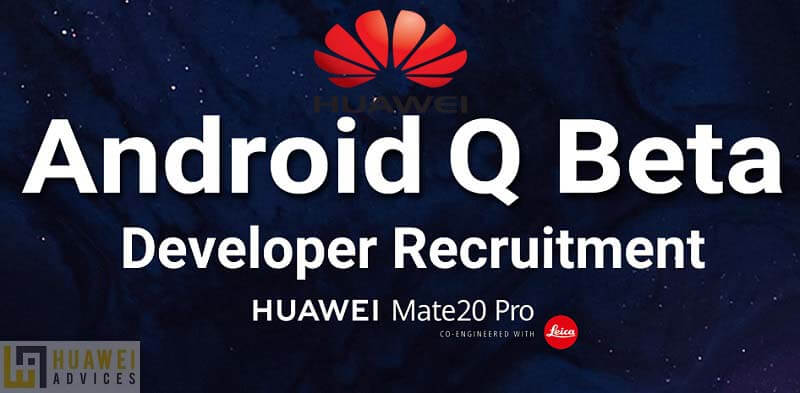 Yes, Huawei has started recruiting beta testers for Android 10 Q update to all the Mate 20 Pro devices across the globe. It might be little disappointment for the Huawei P30 series users as this is the latest flagship series from the Chinese smartphone giant.
The motive of Android 10 beta update for Huawei Mate 20 Pro is to adapt third-party apps to the Android 10 system and provide users with the smooth third-party app experience. Thus, Huawei recruits all the developers across the globe to work on Android 10 for the Mate 20 Pro.
Applicant Qualifications: In order to get selected for the Android 10 beta update, the applicant should have already released one or more apps on the Google Play Store. Also, the applicant must have the Huawei Mate 20 Pro handset with a HUAWEI ID.
Supported Huawei Mate 20 Pro versions:
LYA-L09 9.0.0.210(C432E10R1P16)
LYA-L09 9.0.0.238(C432E10R1P16)
LYA-L29 9.0.0.210(C432E10R1P16)
LYA-L29 9.0.0.238(C432E10R1P16)
Supported countries: Italy, Belgium, Spain, Germany, France, Portugal, the Netherlands, Czech Republic, Hungary, Slovakia, Bulgaria, Poland, Denmark, Romania, Sweden, Finland, Norway, Serbia, and Ukraine.
How to Register for Android 10 beta update on Huawei Mate 20 Pro
Firstly, download and install the Friendly User Test app on your Huawei smartphone. Refer here to download the APK file and follow the on-screen instructions to install on your device. Log in to the app with a HUAWEI ID registered by the Google Play Developer account's e-mail (as demonstrated below) and sign up for the Huawei Mate 20 Pro Developer project.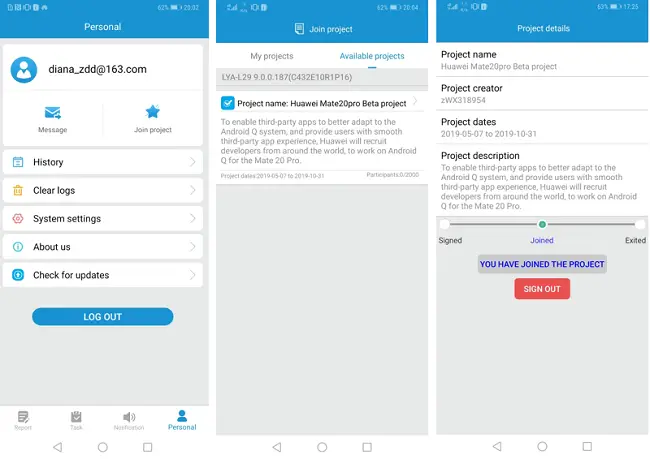 The Android 10 beta program runs on May 8, 2019, to June 30, 2019 (GTM+8). If you get selected, the company will start rolling out the update starting from May 11, 2019. To find out whether you've selected for the beta program or not, go to the Personal menu in Beta app, select Join Project > Available projects > HuaweiMate20pro Beta project, and confirm that the project status is "YOU HAVE JOINED THE PROJECT".
As the ROM is still under development mode, users may encounter bugs and issues, thus it's not advisable to flash on your Huawei Mate 20 Pro if it is a primary handset. Users can also report the bugs through the beta app. For more information about Huawei Mate 20 Pro Android 10 Q beta program, do visit here.