Huawei P30 Lite is the affordable version of the Huawei P30 and P30 Pro smartphones. Like other mid-range smartphones, the P30 Lite also comes with a notch display. Not all users like this notch feature, so here we have a simple method to get rid of the notch.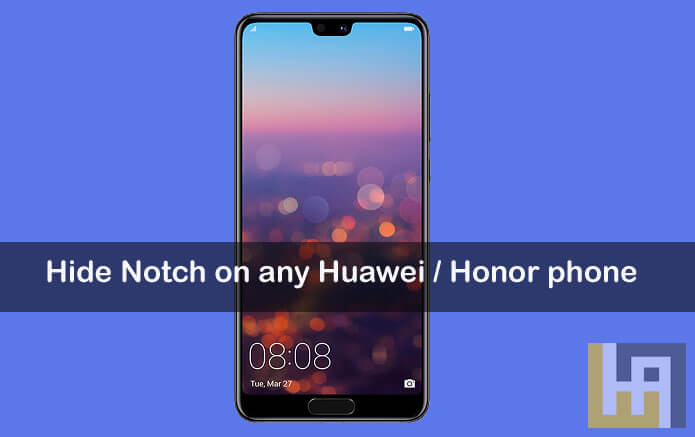 Huawei custom builds EMUI 9 comes with in-built settings to hide the notch on your Huawei P30 Lite. By activating this setting, a black bar will be created on both sides of the notch thereby completing making the notch disappear. As the option to hide notch comes right in your EMUI software, there is no need to install any third-party apps. So, all credits go to EMUI skin for having extra customizations options and settings that are otherwise missing in stock Android. Without much ado, follow the below steps to hide the notch on Huawei P30 Lite.
How to Remove / Hide Notch on Huawei P30 Lite
1. Go to the device main Settings. This can be done either by tapping on the Settings icon from your home screen or by using the gear button located on the notification pull down.
2. Once in the Settings menu, select the Display option.
3. Here you need to tap on Notch.
4. In this screen, you'll see two options – "Default" and "Hide Notch". Simply choose the 'Hide Notch' option. This will add a black bar on both sides of the notch to give the appearance of a horizontal bezel.
Note: This only works when you're on the home screen, or when using select apps. Some apps don't support hiding of the notch, thereby you will see the notch again.
How to Show Hidden Notch on Huawei P30 Lite
To show aback hidden notch on your Huawei phone, just access the Notch settings and tap on 'Default'. This enables the notchback on your handset.
I hope the above tutorial was helpful in hiding the notch on your Huawei P30 Lite smartphone. Don't forget to share the post with your friends on Facebook & Twitter and let them enjoy this beautiful EMUI tweak. You can also check our EMUI section for more such useful tips and tutorials.
You may also like: