Huawei Mate 30 Pro and Mate 30 Pro 5G are the top flagship smartphones from the Chinese smartphone vendor for the year 2019. Both the devices run Android 10 with the company's own EMUI 10.0 skin on top. Earlier this year, the devices received the EMUI 10.1 update which brings MeeTime, Multi-screen collaboration, multi-window multitasking, and more. Now, it's time for the next generation of EMUI upgrade i.e. EMUI 11. Undoubtedly, the EMUI 11 will be based on Google's Android 11 OS bringing several new features and performance improvements. In this post, we have shared every detail about the Huawei Mate 30 Pro EMUI 11 (Android 11) update release date, download.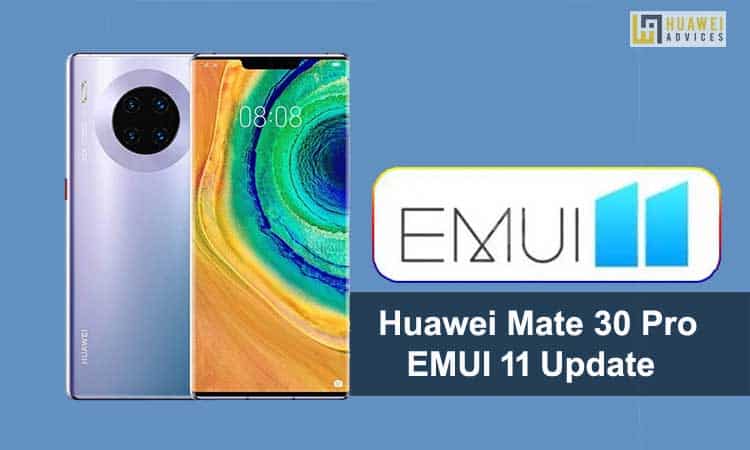 Will my Huawei Mate 30 Pro get EMUI 11 (Android 11) update?
Launching with the EMUI 10 out-of-the-box, the Huawei Mate 30 Pro (5G) is already due for two major software upgrades. These are the EMUI 11 / Android 11 and EMUI 12 / Android 12.
There is no official confirmation yet about the Mate 30 Pro EMUI 11 update. But, one can surely expect the update based on the device hardware and update cycle.
Eligible Huawei Mate 30 Pro Versions: LIO-L09, LIO-L29, LIO-N29 (Global); LIO-AL00, LIO-TL00, LIO-AL10, LIO-TL10 (China)
Huawei Mate 30 Pro Android 11 / EMUI 11 Release Date
Following the trend, Huawei will announce the EMUI 11 at the Developer Conference 2020. This is a three-day event scheduled from September 10 to September 12, 2020. Alongside the EMUI 11, Huawei will also release the HMS Core 5.0, Harmony OS 2.0, and more exciting technologies.
At the same time, the Chinese smartphone vendor will also reveal the roadmap of the EMUI 11 update for its devices. Considering the Huawei Mate 30 Pro (5G), the update is not happening anything early than Q1 2021. However, one can experience the ROM well before the said period by participating in the EMUI 11 Beta program. Huawei is expected to announce the EMUI 11 Beta program for eligible devices starting from October 2020.
Also Read: List of Huawei/Honor phones eligible to get the Android 11/ EMUI 11 update
EMUI 11 Features
Huawei still doesn't give a single hint about the features of its upcoming EMUI 11 OS. However, we managed to get our hands-on to the list of expected features and improvements that we should see with the upcoming Android skin from Huawei. Koko, a moderator on Huawei's Consumer forum shared this list.
Improved GPU Turbo – probably and updated version or further performance updates
Improved One-handed mode – better operation even with one-hand navigation/use
Improved Gestures – gesture controls have been very useful between EMUI 10 and 10.1, further enhancements should bring more functionality and ease of use for most users.
Improved Dark Mode – dark mode currently has a limited feature set. Can only be switched On and Off with app compatibility. An ALL APPS and SETTINGS dark mode would make it really interesting
Easy File-Sharing – Huawe's ONE HOP, Huawei share and multi-screen collaboration are great additions since EMUI 10. File Sharing to more Huawei devices and even none-Huawei devices should make for a great update.
Improved Security – everybody wants a secure device. Huawei is making sure this is further improved and that we users get top security when using our Huawei devices.
An improved airplane mode – the system/phone will check whether Bluetooth is in use and will not turn the radio off when switching to airplane mode
How to Download Android 11 update on Huawei Mate 30 Pro:
Like always, the Android 11 update for Huawei Mate 30 Pro will be released via OTA in a phase-wise manner. As it is a major upgrade, the update size will be pretty hefty. Thus, it is advisable to download the update using Wi-Fi to save mobile data. Stay tuned as we'll update with the official steps to manually download and install the EMUI 11 firmware in the Mate 30 Pro.
Huawei Mate 30 Pro Specifications:
To remind you, the Huawei Mate 30 Pro comes with a 6.53-inch FHD+ OLED edge to edge 88-degree ultra-curved screen. It is powered by Kirin 990 7nm SoCs with dedicated NPUs. It is one of the company's first smartphone to launch without Google Play Services and Play Store.
For photography, there is a quad rear camera system with a Leica lens. The sensors on-board are a 40-megapixels Cone Camera for ultra low-light photography, a 40-megapixels SuperSensing camera, an 8-megapixels Telephoto camera, and a 3D depth-sensing camera. On the front, it has a 32-megapixels camera coupled with a 3D depth camera. The device offers 8GB of RAM, 256GB internal storage, and a 4500mAh battery.
Excited about the EMUI 11 update? Do let us know in the below comment box.