Huawei announced its latest Android 11-based EMUI 11 skin at the HDC 2020 last week. It brings several new features including the improvements to Huawei's Always-On-Display feature, new animations, improved multitasking capabilities, and new multi-screen collaboration. To provide early experience, Huawei has already released the EMUI 11 beta update to the P40, Mate 30, and MatePad Pro series users in China. Now, Huawei Nova 7 and Nova 7 Pro (5G) are the latest Huawei phones to get the EMUI 11 beta update.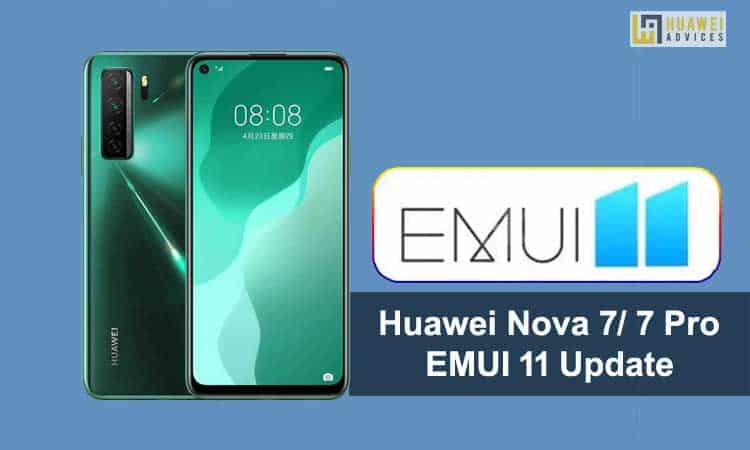 Currently, the EMUI 11 beta recruitment is limited to the Chinese region. That means, if you live in China and own a Huawei Nova 7/ Nova 7 Pro (5G), then you can participate in the EMUI 11 beta program. If you're lucky enough and got selected, Huawei will roll out the EMUI 11 beta update via the OTA. Once the ROM is stable, it will be released to all the users.
Supported Models:
Huawei Nova 7 (5G) – JEF-AN00, JEF-AN20, JEF-TN00, JEF-TN20
Huawei Nova 7 Pro (5G) – JER-AN10, JER-AN20, JER-TN10, JER-TN20
Required Firmware version:
Huawei Nova 7 5G – EMUI 10.1.1.195
Huawei Nova 7 Pro 5G – EMUI 10.1.1.195
EMUI 11 closed beta program is limited to 2000 users only on each model, 500 users with the log version, and 1500 users without the log version.
Alongside the Huawei Nova 7 series, Huawei is also recruiting other Huawei models for EMUI 11 (Magic UI 4.0) beta including the Huawei Nova 6, Nova 6 5G, Honor 30 series, Honor V30, and Honor V30 Pro. For a full list of eligible devices, check here the EMUI 11 Supported Devices.
EMUI 11 Features:
The first thing the users will like about EMUI 11 is the multi-window and split-screen functionalities. These functions have been placed at the center so that the user can get more familiar with the features instead of tucking them somewhere in the menus.
Moreover, the users will also appreciate the customizable AOD (Always-on displays). New styles and animated AOD have been added. One can also choose an image from the gallery and the system will convert it into an appropriate color palette. EMUI's various system applications, most notably the Gallery and Notepad apps, have received some upgraded functionality. For a detailed list of features, refer the below link: