Jio WiFi Calling service is now live for both Android and iOS devices in India. First, it was Bharti Airtel which rolled out the VoWiFi feature in India and now Jio rolls out the same feature. Jio was testing the service from the fast few months. According to Reliance Jio, the Wi-Fi Calling is already supported on over 150 handsets and it will be rolled out nationwide by January 16, 2020. Read on for Jio WiFi Calling benefits, supported devices, and activation.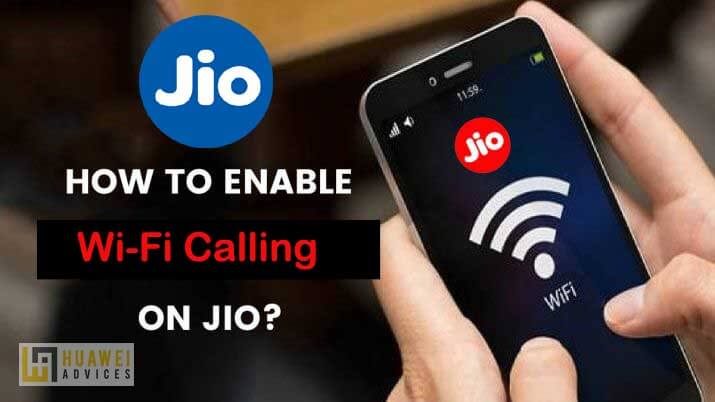 What is VoWiFi?
VoWi-Fi or Voice over Wi-Fi calling is a new service introduced by Reliance Jio. With this service, users can make and receive calls over a Wi-Fi network using your existing Jio phone number. Your voice and video calls will seamlessly switch-over between VoLTE and Wi-Fi to provide the best voice/video calling experience. It extends your network coverage, keeping you connected, always. There is no additional cost to get this service. All you should have is an active plan and a Wi-Fi calling supported device.
Benefits of Jio Wi-Fi Calling
Stable and clearer calls
Make calls from anywhere in India
Extended indoor coverage
Works on any Wi-Fi network
Jio WiFi Calling – List of Supported devices
The following are the list of Android and iOS smartphones from different brands supporting the Jio WiFi Calling feature –
Apple Models:
iPhone 6s, iPhone 6s Plus, iPhone 7, iPhone 7 Plus, iPhone SE, iPhone 8, iPhone 8 Plus, iPhone X, iPhone Xs, iPhone Xs Max, iPhone XR, iPhone 11, iPhone 11 Pro
Google Pixel models:
Google Pixel 3, Pixel 3a, Pixel 3a XL
Vivo Models:
Vivo V11, V11 Pro, V15, V15 Pro, V9, V9 Pro, Y81, Y81i, Y91, Y91i, Y93, Y95, Y15, Y17, Y91, Z1 Pro
Xiaomi Models:
Xiaomi Redmi K20, Redmi K20 Pro, POCO F1
Samsung Models:
Samsung Galaxy S9+, S9, S8+, S8, S7, S7 Edge, On 8, On 7, On 6, On 7 Pro, On 5 Pro, Note 10, Note 10+, Note 9, Note 8, M30, J7 Pro, J7 Prime, J7 Prime 2, J7 Nxt, J7 Max, J5 Prime, J7 2016, J5 2016, J2 2016, Galaxy S6 Edge, Galaxy S6 Edge Plus, Galaxy S6, Galaxy S10, Galaxy S10 Plus, Galaxy S10e, Note 5, Note 4, Galaxy M10, Galaxy M20, Galaxy M40, Galaxy J7, Galaxy J8, Galaxy J7 Duo, Galaxy J5, Galaxy J6, J6+, J4+, J1, J2, Galaxy J3, Galaxy A9 Pro, A9 2018, A5, A6, A7, A10s, A30s
Motorola Models:
You also check the official list of smartphones eligible for Jio WiFi Calling here. Jio will also update its official list by adding more devices from different brands including the Oppo, Realme, Honor, Huawei, OnePlus, and more. However, the smartphone should have in-built Wi-Fi Calling support.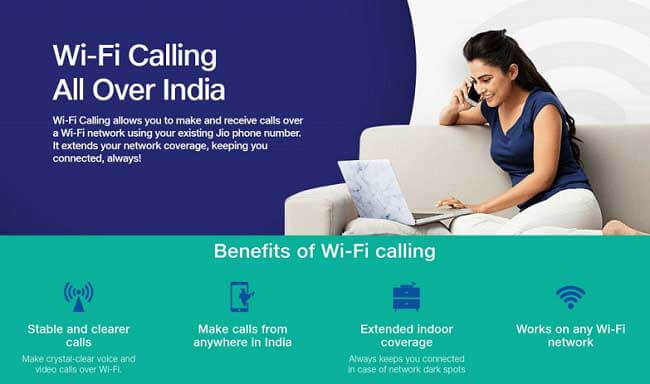 How to Activate Jio WiFi Calling on supported Android and iPhones –
1. Make sure you've any of the above listed Jio WiFi Calling supported smartphones.
2. For Apple iPhone, go to Settings > Wi-Fi Calling > Enable the switch.
3. For Android devices, go to Settings > Search for Wi-Fi Calling > Enable the switch.
4. That's it! Your phone will automatically toggle between Wi-Fi and cellular network for the best quality calls.
FAQ
How much does Wi-Fi calling cost?
There is no additional cost for the Jio Wi-Fi Calling service. It is included as part of your existing voice plan. One can have free Wi-Fi calls to any India numbers, regardless of your location within India.
How do I make Wi-Fi calls?
There is nothing different you need to follow for making Wi-Fi calls. Simply, call any person as you did earlier. If your device is connected to a Wi-Fi network, the call will automatically switch from VoLTE to Wi-Fi calling to provide you a seamless call with the best experience.
Do I need to keep VoLTE switched on, to make a Wi-Fi call?
Yes, you need to enable both the VoLTE and Wi-Fi calling feature on your Android/iOS smartphone.
Does Wi-Fi call works during Roaming?
Yes, the service is active in roaming too.
For more queries about the Jio latest service, do feel free to comment below.