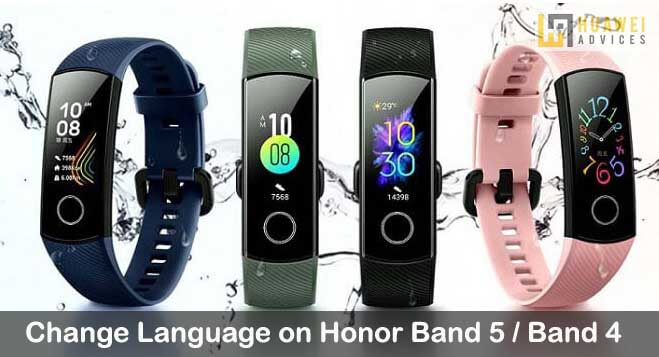 Smart wearables users always find it difficult in changing the language of their wearable UI interface display. The same scenario is with the Honor Band 5 and Honor Band 4 users. So, here we have a simple guide to change the Honor Band 5 / Band 4 UI interface display language. Also, we'll be sharing the list of languages supported by Honor band UI interface.
List of Honor Band 5 / Band 4 Supported Languages:
There are a total of 9 languages being supported by the Honor UI interface. The list includes:
Chinese
British English
European Spanish
Italian
Russian
French
German
European Portuguese
American English
Guide to change the language on Huawei Band 5, Band 4
1. Power-on the Honor band.
2. Change the language and region on the phone.
3. Connect the band and phone through the Huawei Health app.
4. Launch the Huawei Health app. Now, the app will automatically synchronize with the Honor wearable. Thus, the language on the phone will auto set to the band too.
5. Enjoy!
You may also like:
Note:
If language set on phone is one among those listed in the above list, then the same language will be set to your Honor Band.
If language set on phone is not from the above list, then the Chinese language will become the default for the Chinese version and the English language for the global version.
Message notifications supported languages:
According to the source, the users of Honor Band 5 and Band 4 can get message notifications in any of the following 45 languages –
European Portuguese, Polish, Arabic, European Spanish, Romanian, Indonesian, Persian, Slovak, French, American English, Greek, Vietnamese, Dutch, Hungarian, German, Chinese, Serbian, Spanish, Malaysian, Finnish, Latin America, Galician, Hebrew, Brazilian Portuguese, Bulgarian, Estonian, British English, Basque, Czech, Swedish, Macedonian, Latvian, Italian, Azerbaijani, Catalan, Norwegian, Bosnian, Turkish, Russian, Uzbek, Croatian, Lithuanian, Ukrainian, Urdu, Danish, and Slovenia.