If you're the owner of a Huawei Watch GT 2e smartwatch, you can quickly customize your device with some awesome watch faces. These watch faces are already available on your Huawei Health app. All you need to do is download and sync with your Huawei Watch. Regarding the same, we have shared detailed steps to download or change Huawei Watch GT 2e Watch Face.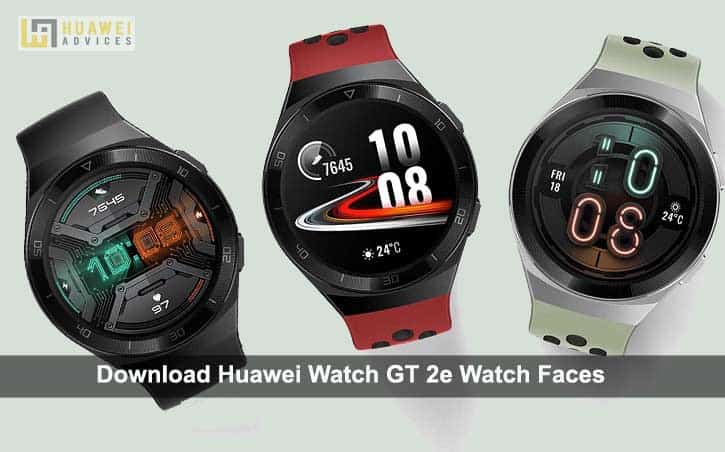 Following the launch of its latest flagship P40 series, Chinese smartphone manufacturer Huawei has now announced a new smartwatch — the Huawei Watch GT 2e. It adopts the design to that of Huawei Watch GT 2 and features a sporty design with a classic round dial made from stainless steel.
Huawei Watch GT 2e runs on LiteOS. It is the company's own OS providing the best customization options. One of such is support for a variety of Watch Faces (Watch Styles). Users can manually download and apply these styles to their smartwatch.
The Huawei Watch GT 2e comes equipped with a 1.39-inch AMOLED high precision touch display which Huawei claims is crisp and colorful, allowing users to see the details clearly even in strong sunlight. Other features include Bluetooth 5.0, GPS, heart rate monitor, and support for over 100 workout modes.
How to change Huawei Watch GT 2e Watch Faces
Huawei offers a range of watch faces for you to switch between. You can choose any of these watch faces and set it as a default one. There are three different ways through which the Huawei Watch GT 2e users can change the watch faces. Read on for all three methods:
Method 1: Tap and hold on the middle of the screen of your Huawei Watch GT 2e. It shows the face selection menu. Simply, swipe left and right to choose the watch face you want to use.
Method 2: Tap on the Up button from the main screen of the watch. Now swipe until you find Settings. Touch it and go to "Display > Watch Face", and then swipe left or right to choose a watch face.
Method 3: Launch the Huawei Health app on your smartphone. Tap on Devices and then the device name. Touch More next to Watch faces and touch Mine. Choose a watch face of your choice and then touch SET AS DEFAULT.
How to Change Huawei Watch GT 2e Watch Face from an iPhone (iOS)
Unfortunately, the Watch faces screen is not available on iOS devices (iPhone 11 Pro, iPhone XR, iPhone 12 Pro Max, iPhone 8 Plus, iPhone XS Max). To download new watch faces, you are advised to pair the watch with the Android device. You need to download Watch Face through the Huawei Health Android app and then sync the same with the watch. Once done with the synchronization, pair the watch back with your iOS phone.
Download Huawei Watch GT 2e Watch Faces
One can download and install even more cool watch faces by performing the following:
1. Open the Huawei Health app.
2. Select Devices > Device Name > tap More next to Watch Faces.
3. Here you see a variety of watch faces.
4. Choose the one you like and tap on INSTALL.
5. Once successfully installed, your watch automatically switches to this new watch face.
6. You can make it default by touching Set as default.
7. Done!
How to Delete a Watch Face on Huawei Watch GT 2e
Huawei Watch GT 2e comes with a limited storage capacity of up to 16MB. This makes it difficult to download and store more watch faces at once. To overcome this, you need to delete the unused watch styles and then download new ones. To do so, you need to follow the below steps:
1. Open Huawei Health.
2. Tap Devices and your band name.
3. Tap More on the right of Watch faces, and then tap Mine > Edit.
4. Here choose the watch style you want to delete and then tap on the Delete icon located at the top right corner of the screen.
5. Confirm to save your settings.
Note: The pre-installed watch faces cannot be deleted.
How to set a standby watch face on Huawei Watch GT 2e
The Standby watch face is being displayed when your watch enters standby mode. By default, the standby watch face is disabled on all the Watch GT 2e wearables. To enable it, follow the below steps:
1. Press the Up Button on the watch home screen. Swipe to find Settings. Tap on it and then select Display > Advanced > Lockscreen.
2. Touch Style. Choose a style and tap OK.
3. Touch Color. Choose a color and tap OK.
4. Done!
I hope the above steps were useful in downloading (changing) Huawei Watch GT 2e Watch Faces. For more tips and tutorials for your Watch GT 2e, do check our WEARABLES section.