Sharing videos with your friends will be fun, but this will eat lots of your monthly data. Instead, there is another option called GIFs which helps you to make your entire video in smaller animated images. These GIFs can be shared easily and quickly to your loved ones while you're out. If you own a Huawei or Honor smartphone and wanted to create GIF animations, then you're at the right place. Here we have a detailed guide to create a GIF, Reverse GIF on any Huawei mobile.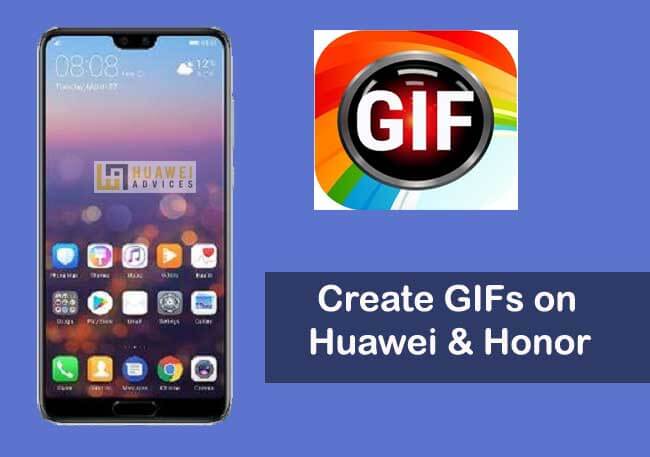 All you need to have is the GIF Maker Edition app to create GIFs. It is an all in one free GIF application which helps to make/edit Free, Clear, Easy, Fast, Smooth, no watermark Animated GIF. Users can create GIFs from images, video, screen record, and animated GIFs. It supports video/image formats such as PNG, JPEG, JPG, MP4, MPEG, FLV, 3GP, and more.
The GIF Maker Editor app has a user-friendly interface that makes users enjoy the app at its maximum level. Apart from the regular GIF, the app also helps to create a Reverse GIF. Without much ado, follow the below steps to starting creating GIFs of your favorite videos.
Compatible Models: This GIF Maker app is compatible with most of the Huawei phones including Huawei P30 Pro, P20, Mate 30 Pro, Mate 20, Y9 2019, Nova 6 Pro, Honor 20 Pro, Honor 10, Honor View 30, Honor 9X, and more.
How to Create GIF on a Huawei/Honor smartphone
1. Firstly, download and install the GIF Maker Editor app from the Play Store.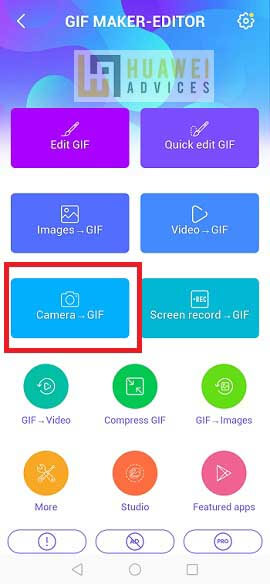 2. Open the app and give the necessary permissions.
3. From GIF Maker-Editor app main screen, you need to select 'Camera – GIF'.
4. Starting recording video which you liked to turn into a GIF. Make sure the minimum video length is more than 10 seconds.
5. Tap the right-mark symbol located at the top-right screen to continue.
6. In the next screen, you have the option to crop the video if you like. Tap "DONE" to continue.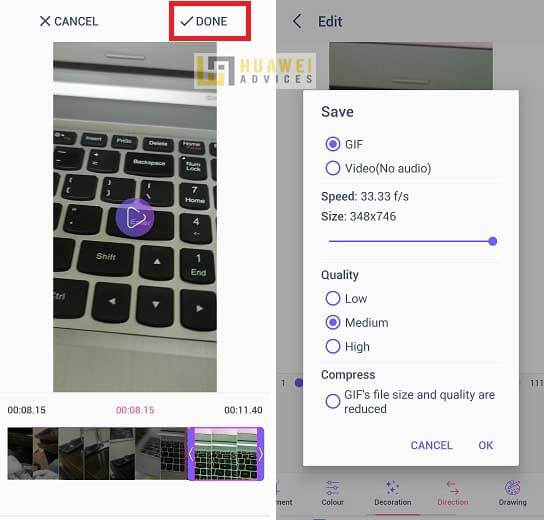 7. The GIF video will start processing. Tap on the Tick sign in the top right corner of the screen to confirm the editing.
8. Select GIF under the 'Save Section' and select your desired quality.
9. Confirm to start the GIF rendering process.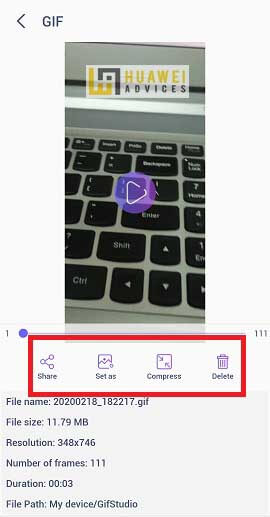 10. Once done, you're all set to view the GIF. There are also direct options to share, compress or delete it.
11. Enjoy!
How to create a Reverse GIF on a Huawei device
Creating a Reverse GIF is as simple as creating a normal GIF. Here you need to select the 'Reverse' symbol instead of the default 'forward' one. The following steps guide you the same:
1. Select 'Camera – GIF' option from GIF Maker Editor app main screen.
2. Start recording a video that you want to turn into a GIF. Do remember that the video length should be at least 10 seconds.
3. Select the 'Direction' option and tap on 'Reverse'.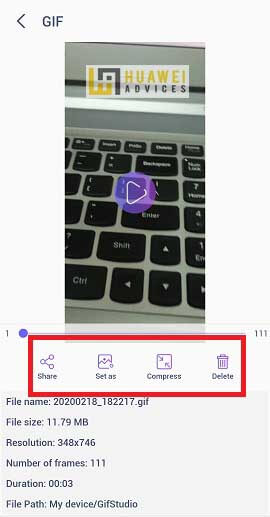 4. Confirm the editing by tapping on the tick mark located at the top right corner.
5. Select GIF under the 'Save Section' and select your desired quality.
6. Tap on 'OK' to finish the process.
That's it. Your GIF is all ready to view and share with your friends. Huawei and Honor users can also set the GIF as wallpaper, contact photo, and WhatsApp photo.