Here we will guide you on how to Downgrade Android Pie EMUI 9.0 to Oreo EMUI 8.0 or EMUI 8.1 on any Huawei / Honor smartphone.
Whenever a new Android version is announced, smartphones OEM starts rolling out beta version to its supportive devices. Google released its ninth iteration of Android update called Android 9.0 Pie and most of the OEMs have already started rolling out beta as well as stable updates. Of all OEMs, Huawei also released Android 9.0 Pie based EMUI 9.0 beta update to its range of smartphones. In this excitement, most of the eligible Huawei & Honor users flash the software. As it is still under beta mode, users reportedly started experiencing bugs and issues. Unfortunately, they want to revert back to older stable firmware and doesn't know the way to do it. For all those users, here we have shared quick steps to Downgrade Huawei phones from EMUI 9.0 to EMUI 8.0.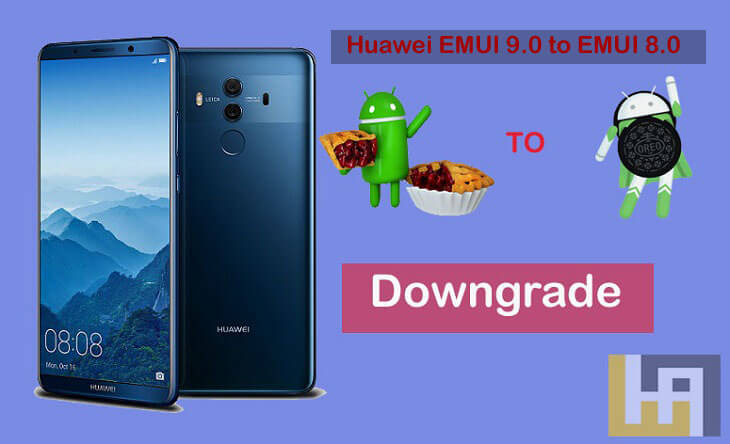 To Rollback to Oreo in Huawei phones, you need PC with Hi Suite program installed.
Early-preparations:
This downgrade tutorial works only with Huawei devices. Don't try on any other devices.
There should be at least 75% battery level on your device. If not, charge it now.
Download and install the latest Huawei USB Drivers on your PC.
This downgrade process deletes all your device data. So, it is advisable to perform backup before actually starting the process.
Make sure you have a PC/Laptop.
HuaweiAdvices is not responsible for bricking or damaging of your device which is uncertain if you follow the steps accordingly.
Guide to Downgrade Huawei Devices from Android 9.0 Pie EMUI 9.0 to Android Oreo EMUI 8.0 or EMUI 8.1
Method 1: Downgrade using FunkyHuawei DNS
1. Firstly, you need to set the DNS on your PC/Laptop. To do so, go to WAN DNS Setting and set connect DNS Server Automatically to NO, then set DNS server 1 to 213.202.238.238 and DNS server 2 to 1.2.3.4
2. Download and install HiSuite version 5.0.2.3.1 on your PC. Refer the link HERE to download.
3. Now you need to log into FunkyHuawei and select the appropriate downgrade firmware based on your model/branding.
4. Go to device setting and enable USB Debugging. You can follow our guide on how to enable USB Debugging on Huawei phones.
5. Connect HiSuite to your mobile.
6. HiSuite will automatically shows a system update on your device.
7. Simply, download and install the firmware by following on-screen instructions.
8. Once done with the installation, the Huawei phone will automatically boots to EMUI 8.1 or EMUI 8.0.
9. Enjoy!
That's the simple guide to Downgrade Huawei phone from EMUI 9.0 to EMUI 8.1 or 8.0 (Android Pie to Oreo). In case the above guide doesn't work, follow our alternative guide.
Method 2: Downgrade using HiSuite 9.0.2.301
It is one of the simplest method to downgrade any Huawei phone to earlier firmware versions. Follow the steps for the same –
1. Download & install the HiSuite 9.0.2.301 on your PC.
2. Now you need to connect your Huawei / Honor phone to PC.
3. Once a valid connection is establish between your phone & PC, you need to launch the HiSuite software.
4. Next, click on 'Update' on HiSuite software.
5. Select Switch to other versions.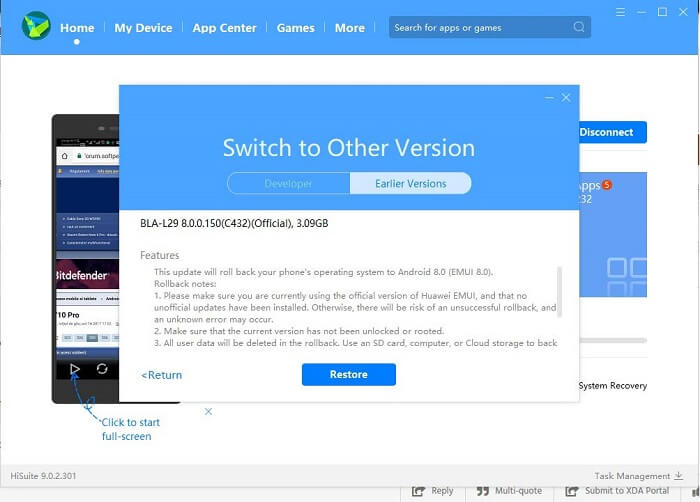 6. Here you will see two options – Developer and Earlier version. You need to select 'Earlier Versions'.
7. Finally, click on Restore & follow the on-screen instructions carefully.
8. That's it! Older Android Oreo based EMUI 8.0 or EMUI 8.1 will be automatically installed on your device.
Note: The above HiSuite method is compatible with Huawei Mate 10 Pro, Mate 10, P20, and P20 Pro for time-being. We expect more devices gets support in the coming days.
I hope the above guide was helpful in downgrading any Huawei / Honor device from EMUI 9.0 to EMUI 8.0 or EMUI 8.1. For any queries, drop a comment below.