Huawei Watch GT 2 Pro is one of the premium smartwatch offerings from the Chinese tech giant, Huawei. Announced back in September last year, the Huawei Watch GT 2 Pro carries almost similar specifications as the Watch GT 2. The major difference is that the Pro variant comes with a rugged design featuring premium materials, including a sapphire watch crystal, titanium case, and skin-friendly ceramic case back. Apart from the sophisticated and elegant look of the Huawei Watch GT 2 Pro, the final impression comes only from the watch faces that are used. There are plenty of watch faces that can be used depending on your style and taste. In this post, we'll guide you on how to download Huawei Watch GT 2 Pro Watch Face and apply it to your smartwatch.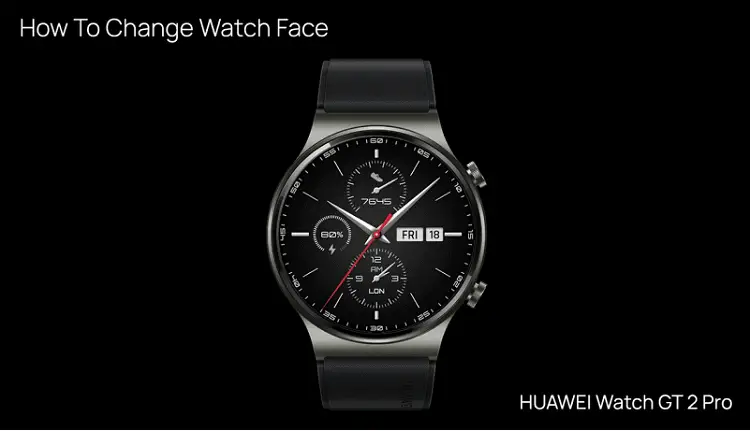 Huawei Watch GT 2 Pro
The Watch GT 2 Pro is a premium watch and that shows in the type of materials used. The 1.39-inch 454 x454 AMOLED display is covered in scratch-resistant sapphire glass, the body is made from titanium, and the underside is ceramic. The Huawei Watch GT 2 Pro is available in two variants – Classic and Sport. There are more than 100 workout modes including professional ones such as Golf Driving Range mode and Skiing and Snowboarding mode that show info such as slope and elevation.
HUAWEI TruSeen 4.0+ offers more accurate heart rate readings with upgraded LEDs and an intelligent AI algorithm, effectively lowering the power consumption while accurately measuring SpO2 or heart rate. It shows VO2max during outdoors running and promises up to 2 weeks of battery life with 5 minutes of wireless quick charge, offering 10 hours of use.
The types of sensors available within the device are accelerometer, gyroscope, geomagnetic sensor, ambient light sensor, air pressure sensor, capacitive sensor, and an optical heart rate sensor. The Huawei Watch GT 2 Pro offers 4GB of onboard memory and uses Bluetooth 5.1 for connectivity.
How to change Huawei Watch GT 2 Pro Watch Faces
Huawei offers a range of watch faces for you to switch between. You can choose any of these watch faces and set it as a default one. There are three different ways through which the Huawei Watch GT 2 Pro users can change the watch faces. Read on for all three methods:
Method 1: Tap and hold on the middle of the screen of your Huawei Watch GT 2 Pro. It shows the face selection menu. Simply, swipe left and right to choose the watch face you want to use.
Method 2: Tap on the Up button from the main screen of the watch. Now swipe until you find Settings. Touch it and go to "Display > Watch Face", and then swipe left or right to choose a watch face.
Method 3: Launch the Huawei Health app on your smartphone. Tap on Devices and then the device name. Touch More next to Watch faces and touch Mine. Choose a watch face of your choice and then touch SET AS DEFAULT.
How to Change Huawei Watch GT 2 ProWatch Face from an iPhone (iOS)
Unfortunately, the Watch faces screen is not available on iOS devices (iPhone 11 Pro, iPhone XR, iPhone 12 Pro Max, iPhone 8 Plus, iPhone XS Max). To download new watch faces, you are advised to pair the watch with the Android device. You need to download Watch Face through the Huawei Health Android app and then sync the same with the watch. Once done with the synchronization, pair the watch back with your iOS phone.
Download Huawei Watch GT 2 Pro Watch Faces
One can download and install even more cool watch faces by performing the following:
1. Open the Huawei Health app.
2. Select Devices > Device Name > tap More next to Watch Faces.
3. Here you see a variety of watch faces.
4. Choose the one you like and tap on INSTALL.
5. Once successfully installed, your watch automatically switches to this new watch face.
6. You can make it default by touching Set as default.
7. Done!
How to Delete a Watch Face on Huawei Watch GT 2 Pro
Huawei Watch GT 2 Pro comes with a limited storage capacity of up to 16MB. This makes it difficult to download and store more watch faces at once. To overcome this, you need to delete the unused watch styles and then download new ones. To do so, you need to follow the below steps:
1. Open Huawei Health.
2. Tap Devices and your band name.
3. Tap More on the right of Watch faces, and then tap Mine > Edit.
4. Here choose the watch style you want to delete and then tap on the Delete icon located at the top right corner of the screen.
5. Confirm to save your settings.
Note: The pre-installed watch faces cannot be deleted.
How to set a standby watch face on Huawei Watch GT 2 Pro
The Standby watch face is being displayed when your watch enters standby mode. By default, the standby watch face is disabled on all the Watch GT 2 Pro wearables. To enable it, follow the below steps:
1. Press the Up Button on the watch home screen. Swipe to find Settings. Tap on it and then select Display > Advanced > Lockscreen.
2. Touch Style. Choose a style and tap OK.
3. Touch Color. Choose a color and tap OK.
4. Done!
I hope the above steps were useful in downloading (changing) Huawei Watch GT 2 Pro Watch Faces. For more tips and tutorials for your Watch GT 2 Pro, do check our WEARABLES section.