WhatsApp is the most popular instant messaging app across the globe. Due to its simple and straightforward interface, anyone can easily use this social app. Apart from normal chat, the WhatsApp is capable of sending photos, videos, documents, payments, and even share the current location. Moreover, WhatsApp also provides an option to create a Group where friends, relatives, business person, and more can easily have a discussion.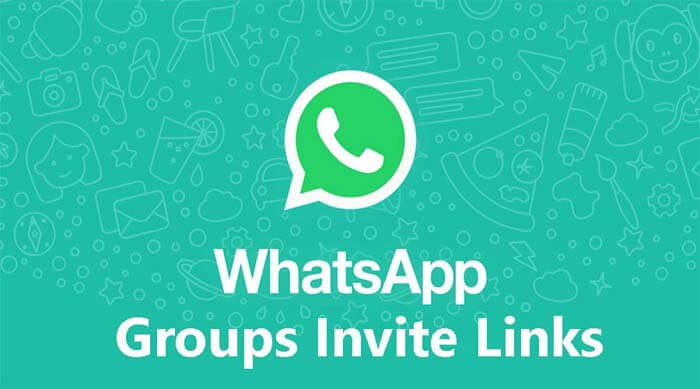 Many of you might have already created WhatsApp Group or at least a member in a group. Earlier, to add a new person to a WhatsApp Group need to save the contact number first to their smartphone and then add them to the group. But, this will be really frustrating if there are too many members to add to a group. It takes ample time to add each and every person to your contact list.
To make things simple for you, WhatsApp has introduced a new feature called "WhatsApp Invite by link". With this, one can easily add a number of persons (up to group limit) to a WhatsApp group without actually saving the phone number in their contact list. Moreover, one can also invite friends, family, or business persons into WhatsApp Group without actually having a phone number. WhatsApp group invite link can be sent to people via Gmail, SMS, Telegram, and any other sharing app.
Before we proceed to the tutorial, make sure you've installed the latest version of WhatsApp and more importantly, you should be the admin of that particular group to create the invite link.
Related: Download /Save WhatsApp Status Stories on any Android smartphone
Steps to add people to WhatsApp Groups without saving them on your contacts
1. Go to App Drawer.
2. Launch the WhatsApp messenger app.
   Download WhatsApp APK – Latest Version
3. Head to the group conversation window to which you want to add a new person.
4. Tap on three dots located at the top right corner of the screen.
5. Select 'Group Info'.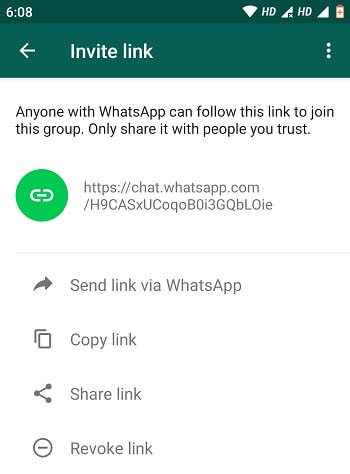 6. Here you need to scroll down to 'Invite via link' and tap on it.
7. WhatsApp will automatically create a group invite link. You can share this link directly to your friends or relatives by selecting "Send link via WhatsApp". Alternative, there are also options like – Copy Link, Share link, as well as Revoke link.
That's it! Your friends, relatives, or any other people can easily join the WhatsApp Group without saving their contact on your smartphone. However, it is important to know that anyone with WhatsApp can follow this link to join this group. So, we advise you to share the link with people you trust.
How to Revoke a WhatsApp Group Invite Link
In case, if you want to cancel the WhatsApp Group Invite Link, simply go to the screen where you obtained the group invites link and tap on "Revoke Link". Now you will see a prompt stating that the group invite link will become unusable. Confirm the action and again you'll see a new prompt "The previous invite link is now revoked and a new invite link has been created".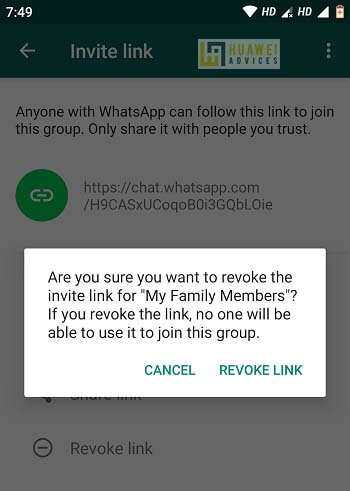 I hope the above steps were useful in inviting Friends, Family, or any other business person into WhatsApp Group via a link without a phone number. If you have any kind of queries or issues, do feel free to comment below!