Huawei's EMUI 11 announcement is just a week away and as usual, the list of devices getting it will be pretty long. Although the official list of EMUI 11 eligible devices is yet to come, we have already prepared a list based on the device hardware and update cycle. Most of the Huawei users might be wondering whether their model is supportive or not. Of all, Huawei Y7P users also having the same query on their minds. For all those users, here's everything you need to know about the Y7P getting Android 11/EMUI 11 update.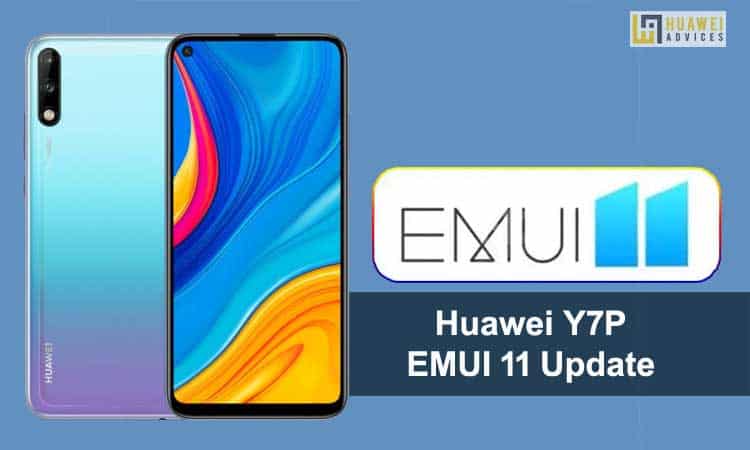 Will my Huawei Y7P get EMUI 11 / Android 11 update?
Huawei still has to make official the list of its smartphones eligible to get the Android 11-based EMUI 11 update. It's now very early to say the Huawei Y7P getting the EMUI 11 update as the device already received one major upgrade after the launch i.e. the Android 10/EMUI 10. Considering the hardware and update cycle, Huawei Y7P is likely to get Android 11 although this isn't engraved in stone and can be changed.
Huawei Y7P models: ART-L28, ART-L29
Huawei Y7P EMUI 11 (Android 11) Release Date
EMUI 11 announcement is still due by the company. Huawei has scheduled a three-day annual developer conference starting from September 10, 2020, where it is set to announce the EMUI 11 as well as the latest on HMS Core 5.0. The event will also witness the unveiling of many more exciting technologies. Once the EMUI 11 is official, the update will start landing to flagship devices first then to other mid-range & budget devices. If Huawei Y7P is eligible for EMUI 11 update, it is not happening anything early than Q1 2021.
Also Read: Huawei Android 11 Update – List of Supportive Models
EMUI 11 Features:
Huawei still doesn't give a single hint about the features of its upcoming EMUI 11 OS. However, we managed to get our hands-on to the list of expected features and improvements that we should see with the upcoming Android skin from Huawei. Koko, a moderator on Huawei's Consumer forum shared this list.
Improved GPU Turbo – probably an updated version or further performance updates
Improved One-handed mode – better operation even with one-hand navigation/use
Improved Gestures – gesture controls have been very useful between EMUI 10 and 10.1, further enhancements should bring more functionality and ease of use for most users.
Improved Dark Mode – dark mode currently has a limited feature set. Can only be switched On and Off with app compatibility. An ALL APPS and SETTINGS dark mode would make it really interesting
Easy File-Sharing – Huawe's ONE HOP, Huawei share, and multi-screen collaboration are great additions since EMUI 10. File Sharing to more Huawei devices and even none-Huawei devices should make for a great update.
Improved Security – everybody wants a secure device. Huawei is making sure this is further improved and that we users get top security when using our Huawei devices.
An improved airplane mode – the system/phone will check whether Bluetooth is in use and will not turn the radio off when switching to airplane mode
How to download Android 11 update in Huawei Y7P
Huawei Y7P Android 11 update will be happening via OTA in a phase-wise manner. One needs to wait for a couple of days or even a week for the update to appear on your device once it is officially released. Users can also check manually from the path Settings > System & updates > Software updates > Check for updates. Alternatively, users can also take the help of HiSuite software for upgrading the device.
Huawei Y7P Specifications:
To remind you, the Huawei Y7P is powered by the Kirin 710F SoC paired with 4GB RAM. It runs Android 9 Pie-based EMUI 9.1 out of the box and comes with 64GB of storage onboard. There is also an option for further memory expansion up to 512GB via the microSD card slot.
The Y7P comes with a 6.39-inch HD+ LCD with dimensions measuring 159.8 x 76.1 x 8.1mm. At the rear side, there is a fingerprint reader accompanied by a triple 48MP+8MP+2MP camera. There is also an 8-megapixels shooter on the front for selfies and other video calling purposes. It is backed by a 4000mAh battery.
I hope this article gives a fair idea about the Huawei Y7P Android 11 [EMUI 11] update. Also, do share your excitement in the below comment box.