Huawei Mate 30 and Huawei Mate 30 Pro became the company's first smartphones not to have the Google Play Store and Services since the US imposed a trade ban on Huawei. Due to this scenario, the flagship doesn't make its way to several global countries including India. Huawei Mate 30 Pro is already a great hit in China due to its world-class cameras. There might be global fans who have purchased the Mate 30 (Pro) through Chinese online retailers and looking for a way to install the Google Play Store. All those users need not look around as we have shared a simple guide to install Google Apps (GMS) on Huawei Mate 30 (Pro).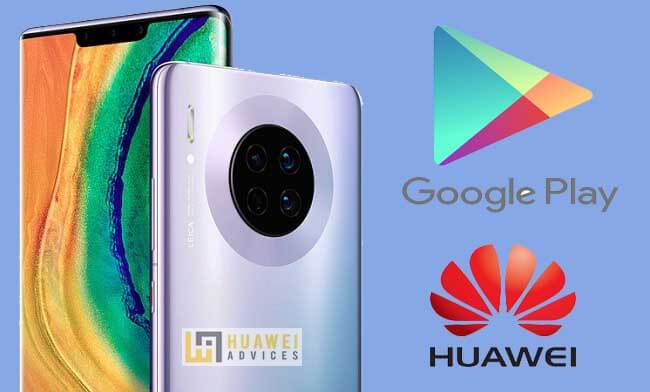 Earlier we have already come up with a guide to get Google apps on Mate 30 (Pro) using the Google Installer. It doesn't work for some users so here we have another one. According to our source, the following Google apps installer guide works with each and every Mate 30 smartphone.
It is a simple one and all the users can follow it easily. All you have to do is download the Huawei HiSuite tool on your PC and follow the below steps accordingly.
Disclaimer: HuaweiAdvices is not responsible for any damage occurs to your device during or after the process. Always, proceed at your own risk.
Also Read: How to Enable the Air Gestures functions on Huawei Mate 30 Pro
How to Install Google Apps (GMS) on Huawei Mate 30, Mate 30 Pro
1. Firstly, perform a backup of files on Huawei Mate 30 or Mate 30 Pro to HiSuite on your computer. If there is no HiSuite installed to PC, check here to download HiSuite latest version.
2. Factory reset your flagship (Complete guide).
3. Download the necessary Google Apps files from the following links:
4. Unzip the file "Google APKs.7z" and install it on the Huawei Mate 30 (Pro).
5. Unzip the file "Huawei Mate 30 Pro 2019-10-04 17.00.14" to the "HiSuite backup" folder on the PC.
6. Restore the backup to your device using the HiSuite software. Also, make sure you have restored the system settings on your phone.
7. Once successfully done with the restore procedure, reboot your device.
8. Go to the "Application Settings" and delete all the data of apps that you have installed. Also, give necessary permissions to the apps.
9. Restart your Huawei Mate 30 or Mate 30 Pro.
10. Connect to the internet and start enjoying downloading apps from the Google Play Store.
I hope this method was helpful in getting the Google Play Store and Services to your Huawei Mate 30 smartphone. If any of the apps downloaded from Google Play Store doesn't work on your flagship, try a different release of the app from an alternative source, such as APK mirror. For any queries, comment below!