Recently, we have shared a tutorial on How to Flash Custom Recovery on Huawei / Honor smartphones. Today, we're back with another guide which lets you Boot into Custom Recovery like TWRP/CWM on any Huawei phone.
Sometimes, we need to put our smartphones into TWRP Recovery to perform various system tasks including flashing custom ROM, Mods, updating Android firmware, resetting your phone, performing a backup, and more. Most of you wondering how to boot into custom recovery? For new Android users, it may be a troublesome problem facing them. Don't panic, here we provide an easy guide showing you how to make it without any difficulty.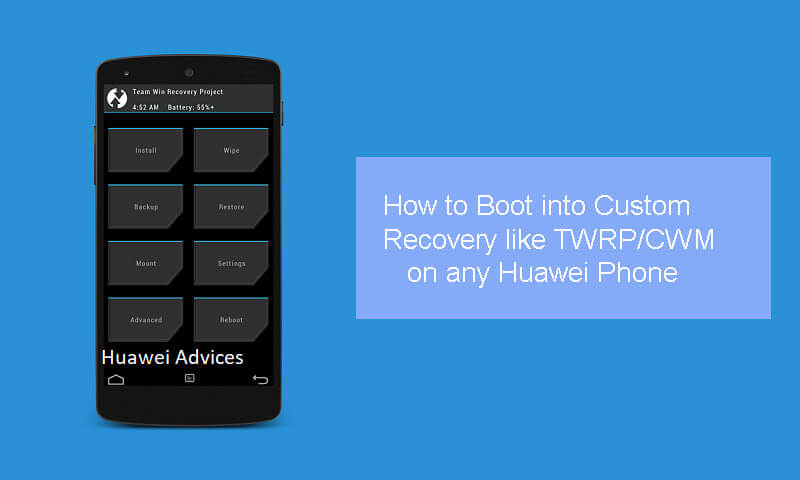 Steps to Boot into Custom Recovery like TWRP/CWM on any Huawei EMUI Phone
There are three different methods through which you can easily get into custom recovery on your Huawei EMUI smartphone. Choose the one which is more convenient to you.
Method 1:
In this method, users need to use the hardware combination buttons to boot their device TWRP/CWM recovery. It is one of the simplest and recommended methods.
To boot your Huawei EMUI phone into TWRP Recovery, users need to turn off their device and hold simultaneously the 'Power' button and the 'Volume down' button for a few seconds (if this does not work out, try with "Power and Volume Up" – Some phones may work with this combination).
Release the buttons after a few days and you'll see a list of options displayed on the screen. Select 'Recovery' and your device will automatically boot into custom recovery which you installed.
Method 2:
A special root-only app called "Quick Boot" has to be downloaded from Google Play Store on your device to boot. Once successfully installed, launch the app. Choose "Reboot into Recovery" option. That's it! The phone will automatically boot into custom recovery.
Although it's a quite simple process, users need to have root access on their smartphones. If you're not rooted your device, then it's better to go with method 1 or 3.
Method 3:
Compared to the above methods, it is one of the toughest methods to boot into custom recovery. Here users need to take the help of a Laptop/PC to enter into recovery mode. So before proceeding you need to make sure you have a properly working USB cable and plug your phone to PC/Laptop using the USB cable. Also, ensure to enable USB Debugging on your device.
1. Firstly, setup ADB & Fastboot drivers on your
2. Go to ADB & Fastboot Drivers folder and open Command Window. (Press shift key and right-click anywhere in the folder, then select "Open Command Windows here")
3. Enter the following command –
adb reboot recovery
4. Press 'Enter' and your Huawei phones get into TWRP recovery mode.
That's the simplest guide on how to boot Huawei phone into TWRP / CWM custom recovery. If you have any kind of issues during the above procedure, do leave a comment below.