Google's Android Q first beta update is out and most of the Pixel owners might have already flashed the firmware on their devices. As the software is still under initial development mode, it is not at all recommended for use as a daily driver. It is still unstable and might consist of several bugs and issues. If you're among those Pixel users who immediately turned to Android Q beta with core excitement and now facing the software issues, then there is no need to worry about. Here we have a detailed guide to Rollback Android Q beta and downgrade to Android Pie. It is an official process compatible with each and every Pixel devices.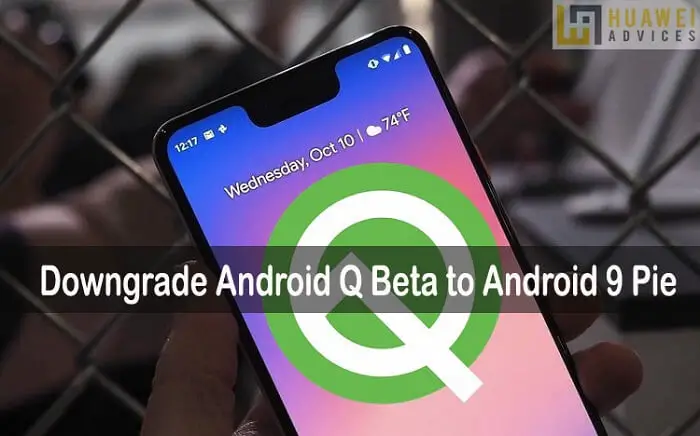 Android Q Beta is mainly for app developers who want to test their apps and make compatible by the time the stable version of Android Q is released sometime in Q3 2019. So, if you installed Android Q but now realize some apps or games aren't compatible or are having problems, here's how to go back to Pie.
Alternatively, users can also wait for the second beta update which may be released in April. This should be more stable, run better, and be more feature-complete instead of currently half-baked features. But, if it's the primary device then a Pie rollback is highly recommended.
Related: How to Download and Install Android Q Beta Update
How to Rollback Android Q beta and downgrade to Android Pie
Well, Google is providing a simple and secure way to go back to Android Pie from Android Q beta. Here we have detailed each and every step which helps you to downgrade your device to Android Pie.
1. Firstly, perform a backup of all your important data to a safer place. This is highly advisable as downgrading Android Q beta to Android Pie undergoes "Factory Data Reset" thereby deleting all the files and data from the device.
2. Go to the Android Beta Program website and login with the same ID which you used during beta participation.
3. From the home page of Android Beta page, tap on "View your eligible devices" button.

4. You will be automatically redirected to the devices section where you can see your Pixel model.
5. Tap on Opt out to continue the process of downgrading Android Q Beta.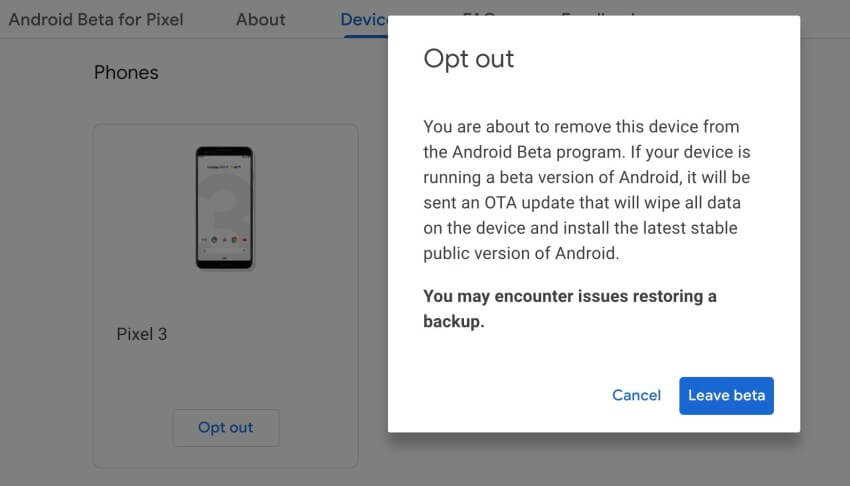 Note: If you have installed Android Q Beta via fastboot mode using a system image file (note OTA), you will not see an Opt-out option. Instead, Opt-in option will only display although your device is running on Android Q Beta. In this scenario, tap on the "Opt-in" button and refresh the page. Google will automatically recognize that the Android Q is being installed and thereby giving you the "Opt-out" button.
6. That's it! Once the Opt-out request is sent, Google will send you a new software update within 24 hours. It will be an OTA update taking back to the stable version of Android 9 Pie.
I hope the above tutorial was helpful in downgrading from Android Q to Android 9 Pie. For any queries or issues, do feel free to comment below. We'll get back with the most possible outcomes.