EMUI 10.1 is the Huawei's latest EMUI skin based on Android 10. It is announced alongside the Huawei P40 series, and thus all the three flagship smartphones – the Huawei P40, P40 Pro, and P40 Pro Plus comes pre-installed with EMUI 10.1. Earlier we have already shared the list of eligible Huawei phones expected to get the EMUI 10.1 update. Here, we have a step-by-step guide on how to download and install EMUI 10.1 update on any Huawei / Honor device.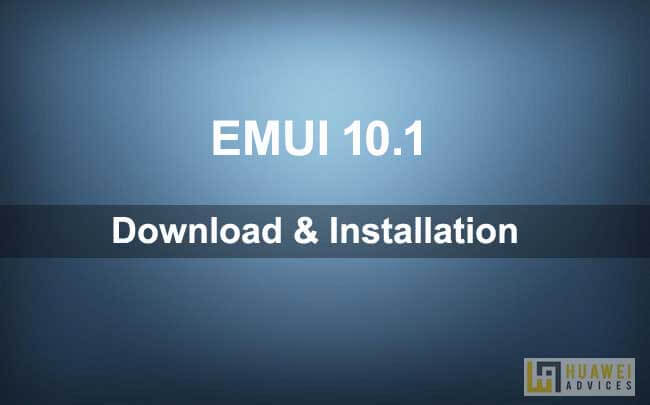 EMUI 10.1 Features
The latest EMUI 10.1 brings with it tons of new and exciting features. You are definitely going to like these features. Although it seems to be like a minor update, it's not. It is a major update bringing several new and amazing features.
EMUI 10.1 brings the company's own voice assistant called Celia. This is mainly introduced to take on Google's Assistant. By saying "Hey Celia" or holding the power button for a second, Celia will start helping with all your tasks hands-free. MeeTime, Huawei Share, Multi-screen collaboration, Themes, Sound Booster are the amazing features you will love. You can also refer below for a list of EMUI 10.1 features –
MeeTime [Communication, Screen Sharing, Multi-Video Conferencing, Real-Time Action Camera]
Multi-screen Collaboration
Huawei Share
Cast + Wireless Projection
Sound Booster
Gallery
Celia – Huawei Voice Assistant
New Themes
Multi-Window
Multi-Device Control Panel
Performance Improvements
Security and Privacy
For a detailed overview of each and every feature, do check our post here – EMUI 10.1 Features
How to update Huawei (Honor) devices to EMUI 10.1
There are three different ways through which you can request the EMUI 10.1 update on your Huawei device. You can choose any one of them –
Method 1: Update via Settings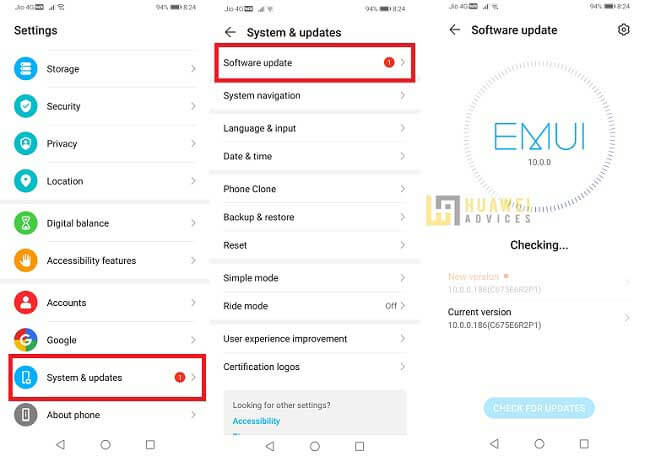 This is one of the simplest methods to update your Huawei mobile to EMUI 10.1 ROM. Here, there is no need to download any third-party app or software to request the update. Simply, go to Settings >> System & Updates>> Software Update >> Check for updates. Your device will automatically search for the latest EMUI 10.1 update. Follow the on-screen instructions to download and install the firmware.
Method 2: Update via HiCare
HiCare is the customer assistance app for Huawei devices. HiCare provides you with common online services including customer services, issue feedback, user guides, service centers, and self-service. Apart from this, the app also lets you request the latest software update. Check here to know how to request EMUI 10.1 update on any Huawei device.
1. Download and install the HiCare app on your device.
2. Launch the app and login with your Huawei ID. Doesn't have a Huawei ID? Check here to create a new Huawei ID.
3. Choose your country and agree "Permissions and user agreement".
4. Go to the Services section and tap on the 'Update' icon.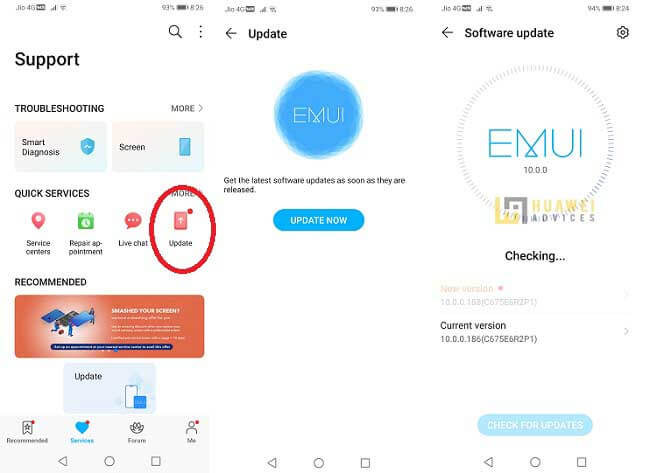 5. Tap "UPDATE NOW".
6. HiCare app will start searching for the latest software update for you.
7. Tap on "Download and Install" to start updating your Huawei mobile.
8. Once installed, the device will automatically reboot to EMUI 10.1 firmware.
Method 3: Update via HiSuite
If you're a Huawei user for a long time, then you might be well used with the HiSuite. It is an official Android smart device manager tool that allows users to connect their Huawei phone with PC. More importantly, there is no need to install the USB Drivers. HiSuite lets you perform several tasks like backup, system recovery/restore, and software update. Below are the steps to download and install the EMUI 10.1 via the HiSuite.
1. Download and install the HiSuite app on your PC.
2. Connect the device with the PC using a standard USB cable.
3. Open the HiSuite application. You will see the device model number on the HiSuite app. This indicates that the connection between your device and PC has been successfully established.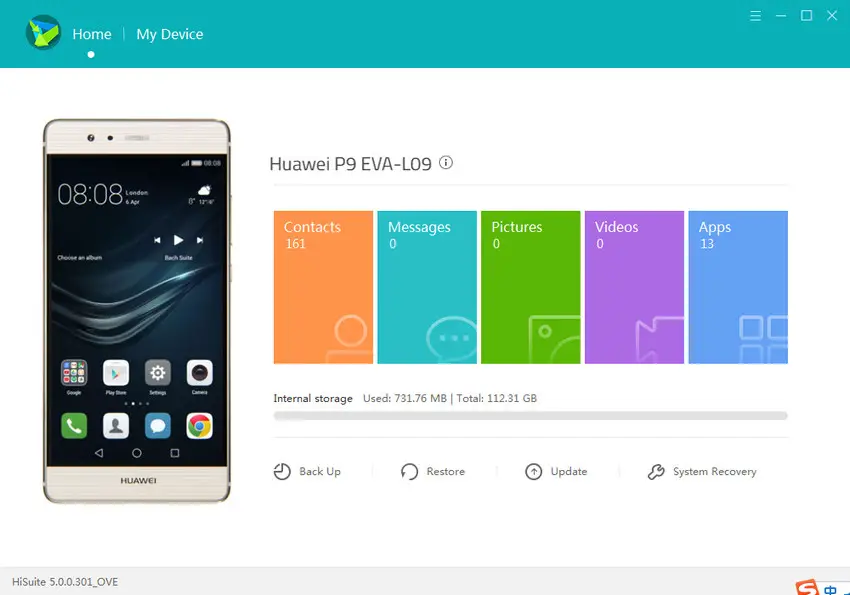 4. Click on 'Update' located at the bottom right corner.
5. The tool will start searching the latest software updates based on your device model number. If available, follow the on-screen instructions to complete the installation procedure.
6. Reboot your device to start enjoying the latest firmware.
That's it! Your device will be successfully running on EMUI 10.1 firmware. Don't forget to share the tutorial with your friends and let them upgrade their Huawei phone to EMUI 10.1 OS.
Already installed the EMUI 10.1 update on your Huawei / Honor mobile? Do share your experience in the below comment section.
Also Read: EMUI 11 – Release Date, Eligible Devices, Features