Huawei introduced the Android 10-based EMUI 10.1 update for its devices earlier this year. Although the EMUI 10.1 is a minor upgrade over the EMUI 10.0, it brings several new features and performance improvements to the devices. One of such feature is the better AOD (Always-On-Display). Unfortunately, there is still no option for adding a customized wallpaper in the AOD. In this guide, we have quick steps to download & apply custom AOD wallpaper for Huawei/Honor devices on EMUI 10.1 OS.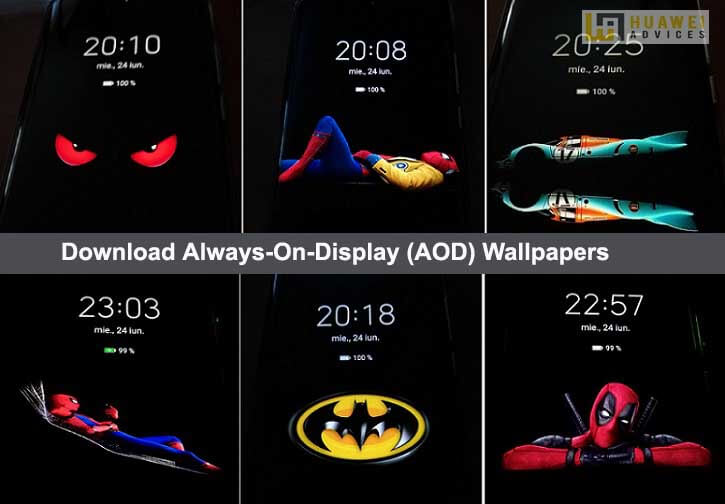 As usual, the method to set custom AOD wallpapers on EMUI 10.1 devices comes from XDA developers (credits to Kamcho84, Via). Before proceeding to the procedure, we want to make sure that the guide works only with Huawei/Honor phones running on EMUI 10.1 (Magic UI 3.1). Moreover, the devices should also be equipped with OLED/AMOLED displays and support always-on displays feature.
For the method to work, the Huawei Themes app must be installed on your Huawei phone. If your device uses the HMS Core, then the Huawei Themes app is already pre-installed. For devices on GMS Core, you need to download the Themes app from App Gallery.
To set a custom AOD wallpaper, you need to install a theme created and apply it through the Themes app. One can choose a theme from the Themes app or create a customized one using a PNG image with a black background of your own choice. The later one has been explained in the following steps:
You may also like:
Download AOD Wallpapers for Huawei/Honor phones
How to set custom AOD wallpaper in EMUI 10.1 for Huawei and Honor devices
1. Download the zip file containing custom AOD wallpapers from the above download section. Unzip the same and select the AOD wallpaper theme you want to apply on your EMUI 10.1 device.
2. Go to Huawei Themes App and download one of the free themes. Here we went with the Free Earth theme.
3. Connect the smartphone with a laptop/PC and go to Internal Memory/Huawei/Themes/HWAods/ and copy the downloaded theme to your desktop.
4. Open the file using 7-Zip and go to com.huawei.aod\Res\drawable-xxhdpi\. Now you need to replace the file digit_bg.png with one of the images you selected in step 1. Save and go back.
5. Copy the above-modified theme to phone internal storage /Huawei/Themes/HWAods/ replacing the previous one (don't rename the new file).
6. Go to Settings >> Home Screen & wallpaper >> Always On Display >> Clock Style >> Download more. Select the new customized theme and press 'Apply'.
7. That's it! You have successfully applied custom AOD wallpaper on your Huawei and Honor device.
Note: If you wish to have a personalized PNG as AOD wallpaper, you need to create a new theme: Change the Wallpaper size to 1080×492 or 1080×788, change the name to digit_bg and follow the steps 4, 5, 6.
As said above, the method is compatible with Huawei and Honor devices running on EMUI 10.1 or Magic UI 3.1. Doesn't received the EMUI 10.1 update yet? Do check out the list of Huawei devices eligible to get the EMUI 10.1 update.