EMUI 10 beta update is slowly expanding to more global countries. At first, the Huawei P30 series smartphones received the upgrade and now a total of 8 Huawei phones are currently receiving the Android 10-based EMUI 10 update globally. Of all, the Huawei P Smart+ 2019 is the lucky one to get the update. Check here to manually download and install the EMUI 10 (Android 10) beta update on Huawei P Smart+ 2019.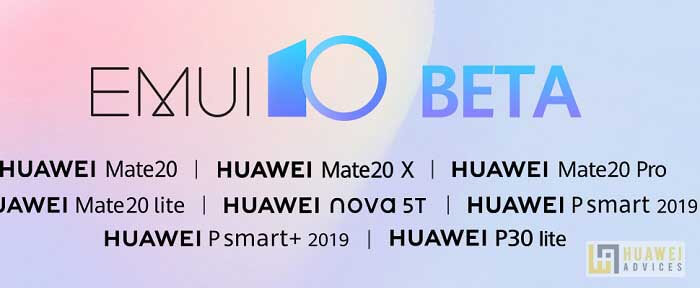 EMUI 10 beta updates are mainly rolled out to provide a stable and smooth user interface. Being an open beta test program, any user from eligible mode/region can apply for the update and have to give valuable feedback for further software improvements. As the software is still under development phase, one can encounter bugs or issues. So, it is advisable to perform the backup of your important data in advance.
To be eligible for the EMUI 10 open beta program, make sure the Huawei P Smart+ 2019 has the following model and build numbers. One can check the build number through Settings > System > About phone.
West Europe and CEE Nordic European Region: Germany, France, Italy, UK, Spain, Netherlands, Norway, Sweden, Denmark, Finland, Poland, Turkey
POT-LX1T 9.1.0.265(C432E2R2P1)
POT-LX1T 9.1.0.265(C431E2R2P1)
POT-LX1T 9.1.0.265(C431E2R1P13)
POT-LX1T 9.1.0.263(C431E1R1P14)
Note: More models of Huawei P Smart+ 2019 could be added to the EMUI 10 beta program in more regions.
Related: Downgrade Huawei phone from Android 10 EMUI 10 to Pie EMUI 9.0 or 9.1
How to download and install EMUI 10 (Android 10) beta firmware on Huawei P Smart+ 2019
Make sure the Huawei Beta app is installed on your Huawei mobile. Now, tap the below button for a step-by-step guide to participating in the EMUI 10 beta program on Huawei P Smart+ 2019.
   Guide to Install the EMUI 10 Beta ROM
EMUI 10 Features:
Android 10-based EMUI 10 is a major software upgrade after EMUI 9 bringing several new features, performance improvements, and a new user interface. The following are the highlights of the EMUI 10 software:
Incorporates a magazine-style layout, for a more comfortable and authentic reading experience.
Understated gray tones make for a gentler and more comfortable display.
A captivating Dark Mode that's more than meets the eye
Meticulously calibrated colors, based on high-level research, with a minimalist Dark mode.
Dynamic, naturally-based animations for page transitions, app launches, and other scenarios.
You can also check the EMUI 10 features section for a detailed changelog overview.
Source – Huawei Forum