Huawei announced the 11th iteration of EMUI skin called EMUI 11 at the Huawei Developer's Congress (HDC) 2020 last month. It is a major upgrade over EMUI 10 bringing several new features and performance improvements. According to Huawei, the EMUI 11 update focuses on three core principles: user interface improvements, privacy and security, and what Huawei calls "seamless AI life." Currently, EMUI 11 is in beta mode and soon be released as a stable update. In this guide, we have detailed steps to download and install the EMUI 11 update on any Huawei smartphone (Supported model).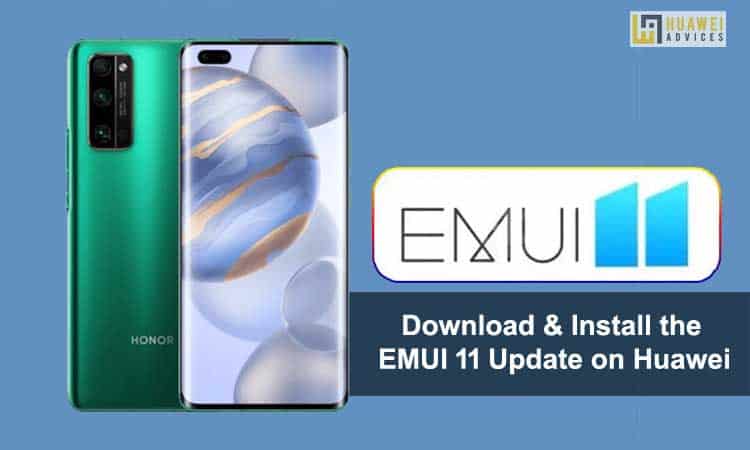 Like always, EMUI 11 update for supported Huawei devices will be happening via OTA (over-the-air). That means one will start seeing the update notification as soon as the company starts rolling out the EMUI 11 upgrade. But, there are scenarios where users won't see any update notifications. For all those users, the following guide to manually check for updates will be much handy.
This works with most of the Huawei EMUI 11 supported devices including the Huawei Mate 30 Pro, Mate 20 Pro, Mate 20 Porsche Design, Mate X, P40 Pro+, P30 Pro New Edition, Enjoy 20 Pro, Nova 7 SE, Nova 7i, Nova 6, and more.
EMUI 11 Features:
EMUI 11 still uses Human factors-based UX design and brings brand new AOD, immersive art themes, Smooth animations, Gesture navigations and Harmonized vibrations and ringtones, and Smart multi-window and multi-screen collaboration. The following are the top features of the EMUI 11 skin:
EMUI 11 refines the user experience and brings vivid, dynamic visual elements for the Always On Display (AOD). AOD now allows you to customize your screen and showcase your personal style with text and images even when the screen is off.
Multi-Window allows you to open apps in a floating window for multitasking. You can relocate the floating window to the desired location or minimize it to a floating bubble for easier access later.
The brand new, intuitive animations throughout EMUI 11 create a smoother, more unified, and visually pleasing user experience when touching items or sliding on the screen.
Multi-screen Collaboration
This is a special feature that enables your devices to work together to achieve their full potential. You can mirror your phone to your laptop's screen to improve your productivity with multiple app windows readily available. (This feature requires a Huawei laptop with PC Manager of version 11.0 or later.)
Privacy-based screen projection
When you project your phone onto an external display, messages and incoming calls are displayed only on your phone screen, both protecting your privacy and ensuring the continuity of screen projection.
Pre-requisites:
The following steps to install the EMUI 11 update on Huawei smartphone are compatible with all Huawei models. Ensure your Huawei device runs on the latest EMUI 10.1 software.
The bootloader of your device should not be unlocked.
The battery level should be at least 75% to perform the update process. If not, charge now!
Make sure to backup all your important data to a safer place. This helps to restore if any data loss occurs. Check How to backup a Huawei phone.
Ensure there is enough internal memory for the firmware installation (at least 6GB).
Install the HiSuite software on your computer (Method 2). Download HiSuite
Note: The following guide to download and install the EMUI 11 update works with Huawei devices for which the company has officially released the EMUI 11 update. Check EMUI 11 Eligible Devices.
Download and install the EMUI 11 update on any Huawei device
There are three different methods to manually check for the Android 11-based EMUI 11 update on Huawei. You can choose anyone which is more convenient to you.
Method 1: Update via Settings
This is one of the simplest methods to check for the latest software update on your Huawei phone. Refer to the below steps to download and install the EMUI 11 update manually.
1. Launch the Settings app.
2. Select "System & updates".
3. Tap on Software update > Check for updates.
4. If the latest EMUI 11 update is available for your Huawei model, it will be shown here with a detailed changelog.
5. Hit the 'DOWNLOAD AND INSTALL' button.
6. EMUI 11 firmware will automatically start downloading on your device.
7. Once done, the device reboots to the newer version. Enjoy!
Method 2: Update via HiSuite
Huawei Hisuite is a free tool to control your Huawei branded smartphone via your PC or Laptop. You can also call it Huawei PC Suite, and it just works like any other PC suite available in the market. HiSuite lets you perform several tasks like backup, system recovery, restore, and most importantly software update. Read on to download and install the EMUI 11 update on Huawei phone using the HiSuite (Supported devices).
1. Download & install the HiSuite on your PC.
2. Download HiSuite for Windows, Mac.
3. Connect your phone to PC or Mac using a USB cable.
4. Open HiSuite software.
5. After HiSuite detects your phone, you will see the device model number on the software screen. This indicates your Huawei phone is successfully connected with PC/Mac.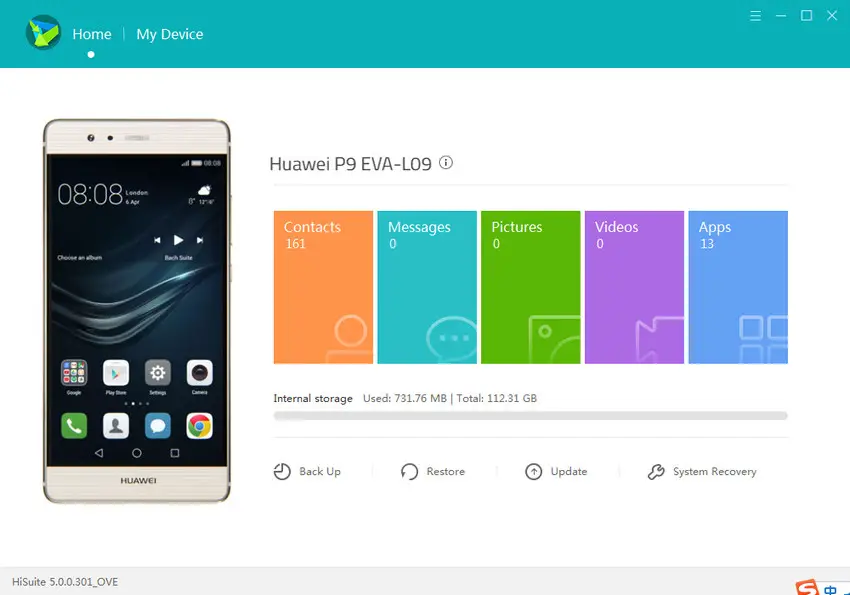 6. Click on 'Update' located at the bottom right of the HiSuite screen.
7. HiSuite starts searching for the EMUI 11 update for your device.
8. If available, follow the on-screen instructions to download and install it.
9. Once done, the device will automatically boot to the EMUI 11 version.
10. Done!
Method 3: Update via Support App
One can also manually check for the EMUI 11 update via the Support app. Firstly, download the Support app and thereby follow the below steps to upgrade your Huawei device to the EMUI 11 version.
1. Open the Support app.
2. Log-in with your Huawei ID. Doesn't have one? Check here to create a new Huawei ID.
3. Select country and agree 'Permissions and user agreement'.
4. Select the Services tab from the bottom of the screen.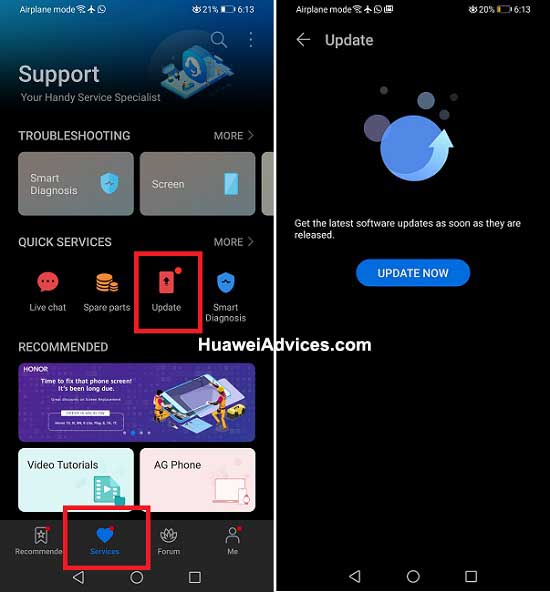 5. Under the Quick Services section, you need to tap on 'Update'.
6. Tap UPDATE NOW.
7. The support app starts searching for the EMUI 11 update. If available, hit the "DOWNLOAD AND INSTALL" button.
8. EMUI 11 update starts installing on your Huawei device. Once done, it will reboot to the latest firmware.
Note: This will only work if there's a new update available for your device.
That's it! Your Huawei device will be running on the latest EMUI 11 skin. In case, if you have any kind of queries or struck in between the update process, feel free to comment below. We'll get back with the most possible solutions.