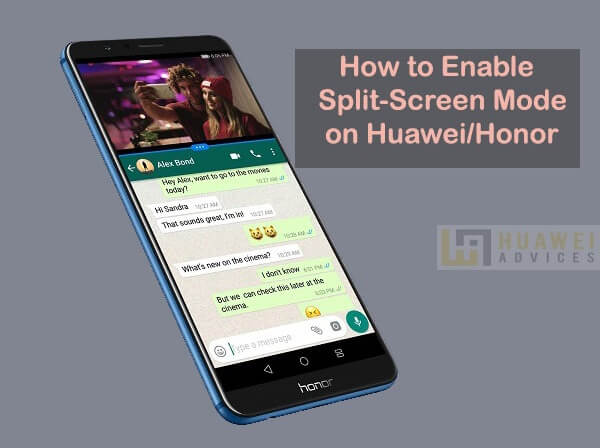 Here we have a very interesting tutorial which helps you to enable split-screen mode on any Huawei and Honor EMUI smartphone.
Split-screen view or multi-screen mode is a new EMUI feature introduced by Huawei to its smartphones. With this special mode, one any divide the screen into two parts and thereby letting you use two different apps simultaneously. For example, you can chat on WhatsApp and watch YouTube videos at the same time using this split-screen feature.
It is important to note that not all Android apps support Split-Screen mode. If an app is not compatible, you will see a message "App does not support split-screen" on your Huawei/Honor device. Coming to supportive devices, all the EMUI 5/8/9 devices including Huawei Mate 20 Pro, P30 Pro, Honor 8X, Honor View 20, Honor 10 Lite, P20 Pro, Nova 4, and more comes with split-screen feature.
How to use Split-screen Mode on all Huawei EMUI devices
As said, there are three best ways to enable split-screen mode on any Huawei/Honor smartphone running on EMUI 9.0 or above. You can choose any one method which is more convenient to you. Before we take you to these methods, make sure to enable the split-screen gesture. To do so, go to settings > Smart assistance > Motion control > Split Screen > Toggle-on to enable the gesture.
Method 1: Use Knuckle to enable Split-screen mode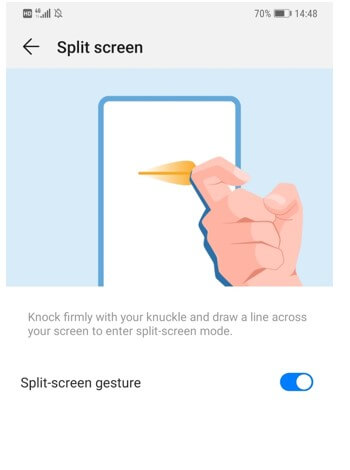 Open an app that supports split-screen mode, and then knock firmly with your Knuckle and draw a line across your screen to enter split-screen mode.
Make sure to draw a horizontal line when the screen is on portrait mode, and a vertical line when in landscape mode.
Method 2: Use the recent apps button to enable the split-screen mode
1. Open the compatible app.
2. Tap on the recent apps button where you will see the list of all apps running in the background.
3. On the top each app, there will be options to split, lock and dismiss.
4. Tap on the first option so that it automatically divides the display and load the app in the first half.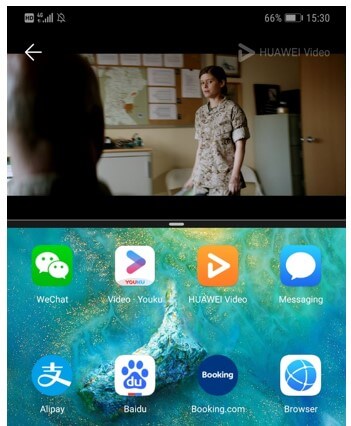 Method 3: Use three fingers to split-screen
Launch the app that is compatible with the split-screen mode. Now, from the bottom of the screen move-up your three fingers. That's it! The device screen will be automatically split into two.
How to exit split-screen mode on Huawei EMUI?
If you want to exit the split-screen mode, click the button in the middle, then click the icon "x" to exit the split screen mode.
Alternatively, users can also drag the divider line all the way to the top or bottom of your screen.
I hope the above guide was helpful in using split-screen on your Huawei and Honor mobile. For any kind of issues, do let us know in the below comments. We'll get back with the most possible outcomes. Also, share the post with your friends on Facebook, Twitter and let them enjoy the EMUI Split-screen feature.