Huawei Mate 30 and Huawei Mate 30 Pro are the company's latest flagship smartphones running on Android 10-based EMUI 10 OS. These are also the company's first devices to run on EMUI 10 out-of-the-box. EMUI 10 is the Huawei's latest custom skin announced in August this year. It brings several new features and performance boost over its predecessor EMUI 9.1 OS. Here we'll guide you on how to enable the Split-screen mode (Multi-screen mode) on Huawei Mate 30 and Mate 30 Pro.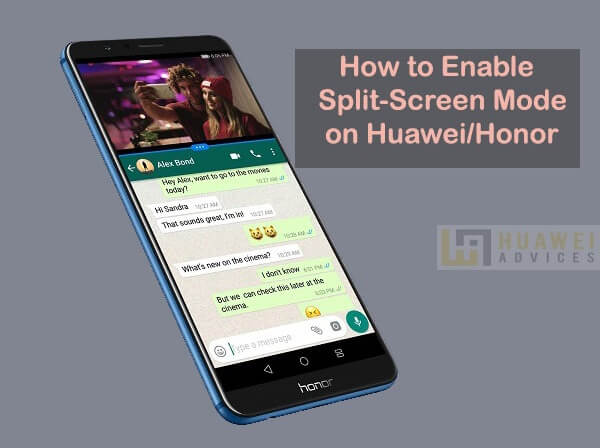 By turning-on, the split-screen mode, the phone's screen will be divided into two parts. This will give the users an option to use two different apps simultaneously. For example, one can watch videos on YouTube alongside having a chat conversation with friends on WhatsApp. Is it cool? Yes! Unfortunately, most of the users are not aware of how to enable the multi-screen mode on their smartphones. For all those users, here's the guide for you.
Guide to enable the Split-screen Mode (Multi-screen Mode) on Huawei Mate 30, Mate 30 Pro
There are two different ways through which one can enable the Split-screen mode on Huawei Mate 30 and Mate 30 Pro. First is using the Knuckle and another using the three fingers. You can choose the one which is more convenient to you.
Method 1: Use Knuckle to enable Split-screen mode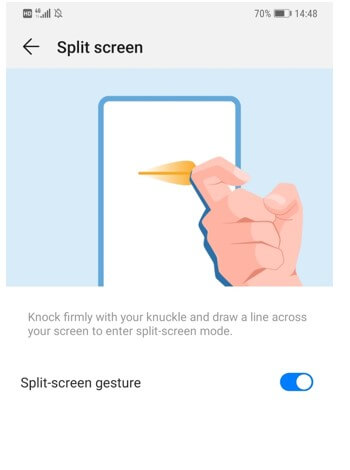 Open an app that supports split-screen mode, and then knock firmly with your Knuckle and draw a line across your screen to enter the split-screen mode.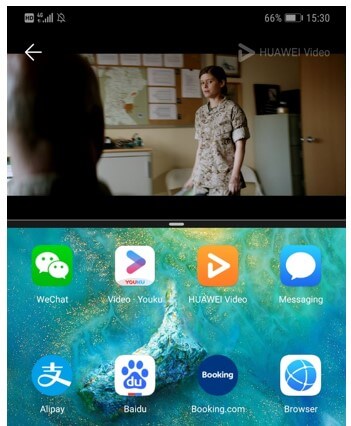 Related content:
Method 2: Use three fingers to split-screen
1. Open an App.
2. Swipe up from the middle of the screen with three fingers.
3. Open another app. Then you can use the two apps at the same time.
4. Enjoy!
Note: Make sure to draw a horizontal line when the screen is in portrait mode, and a vertical line when in landscape mode.
How to exit the Split-screen mode?
Exiting the split-screen mode is one of the easiest tasks. Simply, tap the button in the middle of the split-screen line and then click the 'x' icon.
That's it! You can also check our EMUI section for more such tips and tutorials for your Huawei Mate 30 series smartphones.