Hello EMUI users! Here we have shared another useful tutorial on how to configure and use Wi-Fi Bridge on Huawei and Honor devices running on EMUI 9.0 or above.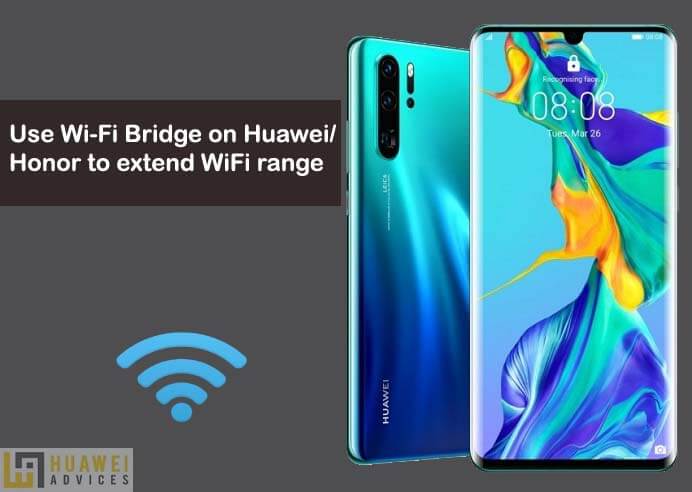 Most of the Android smartphone users get frustrated when there is an open Wi-Fi signal near you but is just out of our device's reach. There are also scenarios when your Wi-Fi router doesn't cover each and every corner of the house. To overcome this issue, Huawei and Honor smartphones running on EMUI 9.0 comes with a special built-in feature called "Wi-Fi Bridge". So, users of these OEMs need not buy Wi-Fi repeaters or Wi-Fi extenders, thereby putting some savings in your pocket.
What is Huawei Wi-Fi Bridge?
A Wi-Fi bridge is used to extend the coverage area of your Wi-Fi network. It works by receiving your existing Wi-Fi signal, amplifying it and then transmitting the boosted signal.
How to Configure and Use WiFi Bridge on Huawei/Honor devices
1. Launch the Settings app on your device.
2. Tap on Wireless & networks and select "Tethering & portable hotspot".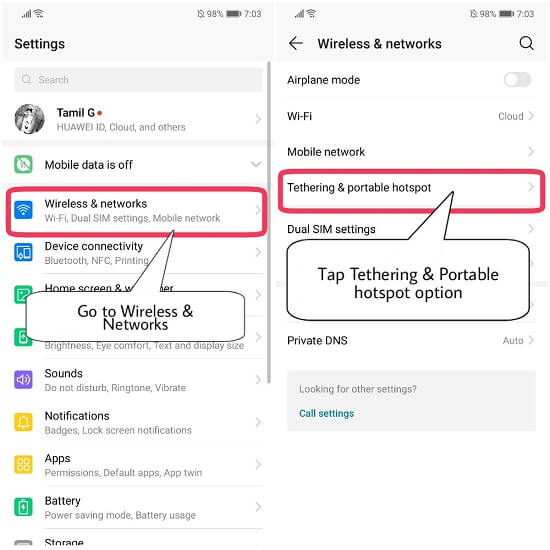 3. Now, you will see the option "Wi-Fi Bridge". Tap on it.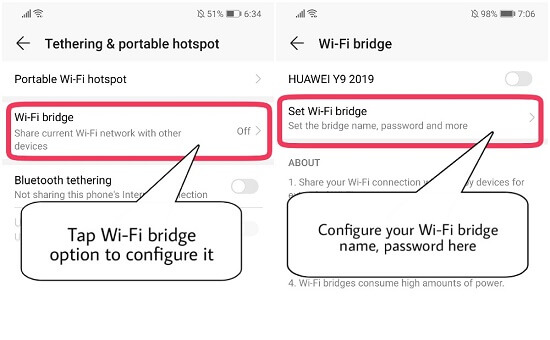 4. Next, you have to configure the Wi-Fi Bridge. So, enter the Wi-Fi Bridge Name, Password, and don't forget to Save it and Enable it.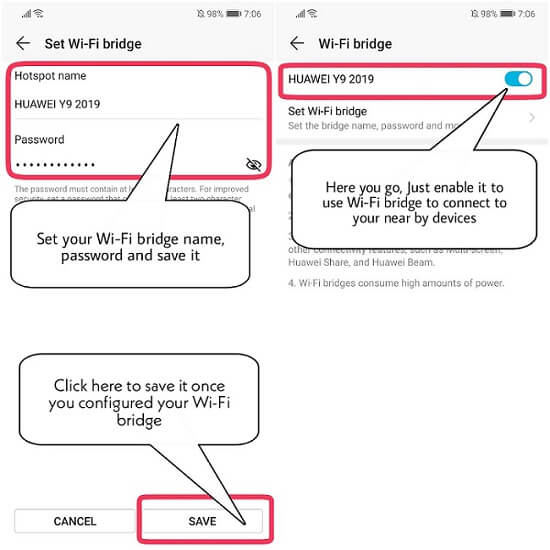 5. That's it! You've successfully setup WiFi Bridge on your EMUI smartphone. Start expanding WiFi signal through your Huawei device.
Here are the top points to remember before you enable the WiFi Bridge feature on your Huawei/Honor mobile:
WiFi Bridge allows Other devices to get connected to your current WiFi network through your device without sharing the password.
A total of 4 devices can be connected at a time to the WiFi Bridge network.
WiFi Bridge consumes heavy battery. So, your Huawei device will soon run out of power and heats up if you use the feature for a longer period.
Wi-Fi Bridge cannot be used with other connectivity features including the Multi-screen, Huawei Share, and Huawei Beam.
You may also like:
I hope the above tutorial was helpful in providing enough guide to setup Wi-Fi Bridge on any Huawei and Honor smartphone. For any queries or issues, feel free to comment below. You can also check our EMUI section for more such tips and tricks.
Source – Huawei