Huawei P30 and P30 Pro users in China reportedly receiving a new software update. It has been given the version EMUI 9.1.0.163D (C735E163R1P11) and brings DC Dimming as well as in-display fingerprint sensor improvements to both the flagships.
Both the Huawei P30 and P30 Pro becomes one of those latest generation OLED smartphones that ditched PWM for DC dimming.
To explain you the difference, PWM (Pulse Width Modulation) turns the pixels on and off to lower the brightness. This was prior to the update leading to a flicker, which isn't a comfortable viewing experience. Sometimes, this could be the reason behind headaches for several Huawei P30 and P30 Pro users.
On the other hand, DC dimming essentially reduces the amount of current delivered to each pixel in the OLED panel, thereby altering its brightness. DC dimming is not a new feature but it's only now manufacturers are quickly bringing it to their OLED smartphones. It is also said that the feature reduces eye strain.
Related: How to access Dual-View Camera Mode on Huawei P30 and P30 Pro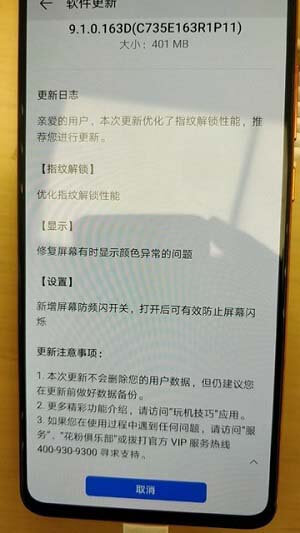 The latest firmware EMUI 9.1.0.163D is about 400MB in size and currently rolling out in China. It is expected that the company many soon rollouts the same update to global variants in the coming weeks. According to the changelog, Huawei P30 and P30 Pro users can enable the DC dimming mode from system settings.
Is still unknown whether the DC dimming feature will be brought to other Huawei and Honor devices with an OLED display?