EMUI 10, the 10 iterations of Huawei's custom skin based on Android is already rolling out for a range of Huawei and Honor smartphones. Huawei Y9 Prime 2019 and Honor 10 Lite are the latest devices to get the Android 10-based EMUI 10 support. Before the 2020 year begins, there were already 10 million EMUI 10 users globally consisting of over 33 Huawei models. Today, we have a new device dubbed as Huawei Nova 5 (SEA-AL00, SEA-TL00) which is confirmed to get the stable EMUI 10 update. Read on for Huawei Nova 5 Android 10 update release date, downloads, & installation.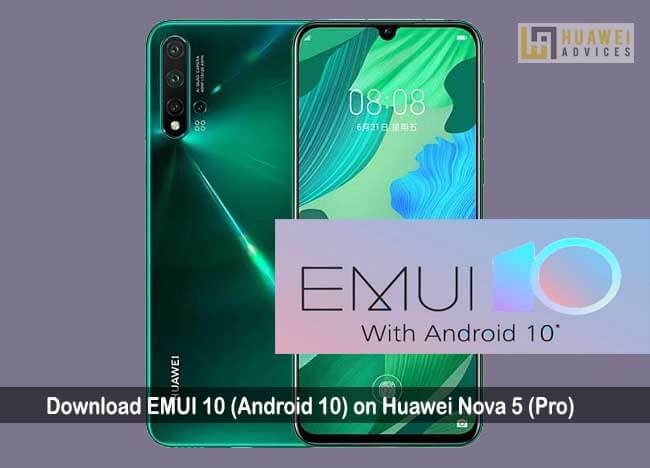 Announced back in June 2019, the Huawei Nova 5 runs on Android 9.0 Pie with EMUI 9.1.1 on top and powered by Kirin 810 SoC. There is also a flagship version called the Huawei Nova 5 Pro powered by Kirin 980 SoC. A 6.39-inch display, 8GB RAM, Quad rear cameras, and a 3500mAh battery are the highlights of the Huawei Nova 5.
EMUI 10 Features
Huawei unveiled EMUI 10 at its annual developer conference in China last year. The new EMUI custom skin is based on Android 10, so you will get all the latest peaks of Android 10. Here we have listed all the top features of Huawei's EMUI 10:
Dark Mode: Dark mode does not mean complete black background and white texts. After repeated human-centric lab tests, the most suitable color contrast and gradation were selected to deliver a comfortable and immersive reading experience in dark environments.
Better performance: EMUI 10 will be more responsive thanks to improved EROFS file system and GPU Turbo 3.0, promising faster interactions and less latency when switching through apps.
Magazine Design: Incorporates a magazine-style layout, for a more comfortable and authentic reading experience.
Morandi Color: Understated gray tones make for a gentler and more comfortable display.
Also Read: EMUI 10 – List of Top Features
Huawei Nova 5 EMUI 10/ Android 10 – Release Date
Huawei Nova 5 smartphones will join beta testing in February 2020 along with three other Huawei phones including the Huawei Nova 5i Pro, Huawei Nova 5z, and Honor 20S. During this period, users can switch to EMUI 10 and explore its features. However, it is important to note that the EMUI 10 will be in an early stage of development for Huawei Nova 5 and users can face bugs after installing the beta ROM.
Coming to the stable release, it will soon after once the ROM is free from bugs and issues. Most probably, the EMUI 10 stable update will be happening in Q2 2020.
Download & Install EMUI 10 (Android 10) Beta update on Huawei Nova 5
In order to be a part of the EMUI 10 Beta program, users have to manually register via the Huawei Beta app. The following are the steps you need to follow to be a part of EMUI 10 beta program –
1. Download and install the Huawei Beta app.
2. Launch the app and accept the terms & conditions.
3. Log in with your Huawei ID. Check how to create a new Huawei ID from here.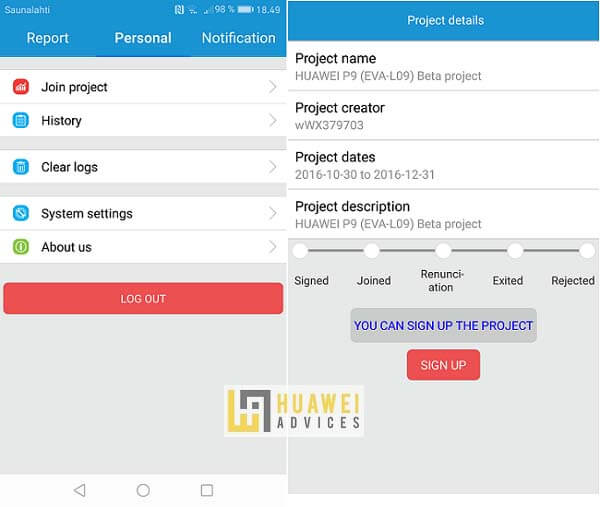 4. Join the beta program by navigating to personal from the bottom tabs. Now you need to select Join Project > Available project. Here you will see the EMUI 10 beta campaign. Simply click on Sign up and you're done!
5. Huawei will automatically roll out the beta update via OTA.
6. Enjoy!
Note: The above steps work if only Huawei released EMUI 10 public beta update. If still the EMUI 10 under closed beta, then a limited number of users can only participate in the EMUI 10 beta program.
Download and Install EMUI 10 (Android 10) stable update on Huawei Nova 5
Once done with the EMUI 10 beta program, Huawei Nova 5 will start getting the EMUI 10 stable update via OTA. It will be released in batches and takes some time to reach every user. Users can also request the update via the HiCare app. You can also refer to the below button for a detailed guide on how to update Huawei Nova 5 to Android 10 OS.
   Download & Install EMUI 10 (Android 10) on Huawei Nova 5
Excited for the Android 10 update for your Huawei Nova 5? Do let us know in the comments below.