Huawei announced the EMUI 10 ROM back at its Annual Developer conference a few months ago, and the company is still working to make it stable enough before the expected release date. If you can't wait till its stable release, then you will love to hear that Huawei has an open EMUI 10 Beta program for its range of devices. By joining it, one can experience the Android 10-based EMUI 10 OS before its stable release. Huawei P Smart 2019 global variants are among those devices eligible for EMUI 10 beta update. Check here to manually download and install the EMUI 10 (Android 10) beta update on Huawei P Smart 2019.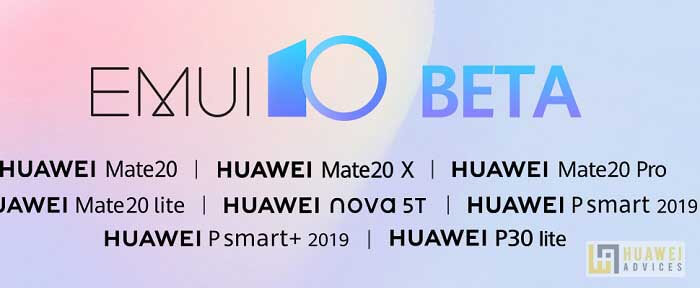 The Open Beta Test version is still in the development phase and problems or defects may exist. Back up your important data in advance. If you encounter any problems with the system software, provide feedback using the Beta app.
To be eligible for the EMUI 10 open beta program, make sure the Huawei P Smart 2019 has the following model and build numbers. One can check the build number through Settings > System > About phone.
1) West Europe and CEE Nordic European Region: Germany, France, Italy, UK, Spain, Netherlands, Norway, Sweden, Denmark, Finland, Poland, Turkey
POT-LX1 9.1.0.279(C432E8R1P12)
POT-LX1 9.1.0.279(C432E8R4P1)
POT-LX1 9.1.0.279(C431E8R2P2)
POT-LX1 9.1.0.279(C431E8R4P1)
2) Middle East Africa: United Arab Emirates, Jordan, Egypt, Kuwait
POT-LX1AF 9.1.0.281(C185E8R1P11)
POT-LX1AF 9.1.0.281(C185E8R4P1)
POT-LX1AF 9.1.0.279(C185E8R1P11)
POT-LX1AF 9.1.0.279(C185E8R4P1)
3) Latin America: Mexico, Colombia, Peru
POT-LX3 9.1.0.279(C605E8R1P11)
POT-LX3 9.1.0.279(C605E8R2P2)
POT-LX3 9.1.0.279(C605E8R1P11)
Note: More models of Huawei P Smart 2019 could be added to the EMUI 10 beta program in more regions.
Related: Downgrade Huawei phone from Android 10 EMUI 10 to Pie EMUI 9.0 or 9.1
How to download and install EMUI 10 (Android 10) beta firmware on Huawei P Smart 2019
Make sure the Huawei Beta app is installed on your Huawei mobile. Now, tap the below button for a step-by-step guide to participating in the EMUI 10 beta program on Huawei P Smart 2019.
   Guide to Install the EMUI 10 Beta ROM
EMUI 10 Features:
Android 10-based EMUI 10 is a major software upgrade after EMUI 9 bringing several new features, performance improvements, and a new user interface. The following are the highlights of the EMUI 10 software:
1. Magazine Design
Incorporates a magazine-style layout, for a more comfortable and authentic reading experience.
2. Morandi Color
Understated gray tones make for a gentler and more comfortable display.
3. Dark Mode
Meticulously calibrated colors, based on high-level research, with a minimalist Dark mode.
4. Animations
Dynamic, naturally-based animations for page transitions, app launches, and other scenarios.
You can also check the EMUI 10 features section for a detailed changelog overview.
To remind you, the Huawei P Smart 2019 was announced back in December 2018 running on Android 9.0 Pie-based EMUI 9.0 OS. It features a 6.21-inch Full HD+ 2.5D curved glass display, powered by Kirin 710 SoC, and has hybrid dual SIM support. There is a fingerprint sensor on the rear panel.
On the camera's front, the P Smart 2019 offers a 13MP rear camera accompanied by a 2MP primary sensor. There is also an 8MP front-facing camera on the front. It has 3GB of RAM, 32GB/64GB internal storage (expandable), and a 3400mAh battery on the back.